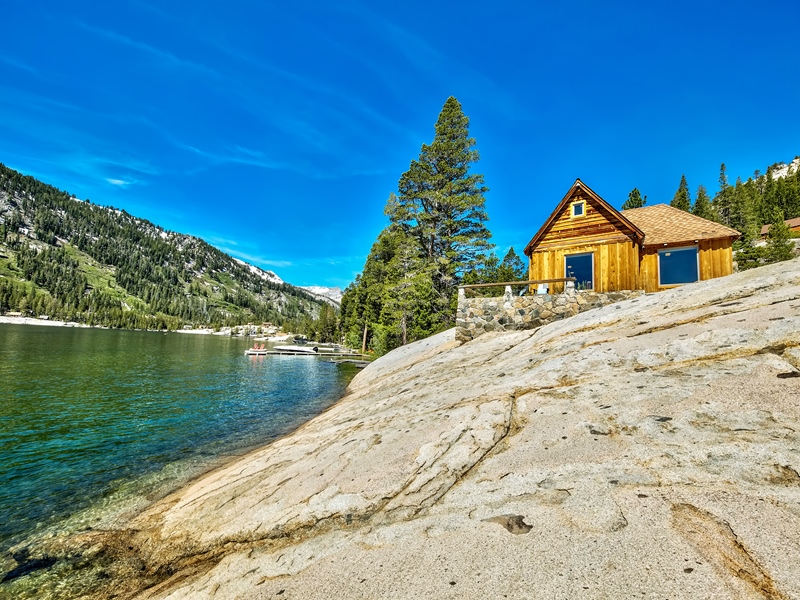 SOLD – Rare Echo Lake Cabin
17 Mermaid Cove
Lower Echo Lake, CA
Listed at $1,200,000
3 Bedrooms
2 Bathroom
1290 SqFt
Build in 1935
Updated in last 8 years
Solar Power
House Battery
On-Demand Water Heater
2 Separate Structures
Sells Furnished
4 Paddle Boards
9 Beds + 3 Sleeping Pads
Private Boat Dock
Perched on the shoreline of Lower Echo Lake just outside of Lake Tahoe, this unique family cabin with 2 separate living structures has been beautifully updated and sleeps 12. The cabins around Echo Lake are almost always transferred between family members or sold to other cabin owners over the past 80+ years, which makes this a rare opportunity for a very special cabin.
Tie off your boat on the private dock and walk up to the residence where you will find bamboo flooring, natural stone counter-tops, on-demand water heater and built-in solar panels connected to a house battery that runs all of the LED lighting and electrical plugs located throughout the property for convenience. The main residence has the kitchen complete with double gas-powered fridges, gas range, oven and deep sink overlooking the water and boat dock. The main cabin also has the living room, dining, additional seating area, 1 bathroom with a sink, toilet and 1 bathroom with a sink and tile shower.
Upstairs is a large sleeping area with 4 beds and a storage area. Out the kitchen door and less than 5 feet away from the main cabin is the 2nd cabin that is divided into 2 separate rooms with 5 more beds. The Pacific Crest Trail is located about 50 yards behind the cabin with trees and rocks in between for privacy. The family run Echo Lake Marina & Store is located close by and helps protect the peace and security for cabin owners around the lake. Cabin sells fully set up and ready to use, just turn the key and enter.
CLICK HERE for more information on US Forest Service Cabins and how they differ from residential homes.