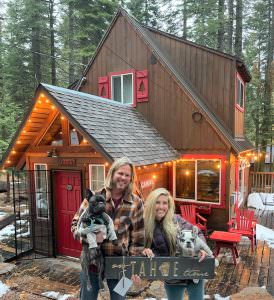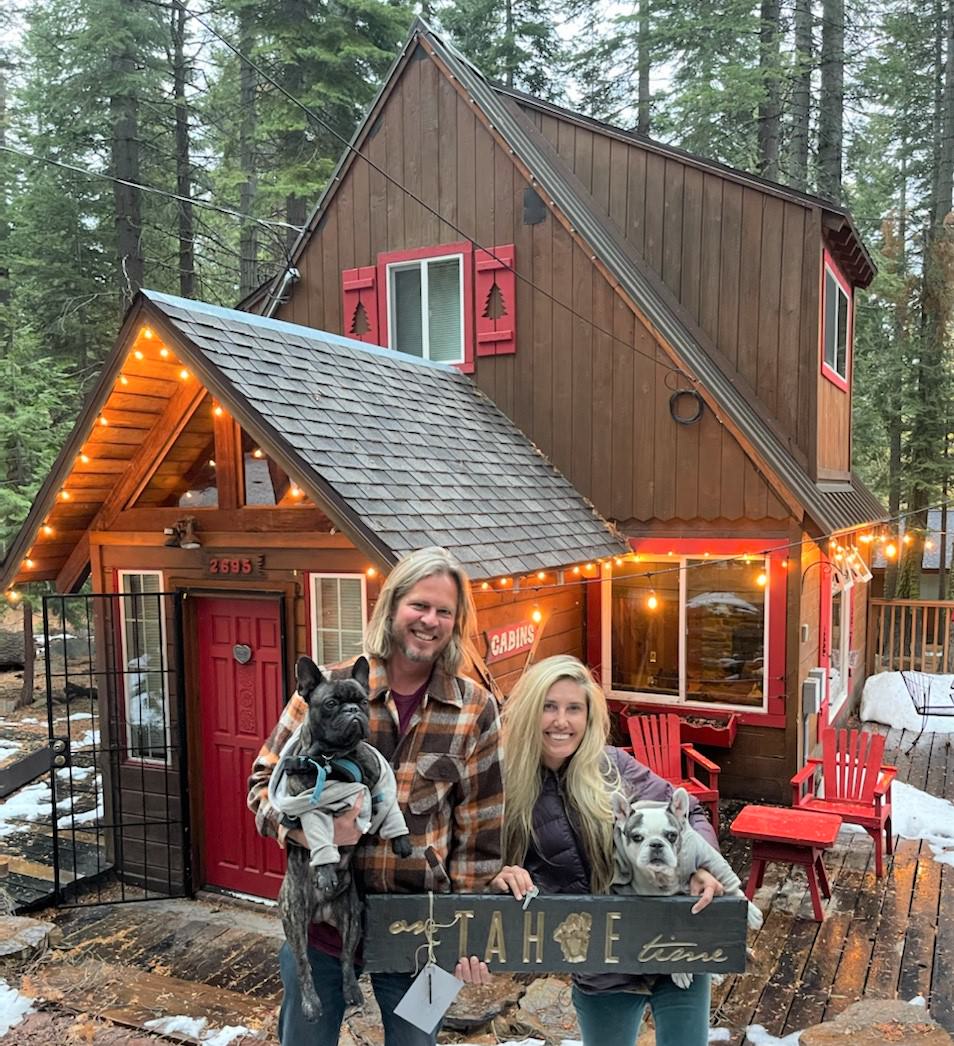 August 28, 2023 – "We worked with Amanda Adams to sell our family vacation home in South Lake Tahoe. She is very knowledgeable about the Lake Tahoe market. She has great contacts with inspectors, photographers, handymen, appraisers, title companies, mortgage brokers, etc which really helped the process move smoothly. Once offers came in, she reviewed various options with us which allowed us collectively to make good decisions." – Gary P.
____________________________________
September 15, 2022 – "We worked with Amanda at the recommendation of a friend. We could not have been happier. She is professional, efficient, knowledgeable, and thoughtful. Highly recommended!" – Xin & Ravi G.
____________________________________
May 30, 2022 – "Amanda Adams was so helpful in our house buying process. She knew all the answers to our questions. She went above and beyond to help us stay as stress free as possible through a somewhat stressful process. We will recommend Amanda Adams to all our friends & family in the future. Thanks Amanda we couldn't have done this without you in our corner." – January & Lee S.
____________________________________
October 31, 2021 – "We discovered Amanda because of her blogs that where so informative and educational. It helped established trust before we met her. Her calm, knowledgeable, and friendliness won us over immediately. She walked us through a very difficult escrow and was such an asset. We feel like we had a friend representing us and an amazing professional walking us through our first home purchase. She is patient, calm, knowledgeable, and down right cool. We where so lucky to have found her." – Mike M.
____________________________________
June 29, 2021 – "We just recently purchased our South Lake Tahoe second home cabin with the help of Amanda Adams. She is very knowledgeable about the South Lake Tahoe real estate market and area. It's a very competitive market for buyers right now and Amanda was extremely helpful on helping us put together a solid offer that got accepted by the seller. She's very helpful also on working with out of state buyers and puts together very helpful video showings and walk throughs. I highly recommend using Amanda if you are looking to buy real estate in the South Lake Tahoe area." – Julie O.
____________________________________
June 9, 2021 – "We truly appreciate the knowledge and expertise of Amanda and her team. They guided us throughout and made the whole process of selling our Lake Tahoe home painless. We really trusted them and would not hesitate to recommend Amanda!" – Clare & Bryan K.
____________________________________
May 27, 2021 – "Because we were purchasing a second home in Tahoe, we had to do a lot of research remotely. Our time to look at properties in Tahoe was limited so we met with multiple realtors during our first visit. Amanda impressed us with her local knowledge and recommendations on strategies to get an offer accepted. In this competitive market, having the right realtor is important, Amanda did not let us down. We couldn't have made this purchase without her. 5 stars!" – Vlad & Andrea G.
____________________________________
April 21, 2021 – "We worked with Amanda Adams – thank you so much for such exceptional service. We are truly lucky to have found you and you made the transaction incredibly easy for us." – Dimitri P.
____________________________________
March 30, 2021 – "We worked with Amanda Adams to buy a home in South Lake Tahoe in what has been an incredibly difficult market for buyers. In the end, one of our offers was selected and we went through the close of escrow process seamlessly. Amanda has a wealth of knowledge about the area, knew what to look out for in Tahoe homes, patiently answered all of our questions, and was always available and responsive. I cannot say enough about how fantastic Amanda was and how much we recommend working with her. Thank you to Amanda for helping us make this purchase!" – Trishala V.
____________________________________
March 26, 2021 – "Always available to answer questions no matter the day or time, went above and beyond to ensure our offer was accepted and all our must-haves were met throughout the process." – Samantha I.
____________________________________
March 25, 2021 – "I have worked with multiple realtors over the years, and have to say, working with Amanda Adams made this the best real estate experience. She had a knowledgeable answer for every question we had. We were very impressed with how she handled every situation from start to finish. If you are looking to buy or sell in the Tahoe area, you should definitely reach out to Amanda. She knows her stuff! Thank Amanda for helping my wife and I with our beautiful home. :)" – Michael I.
____________________________________
December 9, 2020 – "Amanda was extremely helpful, throughout this entire process. She made the sale of my home in Tahoe possible, coordinating service people, and expediting repairs and processing all the paperwork, we were able to close the sale earlier than expected. Thank You." – Michael L.
____________________________________
November 24, 2020 – "Our agent, Amanda Adams provided my husband and I outstanding service while selling our home in Lake Tahoe; Amanda handled every part of selling our home with professional and friendly service; She took care of every problem or issue large or small for us with her wealth of local contacts; From Contractors to handyman services and more; When no contractors were available for months, she managed to get a great one over to our home in a couple of days! We were very impressed with how well she communicated with to let us know what was happening at every point of our home being sold; We got a great price for our home and the selling process was virtually a stress free one; If we have property to sell or buy again in the future, we will be using Amanda! Thank you Amanda Adams!" – Carol & Larry M.
____________________________________
November 17, 2020 – "Dan and Amanda were great to work with from a distance. They made the sale of our property effortless and helped us to get a great price!" – Frankie T.
____________________________________
October 2, 2020 – "Very Professional and knowledgeable about the housing market in South Lake Tahoe. This is my second transaction with them and I would not hesitate to use them again in the future." – Kevin M.
____________________________________
October 1, 2020 – "Dan and Amanda are the perfect professional realtor team! They possess many years of experience and knowledge of all neighborhoods surrounding the beautiful and grand Lake Tahoe. They are proficient and responsive through email communications providing escrow and lending guidance along the way from start to finish. They know the right people who helped me through my purchase of a beautiful home in the Tahoe area. I am most grateful for their valued guidance and wish them the best on future. –  endeavors!" – Suzie B.
____________________________________
July 30, 2020 – "We just closed on a place in South Lake Tahoe, and our agent was Amanda Adams, from the Sotheby Office in South Lake Tahoe. Amanda was recommended to us by another realtor in Tahoe City. Amanda did not disappoint, she was always available for our questions and assisted in every part of the closing. Dan's office, and especially Amanda made our closing happen as planned, during the busiest time." – Karl & Lala J.
____________________________________
October 30, 2019 – Dan sold us our home back in 2013 which was a fantastic experience all the way around. And now, we have sold that home through Dan and his partner Amanda. Again, the best service. Thankful for someone to know the area, have expertise in selling, timely in response as needed from both Dan and Amanda. We will buy in Tahoe again and will absolutely choose to work with this team again. Thank you again for everything Dan and Amanda!!!" – Wendy G.
____________________________________
August 4, 2019 – Dan met us on Fathers Day to help us view properties without prior notice and was always willing to accommodate our schedule. He is very knowledgeable about the local area and his many years of experience shows it. He also made it clear to us that he is available to connect us with resources in the  future, if needed, as we are not locals. He establishes a long-term relationship. We really appreciate Dan and his team and highly recommend him to anyone looking to buy or sell in South Lake Tahoe. Thank you! – Karl B.
____________________________________
July 30, 2019 – We came across Paradise Real Estate by chance and were pleased with our experience buying a vacation home. Amanda was very easy to work with and provided us abundant updates, videos, pictures and information as we moved through the process. We have already referred several friends and will seek her help again. – Steve R.
____________________________________
July 29, 2019 – Dan is a true professional combining great knowledge with patience and amazing follow though. As an out of town buyer, Dan helped us zero in on an area, then neighborhood then on a house. No pressure… just knowledge and perspective. Once the sale was complete Dan continues to go the extra mile for us – helping us with vendors and connecting us to other resources. We couldn't ask for more or better. – Nate S.
____________________________________
July 17, 2019 – Dan is very knowledgeable and innovative. Never gives up until the deal is closed.In this case Buyer cancelled Escrow and Dan suggested to lease it for one year. Soon after the buyer found out that we are not going to cave in and drop the price….they came back and escrow was closed earlier than anticipated in the contract. – George B.
____________________________________
July 2, 2019 – What a professional! Dan did an outstanding job all the way through the sales process. His communication skills are superbly efficient every step of the way. He responded timely with superior negotiating skills. I have used Dan and his team in the past and I will most certainly use them in the future. – Ernest B.
____________________________________
May 1, 2019 – When we had to sell our home in Meyers, we knew we would use Amanda & Dan because they had represented the purchase over 8 years earlier and we trusted them completely. We were very happy with the experience during the sale, and they got us the price we wanted within the time frame we required. They handled everything wonderfully, and we recommend their services to anyone looking to buy or sell in the Lake Tahoe area. – Katie E.
____________________________________
November 16, 2018 – Very professional, a wonderful resource for most of our concerns. He had a lot of local contacts pertaining to our needs. Dan was also helpful being a licensed agent in both California and Nevada. We would definitely recommend Dan an Amanda Adams for any real estate needs in the future. – Dave L.
____________________________________
September, 3 2018 – Dan has such a great knowledge of the Tahoe area. He was a great help to us in finding the right home. He looked after our interests and negotiations were extraordinary. He made sure we got the most for our money and were completely happy with our home. Dan and Amanda are a great  team! – Mike & Susan T.
____________________________________
June 4, 2018 – We initially contacted Dan who gave us great advice on Lake Tahoe locations for a 2nd Home / Rental. We worked closely with his Operations Manager (Amanda Adams) who was amazing to work with! She quickly learned what was important to us, and only showed us properties that matched our interest. She was incredibly responsive knowledgeable of the area which helped us understand the pros / cons of each property. She pointed out any issues that she noticed with homes (she has a great eye), and helped us throughout the process. She has continued to help us with questions about the home even after the close. I Highly recommend Dan & Amanda to anyone looking for a home in the Lake Tahoe area! – Mark B.
____________________________________
May 5, 2018 – "This is my second home purchased with the Dan Spano team. I thought my first purchase with the team couldn't be any better, but then I bought a second property and they exceeded my admittedly high expectations. Amanda and Dan went above and beyond to ensure my investment was indeed a great investment. They provided me with necessary County documentation and ended up teaching me so much along the way. I was impressed by their thorough attention to detail throughout the entire transaction and well after closing. I can't imagine working with any other realtor(s) in the South Lake Tahoe area. They are true professionals and experts at what they do! Thank you." – Melissa V.
____________________________________
April 7, 2018 – "Dan and Amanda did a wonderful job on our recent commercial property purchase. They readily researched, persisted and stood strong in a challenging transaction that had many obstacles. I would definitely recommend them!" – Douglas K.
____________________________________
March 22, 2018 – "I was new to the area, so I was looking for someone with lots of experience in the Tahoe area. Dan was easy to get a hold of and very responsive. Also benefited tremendously from the incredible amount of help Amanda Adams – who works with Dan – was in the process of completing my purchase! – Evan B.
____________________________________
March 21, 2018 – "We were staying at The Timber Cove Lodge and walked past Dan and Amanda Adam's office a few times. We went in just to inquire about local properties and ended up working with them. We couldn't be happier. They worked with us from start to finish. Even though the deal is complete, they continue  to followup and help us deal with issues that come up. We give them our highest recommendation." – Bruce & Cathy L.
____________________________________
February 4, 2018 – "I'm writing this review to let it be known that Dan Spano of Sotheby's International Realty sold our house last summer  and did an outstanding job in representing us as our Realtor! Prox a year before the house across the street went up for sale. I stopped by and picked up a flyer in the Realtor sign box and was impressed of the high quality paper and photographs of the property.  It was exceptional quality, not just a paper copy.  I found out later it was sold in one day!  I was impressed with all that and told my wife if we ever decide to sell our house we should use that Company.  Also a few weeks later received a flyer of selling that house in our post office box.  I saved it to use that information if I ever had to sell my house.  The following summer it came to use as we decided to sell our house.  I used that flyer information to call Dan Spano and set up an interview at our house to be sold.  Dan was great!  We felt confident in him and he seemed knowledgeable & honest in representing the selling of our home.   We felt so good about him that we decided no further interviews with other realtors was needed. He was great to work with and our house sold in prox 30 days! He had good professional people to do the inspections and repairs where required.  The advertising was the best. His Associate Amanda Adams helped us through all the paperwork and in staging our house.  She also was great to work with.  Never had such a smooth going escrow. We were so blessed to have both Dan and Amanda to represent us in the selling of our home.  We would recommend them to anyone for selling or buying a house.  We are now using them to help us in locating a home in the Douglas County area.
Thank you Dan & Amanda for all your great expertise and help in the selling of our home. Your the best!!! Sincerely," – Severin & Tommie M.
____________________________________
December 7, 2017 – "Working with Dan on the purchase of our Lake Tahoe home was an excellent experience. I didn't know Dan as he was referred to me by another agent helping me look at homes in North Lake Tahoe. Dan is an experienced professional agent. He made the process of searching for our dream home stress-free as he said " it needs to be right for you" I'm paraphrasing but this was the just of his message. We found the perfect home and Dan made sure we understood the market environment so we could successful secure our dream home. Dan and his team made the process stress free for me and my wife. We both feel we have a trusted agent and friend in South Lake Tahoe." – From Zillow – dbrown9306
____________________________________
September 12, 2017 – "Our experience with Dan was fabulous. He made the entire purchase process effortless. Any questions I had were addressed and answered immediately. He went above and beyond my expectations. I would highly recommend him."-Dana B.
____________________________________
July 13, 2017 – "Dan Spano, our agent at Paradise Real Estate did a fantastic job in finding the right property for us to purchase. When we arrived in town he had a list of 10 plus homes for us to tour. After making a decision to purchase our condo, Dan and his assistant Amanda Adams were outstanding in keeping us informed throughout the process to closing. Because were from out of town, Dan and Amanda met with all inspectors and again kept us informed of their findings. Because of their guidance the closing went off without a hitch. After closing we have decided to do some extensive remodeling. Again Dan and Amanda have assisted us in locating qualified contractors. Amanda has assisted us in finding and coordinating a company to assist in removing some furnishing for donations. They both have gone over and above their real estate duties and we could not be more appreciative." – John T.
____________________________________
April 12th, 2017 – "I've known Dan Spano for 4 years now and he has always been available to answer any of my questions and give me advice. I bought my first investment property through Dan at age 24 and although I was inexperienced, Dan was always looking out for me and guiding me through the whole process. I recently sold that property making a very generous ROI and Dan once again was on top of everything. He helped negotiate the best deal possible with the buyers and arrange for any repairs that needed to be completed before the sale. Although I do not live in Tahoe, Dan has been my eyes and ears and I trust him 100%. He has vast knowledge of the area and connections with all the services you might be in need of in your buying or selling process. Dan is a loyal and honest person – I would recommend Dan to anybody who is looking to buy or sell a home in Tahoe." – Jean C.
____________________________________
January 24th, 2017 – "Four years ago I was referred to Dan Spano by a family member in Southern California that did research for the best real estate agent in South Lake Tahoe. I now know why Dan was recommended to me. Dan helped me purchase two properties and also helped me sell two homes. Dan goes the extra mile because when ever I had a question he responded with excellent advice. I have never experienced service like this with any other realtor. I highly recommend Dan if you are buying or selling a property in Lake Tahoe."- Bill B.
____________________________________
December 27th, 2016 – "It's been a long time. I cannot thank you enough for helping me with my real estate needs. Looking back you considered my needs where other real estate agents did not. Living in Glenbrook has been absolutely 100% fantastic! If I can ever help you in anyway let me know. Sincerely, Stephen"
September 12th, 2016 – "Quite simply, we couldn't be happier with Dan. He is not only an outstanding broker but also a person of exceptional character. His extensive knowledge of the Tahoe basin and his insights regarding each community allowed us to quickly identify the areas that were a good fit for us and ultimately to prepare a competitive offer on our new home. What really impressed us was Dan's involvement after we entered escrow. We encountered several issues including inaccurate property line records, funding delays, TRPA regulations and more. He remained patient and reassuring through it all and never lost confidence in the ability to close the transaction. In every event, Dan immersed himself in the issue and engaged his extensive network of community resources to resolve the issue. Throughout it all, he maintained the confidence of the sellers and their agent despite several extensions of the escrow period. If you want to purchase a home in Tahoe, you should talk with Dan." – Al
____________________________________
August 23rd, 2016 – "My wife and I recently sold our home in San Jose in order to move back up here to my childhood home, South Lake Tahoe, CA. I left after I graduated from South Tahoe High School in 1978. I couldn't wait to leave Tahoe and make my mark on the world! After 38 years in the bay area, I wanted nothing more than to move back here! The bay area was nice and a good place to make a living, but nothing beats Tahoe! The only problem, after a 38 year absence, I had no more connections up here. My wife and I started frantically looking for a quality Tahoe realtor. I knew nothing about the local market. After asking around and doing a ton of research, we found Dan Spano. He was an absolute godsend! I was a building contractor in the bay area for nearly 30 years and have dealt with so many different people and countless business owners, so I have a pretty good B.S. meter! Dan was so refreshing because he's the exact opposite of most salespeople, who I commonly refer to as a used car salesmen. He returned every one of our calls/texts promptly and followed through with every single thing that he said he'd do! Sadly, that's seems to be extremely rare these days! I've never done one of these referral requests before, but I didn't hesitate (although it took me much longer than it should have…..moving's a nightmare!) when his office asked me to. I highly recommend Dan Spano for anyone in need of a real estate broker/agent in Tahoe!!" -Dale and Dawn
——————————–
August 23rd, 2016- "Dan Spano was a pleasure to work with. He was able to get $20,000 over asking even though asking price was a little low. I would recommend him to anyone looking for a quick sale." -Jesse 
——————————–
July 30th, 2016- "Dan was recommended by another agent, from another area, after doing some research to find the best agent in the Tahoe area to handle our needs. Based on her findings she recommended Dan and what a great job he and his staff have done.. We listed with Dan and the house sold the first day on the market. Dan walked us through the whole process and stayed engaged until escrow closed. We feel blessed and lucky to have Dan and his staff on our side. He made a sometime complicated and stressful process a simple and pleasurable one. Dan would be on top of my list if I was asked to recommend an agent in the Tahoe area." -Bud and Patti
——————————–
June 27th, 2016- "I highly recommend Dan for your real estate needs! Dan was instrumental in helping us close the deal on our home purchase! Dan is extremely knowledgeable and incredibly helpful. Dan is a true expert in the real estate market in Lake Tahoe. Dan is also a fantastic negotiator and works very hard to protect the interest of his clients!" -Michelle and Brian
——————————–
April 27, 2016 – "If there were 10 stars to give, we would! Dan made the process of buying a home easy with his experience, expertise and advice. Most critical to working with a realtor, not once did we worry about making a wrong decision – Dan repeatedly demonstrated trustworthiness and we had full confidence he worked for our best interest. Dan kept us informed during every step (ours was a complex transfer of ownership) and focused on the benefits of finding the right house that will to be our family's home. Yes, he is very patient but more importantly, he was our touchstone to what mattered most to us as we made choices. The most unexpected and valuable piece of information we want to share is that Dan has continued to stay engaged even after the transaction completed. We now have a new home and a new friend. We would very highly recommend working with Dan. "  –Liz and Brad

——————————–
February 18, 2016 – "Dan was with us all the way through the selling process. He advised us on pricing and changes to the listing as appropriate. He made suggestions about how best to prepare the home for showing and aggressively marketed the home. He successfully negotiated the final selling price with the buyer and their agent. Dan's knowledge of the Tahoe area is second to none. I highly recommend him!"  – Leigh and Leola
——————————–
February 8, 2016 – "Dan Spano was amazing to work with on the sale of our home. The transaction process was so smooth due to Dan's attention to detail and helpful assistance. He was always available when we had questions. Dan was so honest and professional throughout the whole process. I look forward to future  dealings with Dan. I highly recommend Dan for his professionalism and commitment to detail." – Valorie
——————————–
November 20, 2015 – "We could not have hoped for a more trusted, thorough and professional realtor than Dan. We purchased a new construction home in SLT while we were living in the Bay Area. Dan was our eyes and ears during this transaction which was invaluable as being absent buyers. Dan also helped facilitate upgrades to the home and yard that we wanted to make and the results were perfect. If we ever purchase another property in SLT it will be with Dan. We highly recommend him to all buyers and sellers in SLT." – Evan & Dr. Kelly
——————————–
October 9, 2015 – "Dear Dan:   I just wanted to take a moment to let you know how much I appreciated you and your office's assistance in selling our family cabin in South Lake Tahoe this Fall.  Although you were dealing with two different family members as sellers, and I live in Southern California, you were able to keep the process smooth and constantly moving forward.  As a lawyer I am all too familiar with all the things that can go wrong with a California real estate transaction, particularly in a resort area.  Thank you again for your prompt, professional handling of our sale." – Patricia A.
——————————–
September 30, 2015 – "Dan was not only a pleasure to work with in selling our Tahoe home but made the transaction painless! Very attentive to details that matter while prepping. I highly recommend his services as a real estate agent in the Tahoe area -he knows how to get the job done. Thanks Dan for such a great experience" – Sheila E.
——————————–
September 2, 2015 – "Dan's website and aerial tour of lake front Lake Tahoe were excellent. Allowed us to understand characteristics of the different lake front neighborhoods. We had very specific criteria and Dan listened well, sourced the market and found 4 properties that met our requirements. When we arrived in Tahoe, Dan was prepared and well organized. He was efficient and very respectful of our time. In the course of three days, we made two offers. Within in two days, we had an accepted offer at a price that exceeded our expectations. Dan is honest, personable, hard working and very knowledgable. We would recommend Dan without hesitation." – Jeff G.
——————————–
July 23, 2015 – "We knew Dan from a previous home purchase a year earlier. We found a home and wanted to see it. Dan was not the listing agent, but he jumped right in and showed us the house. He worked all the kinks out of buying a beautiful 68 year old lake front cabin on Lake Tahoe. He arranged inspections (many), also got bids on repairs and helped us get a good price. We were able to close in 2 weeks. He was energetic and made time for all the little things that came up. We heartily recommend him and his office" – Robert S.
——————————–
July 18, 2015 – "I used Dan when I both bought and sold my house. During the buying process he was very patient and really got to know us as a couple. He was up front, honest and wanted to find the right house for us. When selling he was on our side the entire time and we had full asking price within four days of listing. Dan is a fantastic realtor and a great guy who really cares. We called him several times as new home owners just to ask questions and he was always there for us." – Britton
—————————–
June 13, 2015 – "Dan Spano was an amazing asset during our recent real estate transaction. He was diligent, knowledgeable and calm throughout the entire process. He was in constant contact with us and always willing to answer any questions we had. His hands on efforts created a sense of trust and assuredness, ultimately resulting in the sale of a home we loved so we could purchase a home that truly fulfilled our dreams. I highly recommend Dan and the staff at Paradise Real Estate." – Kimberly
—————————–
June 4, 2015 – "What I liked most about Dan Spano and his team at Paradise Real Estate was that even though I wasn't a million dollar buyer, I was still treated like one. He made the whole experience so easy and simple even though I was traveling almost the entire time. I would recommend Dan to anyone who wants the BEST agent in Lake Tahoe"  –  Loren
——————————
May 8, 2015 – "For California or Nevada Lake Tahoe real estate assistance or representation you will NOT find a better qualified, more professional, attentive or competent real estate team than Dan Spano and his group at Paradise Realty/Tahoe. We give Dan our highest recommendation and caution readers NOT to consider any other real estate professional if Dan and his team are available" – David and Lisa
——————————
May 4, 2015 – "We just closed on a property in Zephyr Cove, NV yesterday. We started looking for a second home in the Lake Tahoe area over a year ago and even though we live in San Diego, I received almost daily e-mail notifications from Dan, keeping us informed about properties coming on the market. From the moment my husband and I met Dan, we were impressed. He was friendly without being pushy and clearly had our best interests in mind during our search. Once we found the property we wanted, he very professionally and competently handled the entire process – from negotiating a fair price to helping us close escrow. Dan and his lovely wife invited us to their offices yesterday for a celebration. They truly made us feel at home and welcome in this beautiful place. Just as impressive as Dan's real estate expertise is his willingness to suggest professionals who will assist in our renovation project. We would recommend Dan without any reservation and feel fortunate we found him!" – Collette and Ric
——————————-
April 27, 2015 – "Dan (and everybody at Paradise Real Estate, including Ms. Daggs) is excellent! We could not have dreamed of a better team to help us buy our house in Tahoe. Dan is honest and very helpful. He understands exactly what his customers want. He made buying a house painless, kept in constant contact with us throughout the whole process and is still following up on our satisfaction and happiness! Look no further for an agent!" – Caroline 
——————————–
April 27, 2015 – "Dan and his team provided us with excellent service. He does not try to sell you a house at all cost; instead, he helps you find the house that you want at a reasonable price. He is very professional and efficient, yet friendly. He made the whole process seem easy, quick and painless. He also provided us with a lot of contacts (plumber, roof specialist, inspection specialist, etc.) who were all excellent at their job." – Matt
———————————
December 14, 2014 – "Dan is a true advocate for his clients in the home purchase process. He goes above and beyond before and after escrow. We were a part of his email list for a few months and really appreciate the level of detail on listed properties. Once we found a property we wanted to see, Dan met us with research and deep local knowledge in tow. He made the offer and negotiation process as painless as possible and ensured that no stone was unturned during inspections. The best part – he is still in active contact with us after close to ensure that any post-escrow repairs get done and to be our extra set of eyes on the property when we are away. In addition to being a seasoned agent/broker in Tahoe, he has an awesome team and expanded network of subject matter experts. We are so fortunate to work with him! He is honest and his wanting to help in any way possible comes from a genuine place. He treats us like close friends instead of clients and we know that he is in for the long haul. And that is what sets him apart from the rest."  –  Teresa and Maulie
———————————–
November 29, 2014 – "We don't currently reside in the Tahoe area. When we looked for a realtor to assist us our primary consideration was to find someone who had extensive knowledge of the area. We also wanted someone who was willing to carefully listen to what we were looking for (and just as important what we wanted to avoid). Since we weren't in a hurry to purchase we wanted someone who was willing to be patient as we searched the available properties. Another important factor for us as remote purchasers was to find someone well versed in modern communication methods like the internet, email, text messaging, etc.
We found Dan to be an ideal fit for us. Dan has lived in the Tahoe area for a long time. He understands the details of the various neighborhoods. He was also willing to spend as much time showing us properties as we wanted. We found his knowledge of the pros & cons of the properties we toured to be very useful. His website was superior than many of the others in that it is organized by neighborhood. It allowed us to save specific search criteria and then be automatically notified of available properties in the neighborhoods we were interested in. Dan promptly responded to all our phone calls, emails, and text messages no matter what time of day we contacted him.
When we finally located a property we wanted to purchase Dan's experience and guidance on how to go about the process was invaluable to us. He helped us negotiate a better purchase price and terms than we expected. Once we had an accepted offer he took the lead on arranging all the necessary inspections and then negotiating a final repair settlement.
Dan's connection with us didn't end with the closing. He has extensive knowledge of reputable local contractors and businesses. We have contacted many of these and have been extremely satisfied with every contractor or service provided he has recommended.
We would highly recommend Dan to anyone looking to purchase real estate in the South Lake Tahoe area. Give him a call. You won't be disappointed." – Mike and Donna
———————————-
September 15, 2014 – "Our dealings with Dan Spano could not have been better. His knowledge of the local market and market trends, I'm sure, was the key to our success in selling so quickly. He was highly recommended to us and we will do the same. Thanks Dan" –  Steve and Karen 
———————————-
August 6, 2014 – " I came to South Lake Tahoe with aspirations of investing in property and I had the phenomenal good fortune of having Dan Spano as my real estate agent. When I spoke to Dan on the phone, the very first thing he said to me was that my Lake Tahoe home search would be tailor made to what I was looking for, and he did that. Additionally, as we were driving around looking at homes, he explained that he operates the way does because it's the right thing to do, for which I not only understand but can relate. I think of Dan not only as my agent but as my very dear friend and brother in spirit and would recommend him to everyone who's looking to buy their dream Tahoe home." – Bill
———————————-
August 2, 2014 – "  Stop here…this is the man for all your real estate needs. He is professional, inovative in his thinking, internet savy and will get your home sold for you in no time. I listed my home with him and the next afternoon received an excellent offer from a new buyer of which, I accepted. Dan goes above and beyond for his clients. I am truly grateful I listed my home with him and blessed to have made a lasting friend of he and his lovely wife. Thank you Dan! Don't be afraid to give him a try…you won't be sorry!! I recommend Dan 100%." – S. Lee
———————————-
July 21, 2014 – "I found Dan's name in the Breeze. I called and left a message to return my call. Within 30 minutes Dan called and came out that very day. The next day I listed my house with Dan. The following afternoon Dan called with good news…another broker had a buyer and a good offer. With Dan's advise I accepted the offer and the entire process was seamless and extremely easy. Dan was professional, kept me informed often on the progress of the sale. He was exceptional in taking extra care of some things I was unable to do myself. I am extremely happy and pleased with the job he did for me. I can't thank him enough…and out of this sale I now have a special friendship with Dan and his wife. I am truly blessed!" – Susan
———————————-
July 21, 2014 –" Using Dan to sell a residence in Stateline, NV had all of the "big name" marketing advantages of a larger brokerage with all of the flexibility of a local based firm. – Internet and other marketing presence comes up higher on search engines than major firms – personal service to truly "sell" my property, rather than just "present" the property – flexibility to complete the transaction without getting bogged down in organizational "procedures" ——— If you want to sell a property, then Dan with Paradise Realty can get it done… ~ sold my property full listing price (above market valuations of 2 other realtors I discussed listing with) ~ less than 60 days from listing to close of escrow." – Richard
———————————-
July 4, 2014 – "Dan came to the home at a time when we had a complete remodel in the works. He offered constructive criticism that we heeded. After the work was almost finished Dan stayed with us and marketed the project even though it wasn't totally put back together. He saw the value we were trying to achieve and stayed with us. His successful negotiations with the buying agents enabled the market to be stretched. Although not to the point where it was a few years ago, we were quite pleased with his willingness to see our position and make that happen. Many thanks to you, Dan." – Jeff and Susan
———————————-
June 15, 2014 – "Very smooth. Met once, everything else by e-mail and docusign. Negotiated the inclusion of furnishings and art work. Made everything painless" – David S.
———————————-
June 6. 2014 – "He made the deal work. Even after sale he is there for you. I feel he is truly a friend. We were 3 separate buyers for a lovely property and his expertise was invaluable. He knows the area and helped with dock and buoy permits. He knows the area very well having lived there year round for years. He kept in constant contact with us, using phone, e-mail, and texts. He made everything run smoothly. I am recommending him without reservation to anyone who is interested in Lake Tahoe property" – Mark and Robert S
———————————-
June 3. 2014 – "Look no further. There are very few genuine, reliable, honest and knowledgeable professionals out there. Through our lifetime we have bought many homes. Dan Spano is by far the most honest, thorough, and reliable professional we have had the pleasure of working with. Buying a home is a stressful, complicated experience. Dan has done everything he could to help us with this purchase as we were not in the state at the time of this process. He has continued to support us during and after the purchase of our home. His office is located in the "wealthy" area of heavenly Lake Tahoe, but don't let that skew your opinion. He is kind, considerate and unpretentious. We were very fortunate to meet him and utilize his very professional services." – Cathy and Roy N
———————————-
April 9, 2013 – "I recently sold my home in the keys. I live in southern California and never meet Dan face to face until 2 days after closing. All the required paperwork was handled "turn key" from out of town and the house was sold within a week of listing. Piece of cake. Thanks Dan." – Chris W
———————————-
March 27, 2014 –  "We recently purchased a South Lake Tahoe home from Dan Spano, Paradise Real Estate. IT was a fantastic experience and we are more than satisfied. Dan Spano is honest, knowledgeable, courteous, professional and extremely helpful. He goes beyond expected service and helps with any concerns or questions and helps find solutions to any problems that may arise. Dan knows the area and the regulations for the area. We cannot say enough good, but without question we would recommend Dan Spano as "your" real estate agent." – Mike and Sheri H
December 9, 2013 – "I just closed on my new Lake Tahoe lot and I couldn't be happier. Throughout the entire buying process Dan was there to answer questions, give advice and lead me in smart directions. I was so grateful for Dan's level of professionalism and knowledge of the local market. He helped me sort through the many options to find the property most suited to my needs. Dan and his team negotiated with the seller and got me through escrow fast and seamlessly, making the entire process easy and stress-free. Dan's passion for real estate and commitment to his clients was visible every step of the way." – Peter
———————————-
December 8, 2013 – "We just started looking for a vacation home and knew absolutely nothing about the real estate market in South Lake Tahoe. Just an hour visit with Dan was all it took to find exactly what we wanted, and place the perfect offer on the home in the same day. Dan provided us exceptionally focused and friendly customer service throughout our purchase, and beyond. – Greg R
———————————-
December 5, 2013 – "Dan helped us through the entire process and made our dream of a home in Tahoe a reality. We are so grateful to Dan, his experience and knowledge is unmatched, he guided us through each step without a hitch and has been an endless source of advice on all aspects of Tahoe life. We have recommended Dan to others, and each experience has made us even more convinced of Dan's love of his work and tireless devotion to his clients." – Matt V
———————————
December 3, 2013 – "Daniel is the most professional person that one can ask for in his field, he is always willing to help at any time no matter what the problem is , his expertise in real estate is only one of his many strengths. Thank you Dan for all your help in the sale of our house." – Victor
——————————–
November 16, 2013 – "Dan is great to work with because of his knowledge, care and concern for always doing the best job possible for his clients and colleagues. He understands the Lake Tahoe market, both for buyers, sellers, income property, 1031's and all other aspects of the market.  If you're looking for someone who cares, I recommend Dan." – Paula P
———————————-
November 16, 2013 – "My husband and I live out of state and were looking for a 2nd home in South Lake Tahoe. I found Dan's website and started my search online. We looked for 2 summers before we found the perfect place for us. During the whole time, Dan was just incredible. He was very responsive whenever we contacted him, he was extremely patient when answering our questions, and he had this awesome service of the "preview review", where he would actually visit the homes we were interested in and video them for us. That was really a great help for us, especially since we lived out of state. We made offers on a few homes, and really trusted Dan to help us with the market research and the offer price. Since he's lived in the area for years, he is a true expert and really goes out of his way to find the house that's perfect for you. I'm so happy and excited to say that we found our dream home during the summer of 2013. The negotiations were a tough experience, but Dan worked with us and the seller's agent tirelessly and we got everything that we asked for. Most of our correspondence was done over the phone, and it wasn't until we were to actually close on the house that I got to meet Dan in person. He was exactly as I pictured and even nicer in person. If you're looking for someone who will care about what YOU want, someone that will be honest with you about the home and the area, then there's no one else I would recommend." – Gina J
——————————–
November 5, 2013 – "Dan helped us buy five 1031 exchange properties (3 houses, 2 duplexes) over a 3 month period in the Tahoe and Carson Valley. Professional, honest, trust-worthy, knowledgeable– he was there for us 24/7. He notified us of appropriate properties as soon as they came on the market, and sometimes before. His negotiating skills and timeliness of offers and counter offers helped us buy properties at very good values. His office staff and website are also excellent and helped the process move efficiently and properly. Can't say enough good things about Dan Spano and his office." – Kathy B