Welcome to the main page for all you need to know about Vacation Home Rentals (VHRs) around Lake Tahoe.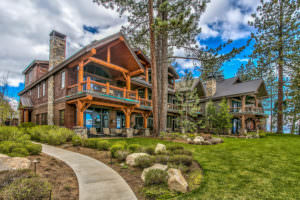 Vacation Home Rentals (VHRs) are becoming more and more popular. People like being able to stay in a house or condo with their family or friends, instead of a small hotel room. And being that Lake Tahoe is a very popular vacation destination, a lot of tourists are looking at VHRs instead of hotels to find a nice place to stay for their vacations.
There have been vacation rental properties in Lake Tahoe since the 1930's and 1940's. In fact we recently saw an ad from a San Francisco newspaper from 1942 that had an advertisement for a "Lake Tahoe Cabin for Rent for the Week". But the introduction of the internet, and specifically websites like AirBnB and VRBO, have made it easier to rent a vacation home. Also, the fact that more people want to vacation with larger groups makes VHRs the perfect fit for their needs.
Up-To-Date Info
As you can imagine, as VHRs became more popular and are used more often, local jurisdictions have had to play catch-up and put in place more strict rules and regulations for them. Some areas have simple rules where you just get a permit and make sure you have safety items in place for renters. But most areas have some pretty strict rules and restrictions, including a maximum cap of how many permits they will issue. A few neighborhoods have taken the most drastic step and banned VHRs completely. You can check out the following articles to get up to date info on all the topic involving VHRs around Lake Tahoe. Bookmark this page so you can check back and see if there are any more updates.
VHR Articles for Additional Information
*Please note that rules and regulations around the lake for VHRs are always changing. We try to update these pages as quickly as possible, but you can always reach out to us to get the most up to date information.
South Lake Tahoe, CA City & County VHR Rules Updates
South Shore NV – Douglas County VHR Rules
Top Nevada VHR Neighborhoods
North Shore CA & Incline Village NV Vacation Rental Rules
Where to Purchase a Vacation Rental in Lake Tahoe
The Basic Rules
Here are the basic rules that almost all areas have in place. Remember, these are not all of the rules, just a short list of the common rules that you will need to follow in most areas around Lake Tahoe.
Occupancy Limits – they use the number of bedrooms and the number of parking spaces to determine how many occupants can be in the VHR. Some areas don't count children under the age of 5, others count every person no matter their age.
Parking – Almost all areas have rules on how many vehicles can be parking at a VHR. They inspect the property prior to issuing the VHR permit and then decide how many parking spaces there are on the the property (including garage spaces). Street parking is not included as available parking spaces in most cases.
Noise – VHRs are usually located in residential neighborhoods. Because of this, and the fact there are usually more occupants in a VHR compared to other homes, there are rules in place to limit the level of noise. There are also rules stating what times a hot tub can be used, since people end up talking loudly so they can be heard over the sound of the water jets and bubbles in the hot tub.
Garbage – Tahoe has bears, a lot of bears! And although they are usually very friendly and leave us alone, they do love to get into our garbage whenever they get a chance. Most VHRs are required to have a bear box to hold the garbage cans. This makes it so a renter can put their garbage in the bear box when they leave. If bags are left at the street, the bears will consider that an invitation to a buffet and the next morning the garbage will be all over the place.
Permits – Every area around Lake Tahoe requires a VHR to get a special permit. The cost of these permits varies greatly, and usually the more strict the rules are the higher the permit fee will be for that area. A couple areas have limits on the number of permits they allow, which we call a "Cap".
_____________________________________________________________________________
For more information on VHRs, please give us a call or send us a message. Our Team is constantly getting updated information on this topic and will update our site with new blogs as the information changes.
How To Find Your Perfect Vacation Home in Lake Tahoe