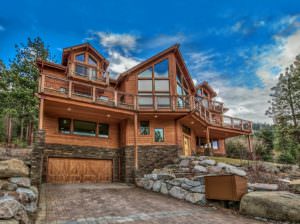 Lake Tahoe is a prime Vacation destination for people around the world. More and more vacationers are using Vacation Home Rentals (VHR's) instead of staying in hotels and motels. Demand for VHRs is expected to continue to increase.
Want to know what areas are best for VHRs? What characteristics make a good VHR? We are Lake Tahoe Area Specialists who have years of experience selling vacation properties and VHRs. Here is some information, and as always feel free to give us a call or email so we can go into more specifics based on your unique needs.
Best Areas for VHRs
A lot of people think that a VHR has to be located on the shores of the Lake. But that just isn't the case. It's true that lake-front cabins will be able to charge more per night as a rental. However, some of the most popular VHRs are miles away from the Lake.
Locations away from the Lake that are good for VHRs include the areas around our local Ski Resorts around the Lake. Another popular spot are neighborhoods with meadow or forest setting. These more secluded areas allow vacationers to feel like they are surrounded by nature and experience a hike through the woods. Top rental areas will be within 5 to 10 minutes from beaches, ski resorts, or the casinos and shopping.
Even though many homes and neighborhoods are fine for VHRs, there are "pocket" spots all around the Lake that offer prime vacation home rental possibilities. Contact us now to get a list of homes currently available as well as what specific VHR restrictions may be in place in those different areas. Or check out the links below of current listings in some of the prime VHR locations.
City of South Lake Tahoe CA Listings – Due to the current VHR ban within the City area, there are only a few small areas that can get vacation rental permits. Contact us to find out if any potential VHR homes or condos are available within the City limits.
South Lake CA Listings *Outside city limits.
Home Characteristics for VHRs
What features should you look for in a home you want to use as a VHR? Well, first you need to think about what type of renters you want to have. If you want a higher-class clientele, then they will want high-end furnishings and appliances. Or get a cozy cabin to entice small families looking for a quiet get-away. Most jurisdictions have a limit on occupancy based on the bedroom count or how many parking spaces there are, so these are things you want to consider when choosing a home.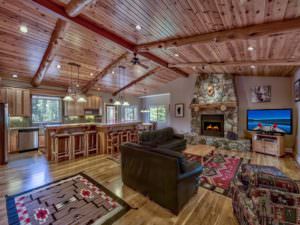 Most vacationers want to feel like they are in a "Tahoe Cabin", so super modern-contemporary features may not be something they are looking for. Think "modern-mountain" when looking at counters, cabinets, and flooring. Even just a little knotty pine trim around the windows can make a home feel
more like a mountain cabin.
For bigger homes, a large great room with open areas for groups to hang out together are very popular. Since most VHR renters are families with kids, having a separate area for kids to hang out and play is also important. Remember, bedroom count is going to affect the total occupancy allowed in the house. But having 6 bedrooms won't be much help if there is only 1 bathroom. So take into account the mix of bedrooms and bathrooms.
For smaller cabins people will just want a cozy place to hang out with each other and enjoy their vacation. If the cabin is very small, having an outdoor area for play or a BBQ is very desirable.
Condos Make Great VHRs Too!
Or for those looking for "ease of ownership", take a look at the condos located near the Lake and Ski Resorts. Some of these condo HOAs are exempt from VHR restrictions put in place on homes in residential neighborhoods. We can help you by telling you what HOAs are exempt, which could change over time, and which ones will fit your needs. Here is a link to view all of the current condo listings around the Lake: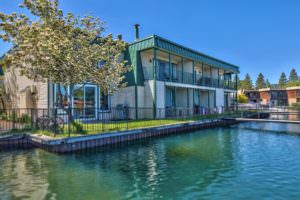 South Lake CA Condos for Sale
*Not all condos in South Lake CA can be vacation rentals. Contact us for more info.
Incline Village NV Condos for Sale
For an example of a prime VHR home take a look at 1505 Cree "Modern-Mountain Cabin". It is a perfect example and shows what the majority of people are looking for in a vacation home.
How Much Can a VHR Earn?
Now that you know what features to look for in a home to be used as a vacation rental home, how will you know how much a house could earn in rental income? That's an easy one… just call us! We have connections with the top VHR rental companies in Lake Tahoe, and can get a rental prospective for a specific house within 48 hours from Invited Home.
The amount you can earn from a VHR will depend on the following:
How many people can occupy the house
The location of the home
The condition of the home
Views and setting
How often it is available to rent
What holidays you plan on using the home
The last 2 items are the most important in most cases. If you plan on using the home for your personal vacations or letting friends and family use it a lot, then the potential for income will drop dramatically. Some VHR property managers have clauses written in their contracts that state a maximum "owner use" or charge owners for cleaning and maintenance for days they use the home. These are things you will want to look out for if you will be using the home frequently. And if you plan on using the home every Christmas and 4th of July that will cut into your profits since those are prime rental dates.
What is the First Step to Owning a Vacation Home Rental?
Well, you actually just took the first step by reading this. Gaining info on VHRs and figuring out what type of home or small cabin will fit your needs is the first step. Then look into how much you can spend on a property, and how much you would want to get in rental income. Once you know the price range and income you are looking for, give us a call or email us. We can go over your options and send you specific properties that fit your needs.
Or if you want to do some more research, take a look at the different neighborhoods around the Lake. You can narrow down a list of areas that you are interested in and search for available homes in those neighborhoods on our site.
For up-to-date information on Vacation Rentals in the Tahoe area, please check out all of our other articles on the subject HERE.
How To Find Your Perfect Vacation Home in Lake Tahoe