The City of South Lake Tahoe, CA and the area outside the City limits in El Dorado County have some of the most strict rules for VHRs in Lake Tahoe. But there are still opportunities for vacation rentals in South Lake Tahoe. You just have to know what the rules are and how they affect the housing market in the area.
Having a Team of Agents on your side who stay up-to-date on this issue is very important, and can help you navigate through the different rules and regulations.
THE CITY OF SOUTH LAKE TAHOE
In December 2017, the City of South Lake Tahoe put new rules in place. These rules were at the time the most strict of any area around Lake Tahoe. There are more vacation rentals in the City than other areas around the Lake. So the City Council felt like they had to do something drastic to protect the locals concerns, while still allowing home owners to rent out their properties as vacation rentals.
However, in November 2018 the voters in South Lake Tahoe approved Measure T. It is a ballot measure that effectively bans vacation rentals in South Lake Tahoe within most of the City limits. There are some exceptions to properties that are still allowed to get vacation rental permits. These exceptions include properties within the Tourist Core area as well as commercially zoned properties in South Lake Tahoe. Also, permanent residents can get a permit and rent their homes out for up to 30 days per year as a vacation rental.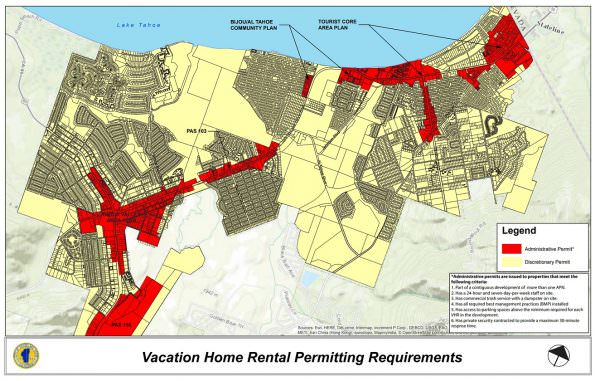 The Tourist Core is an area along Hwy 50 from Stateline to Ski Run Blvd. The Tourist Core includes mostly commercial properties and motels, with a few condo complexes mixed in and just a handful of homes. Anything within the Tourist Core or Commercial Zone is processed like an over the counter permit, which is much quicker and simpler process than normal vacation rental permits. Contact us to find out more info on the Tourist Core and what properties are available for sale in that area.
WHAT HAPPENED AFTER MEASURE T?
PERMITS ARE STILL VALID TILL 2021
The portion of the ballot measure regarding the complete ban within the City limits went into effect January 1, 2021. The City wasn't able to process new permits for a few years prior to 2021. All of the current vacation rentals were allowed to continue to operate during that time, as long as they renewed their permits on time before they expire. But when their permit expires in 2021 they will no longer be able to be renewed. So by the end of 2021 there will be no more vacation rentals in the City, with the small exceptions of the area in the Tourist Core and on commercial zones parcels.
One item in Measure T that was postponed due to a judges ruling is the change in occupancy. Measure T limits the max occupants of vacation rentals to 12 persons, including children. But a judge ruled that part of the measure should be postponed since it was unfair to currently rental properties that already had bookings set based on previously agreed occupancy maximums.
TOURIST CORE & COMMERCIAL AREAS
How does this affect areas not included in the ban, the Tourist Core and Commercial properties? We have already seen more attention and inquiries on properties located in the Tourist Core. Most of the residential properties in the Tourist Core are condos, such as Lakeland Village and Zalanta. Lakeland Village is a large condo complex that has a beautiful beach and wonderful amenities. It is located right in the middle of town and close to everything, making it popular among owners and renters. Zalanta is a new high-end condo development located right at Stateline next to the casinos and across the street from Heavenly Village and the Heavenly Gondola. The second faze of the Zalanta development will begin construction soon.
There is also a new residential development in the Tourist Core just behind the casinos called Gondola View Estates. It backs the mountain and boarders Van Sickle Park. The properties are high-end townhouse style units, many with lake views. Contact us for information on available units at Gondola View Estate.
For more information, and details on the permit process and a map of the Tourist Core area, go to the City of SLT website VHR page.
POTENTIAL ROAD BLOCK TO MEASURE T
There has been a court battle to throw out Measure T that was brought by a handful of local property owners who felt the measure went against their constitutional rights to use their property. After many delays, in April 2020 the judge ruled saying the measure was going to stay and wouldn't throw it out.
The City of South Lake Tahoe is having to plan for a massive $3 million shortfall due to the loss of T.O.T. (transient occupancy tax) from Vacation Rentals. There is talk within the City to either modify the current rules or have a new ballot measure that would change Measure T and re-allow vacation rentals in certain neighborhoods that are close to tourist spots such as the Casinos, Heavenly, and the shoreline of the Lake. This plan was put on the back burner due to COVID and most likely won't be worked on again until late 2021.
WHAT DOES THIS MEAN FOR BUYERS IN THE CITY?
Contrary to what some think, not every buyer wants to use their Tahoe property as a VHR. About 60% of buyers have no intention to rent out their homes. Since prices have historically been lower in many areas within the City Limits, it is still a popular area to purchase in if you are looking to save some money. In fact it is the cheapest area in all of Lake Tahoe to buy a home. Prices of homes in some "prime VHR" areas within the City have dipped a little after the Measure T ban went into place. But those "prime VHR" areas have seen prices stabilize and go back up in value over the last two years.
WHAT ABOUT THE AREA OUTSIDE THE CITY?
The El Dorado County area makes up the rest of South Shore on the California side outside the City limits. It includes the Meyers and Tahoe Paradise areas as well as North Upper Truckee Road, Hwy 89 through Christmas Valley, Elks Club Blvd, and most of Pioneer Trail.
There are approximately 11,000 single family residential homes located in the County area outside the City Limits, compared to around 15,000 homes within the City Limits. The homes are also much more spread out in the County, and neighborhoods are surrounded by USFS forest land with miles of hiking trails easy to access.
THE NEW RULES IN THE COUNTY
On August 28, 2018 the El Dorado County Board of Supervisors (BOS) voted in new rules that add to the Counties current VHR Ordinance. The new rules are as follows:
Occupancy shall be 2 per bedroom, plus 2 (3 bedroom house has occupancy of 8). Children under the age of 5 are not counted for total occupancy.
Enforcement of occupancy is between 10:00 PM and 8:00 AM.
Parking rules must be posted during snow removal times. You cannot park on the street during snow removal.
Landline phone required if cell phone service is inadequate. There are areas in Tahoe that don't have cell service, or the quality is very low. A landline phone must be in the home if that is the case.
Windows in bedrooms must be operable, with no bars or obstructions that prevent egress. This is important for safety of the occupants in the case of a fire or other emergency in the home.
Occupants may be cited and fined for creating a disturbance or violating provisions of the rules. Prior to this new rule, the owners of the home were the only ones who could receive a fine or citation. Now, if the occupants are the ones breaking the rules they can be fined.
Local contacts must be certified by taking a test administered by the County. A local contact is required for all VHRs. They must be able to respond in person to a VHR within 30 minutes.
Properties are to be inspected by the fire department before being issued a new permit or upon renewal of the current permit. The inspection will most likely be to check for health and safety issues. When a list of items to be inspected is available we will post it.
SETTING LIMITS
In January 2021, the County Board of Supervisors voted to set a cap on vacation rental permits in the County area. There were approximately 740 current permits in January 2021 and the County set the max cap at 900. As you can imagine, there was a rush of buyers looking to purchase so they could make sure they could get a permit before the cap was reached.
As of Friday, May 21, 2021 the cap of 900 was reached. Any permit applications after that date will need to use the new "Waitlist" application process and will have the ability to get a permit when a spot opens up. Historically we have seen about 3 permits drop off every month. So how long you wait on the waiting list will be determined by how many people are ahead of you and how fast current permits drop off.
The county also is currently voting on putting a 500ft radius rule in place that would make it so to get a permit you have to show your house is at least 500ft away from any currently existing permitted VHR. This was voted and approved by the Board of Supervisors on August 24th, 2021 and will go into effect within a month or so.
Go to our post El Dorado Vacation Rental Permit Update for links and more info.
WHAT DOES THIS MEAN FOR YOU?
At this moment, you can't get a VHR permit in the County areas of South Lake Tahoe or the City area (with the exception of the Tourist Core). You can get on the wait list in the county, but there would be no guarantee you would get a permit once your number came up on the list due to the 500ft rule. Quite a few buyers have decided to still get a place in the county and go on the waitlist, but then are renting out their homes as seasonal rentals for 3 months in summer and winter. This gives them the ability to earn a little income off the home, and still use it in the fall and spring for their personal vacation use.
Buyers are still purchasing in the City Limits even after Measure T was put in place. Basically, people still want to own a home close to the Lake and most don't really need or want to rent out the property to strangers. Some neighborhoods have had recent price adjustments after Measure T in the City. But homes are still selling and buyers still have plenty of cash to purchase.
The bottom line is if you NEED or WANT to buy a property and use it as a VHR, or you are looking for a quiet personal vacation property, you should talk to us so we can go over your options and find the perfect vacation home for your needs.
WHAT CAN I DO?

What you will need is a good agent to help you through the process and answer any questions you may have. I can help you navigate through the VHR permit process, as I have for many of my previous clients. Our Team is trained and stays up-to-date on the City's VHR rules and regulations and can handle the process from A to Z.
Give me a call at 530-541-2465 or email me at amanda@paradise-realestate.com so that I can go over more details and help you find the perfect Lake Tahoe Vacation Home.
For up-to-date information on Vacation Rentals in the Tahoe area, please check out the main VHR page with all of our other articles on the subject HERE.
Keep up to date on Tahoe Real Estate