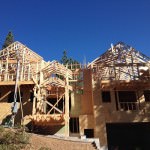 I met Mike and Donna Splain when they stepped into my real estate office in the Heavenly Village in South Lake Tahoe in the fall of 2014.  They were staying at the nearby Marriott Resort and wanted to look into buying a Lake Tahoe home.  They found their dream home and purchased it in October for $1,525,000.
Fast forward to Spring of 2015 and the Splains have begun a major remodel project, creating their ideal one-of-a-kind home with Tony Cappel, our licensed contractor and real estate agent on Team Paradise.
How to Start Your Own Step by Step Remodel Project in Lake Tahoe
First, you need to find a home that meets your basic needs whether it's the location, views or "good vibes."
The home the Splains found was beautiful to start with, but  a bit outdated and didn't meet all of the family needs. Tony and I met with them, listened to what amenities they wanted the house to have and selected the most ideal subcontractors to join the remodeling team.
In Lake Tahoe, we have building requirements (and restrictions if purchasing a vacant lot) guided by the TRPA or Tahoe Regional Planning Agency. The coverage on any lot is determined by an Individual Parcel Evaluation System (IPES) score. Once that is determined we knew that we could add on, but in the Splain's case, we're actually reducing coverage. Since the home sits on 1.81 acres, we could expand while still maintaining the beautiful and natural setting of Tahoe, but the Splain's are actually going in the opposite direction.
The plans have been drawn and we have already started this exciting project!
Scope of the Remodel
The Splain's 3,800 square foot home is going through major changes.  The biggest single project is the removal and relocation of the current stairs. They will be removing one bedroom next to the kitchen to accommodate this change. The whole kitchen will be wiped out and Tony and his crew will be starting from scratch.  The master suite is going to be completely reconfigured along with the upper game room..
On top of all that, all four bathrooms will be completely remodeled as well.
With the removal of the staircase, the views are going to be even more amazing and the entire layout way more open and appealing. Imagine cooking in the kitchen, or hanging out with friends while looking out at the surrounding dense forest, snow covered mountains and ski resort.
The decks are being removed and replaced with composite material decks and the railings will be stainless steel cable.
Due to the huge undertaking, this remodel will take quite a few months to complete and I'll be following them every step of the way as well as sharing photos and updates on this amazing journey.
Click Here for Step #2 in this Step by Step Remodel Series of a Lake Tahoe Home!!
Buy a Lake Tahoe Home to Remodel
You've most likely seen television shows like HGTV's Fixer Upper or House Hunters. In those shows you follow the process of buying a home and the whole tear down and remodeling journey. Follow us on this series and we'll take you through the steps just like on TV!
Would you like to buy a home in Lake Tahoe specifically to remodel and put your own touch and flare on it?  Here are the top 5 simple steps on purchasing your ideal home!
Sign up for email notification so you'll know the minute a home is listed.
Call me directly at 530-541-2465 or stop by my office and we'll sit down and explore all options.
Get my newsletter every other month which gives you an insight into Lake Tahoe real estate.
Search all homes for sale around the lake.  My website makes it easy to search for homes that match your criteria.
Get valuable and current information like what is listed above. Sign up to receive Lake Tahoe real estate articles sent to your inbox.
Once you find that home, Team Paradise can help start you on your own remodel journey, just like the Splains.
Here are some of the "before" pictures and once you become a part of this journey with us, you'll witness all the gorgeous "after" pictures too!