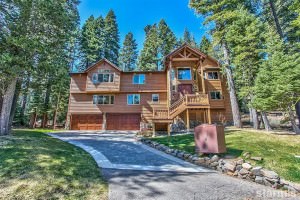 The outlook for a great summer in South Lake Tahoe is looking good! Along with a lot of investment activity in town and a overflowing schedule of summer entertainment, I predict the summer real estate market in Lake Tahoe will be a strong one.
Home Sales in South Lake Tahoe
The median sales price for homes sold in South Lake Tahoe has leveled off now at $345,000 which has been the median for the past three months in a row.  With 650 home sales for the year ending in March, sales figures show us that closed sales were down 7%.  That figure was expected due to a smaller inventory of homes, but I'm guessing that should change in the coming months.
Homes for Sale
New homes for sale listings shot up over 5% in March, which leads me to believe that spring and summer will be a busy time for South Lake Tahoe real estate. With more homes on the market, home buyers will have a better chance of finding what they are looking for. During the housing frenzy from 2012-2014, real estate seekers were buying up homes, especially those priced under $300,000. If the buyers didn't find what they had on their wish list, they bought homes that could be remodeled into their dreams or possible flips. Now, the tendency is for more "move-in-ready" houses.
Pending sales were up in March, another sign that activity is picking up. The number of homes for sale was up 14%. There has been a small, but continual growth in homes on the market over the past year. In March of 2013, 250 homes were for sale in South Lake Tahoe. March of 2014 had 285. To put that figure into perspective, in March of 2010, 480 homes were on the market.
Purchase Your Dream Home in South Lake Tahoe
If you want to take advantage of the still low interest rates and purchase a home in Lake Tahoe then I suggest you follow these easy steps to get you on track:
Sign up for email notification so you'll know the minute a home is listed.
Call me directly at 530-541-2465 or stop by my office and we'll sit down and explore all options.
Get my newsletter every other month which gives you an insight into Lake Tahoe real estate.
Search all homes for sale around the lake.  My website makes it easy to search for homes that match your criteria.
Get valuable and current information like what is listed above. Sign up to receive Lake Tahoe real estate articles sent to your inbox.