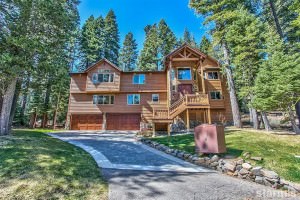 Renting a vacation home is a very popular option for visitors to cities across the globe due to the popularity of websites such as VRBO.com, homeaway.com and airbnb.com.  Vacationers  enjoy feeling at home while on vacation and Lake Tahoe is not immune to this trend with over 1,500 vacation rentals in just the South Lake Tahoe city limits. Add on another 1,000 – 1,500 homes in the county and Nevada side of the South Shore, as well as lodging properties, and you have a plethora of vacation accommodation choices.
South Lake Tahoe Vacation Homes
The City Council recently passed an updated Vacation Home Rental (VHR) ordinance in response to noise, litter and traffic/parking complaints from neighbors who live near problem rental homes. They referenced the words "good neighbor" when drafting the new policy. This refers to renters showing respect for those around them when visiting.
The ordinance now calls for not only quiet by 10 p.m., but for the jets on hot tubs to be turned off by 10 p.m.  As simple as it may sound, people talking over the jets used in hot tubs is one of the major causes of noise from vacation rentals. Vacationers enjoying the hot soak don't realize how their loud voices will carry.
Most locals appreciate the value of  visitors in Lake Tahoe who come to enjoy the beauty, outdoor recreation and all of the other attributes of the region. They are welcoming and want the "temporary residents" to enjoy themselves, but when their quality of life is compromised by living near out of control vacation rental(s), the reasons this ordinance was created become evident.
I live near a vacation rental property that has had many situations where neighbors were annoyed, mainly due to the hot tub noise issue.  The neighbors on my street have been complaining about this one property for years so I can empathize with others living near similar rentals. Some homes are rented to large groups so the ordinance now has addressed that problem by regulating how many can occupy a home (two per bedroom, plus four, not counting kids under 10).
This new ordinance is welcomed by both myself and the real estate community. Unfortunately a few bad apples brought it about, but something had to be done and we are all for it. The residents of neighborhoods that were disturbed by noisy renters didn't know who to call or turn to when they had a complaint. That issue hopefully is resolved with the increased enforcement and requirement that rental companies and/or owners of the rental homes provide contact information to neighboring homes.
The real estate community and I agree there is a problem with excess noise from some vacation rental properties. In my opinion the problem was related to a lack of enforcement and lack of a system to respond to these complaints. City Council admitted they were understaffed and unable to enforce the problem, therefore the repeated violations brought the situation to a head.
Another focus of the ordinance is permit fees and violations. Annual permit fees have doubled so we sure hope the enforcement will now take place. The fees go up as the number of bedrooms of the home rises.  Most homeowners I spoke to are not against the fee increase because of the benefit the increased enforcement will bring. If a vacation home has more than one ordinance violation in a year, the permit fee goes up (and the fourth violation results in the homeowner losing their permit).  Occupants of the rental homes are fined at the first violation by the enforcement officer.  This is welcomed because no matter how well the homeowners and management companies performed due diligence on their end, the renters that caused the problems slipped through the cracks.
Your Property Values Could be Compromised
There are rumblings from City Council that additional measures will be implemented to further regulate South Lake Tahoe vacation rentals. If true, these may affect South Lake Tahoe property values. One of the alarming things mentioned at the 11th hour after this ordinance was passed in a City Council meeting, there was mention that further regulations would be implemented such as a moratorium on vacation rental permits.  As a property owner and a member of the real estate community, this gives me great concern because your home's value may be compromised.
Many South Lake Tahoe home buyers purchased with the understanding that they'd have the ability to put it on a vacation rental program that can bring in a stream of income to offset their expenses. With a large percentage of local homes owned by absentee owners, that could translate to a large number of vacation rentals on the market. However, I find it interesting that less that half of my clients actually utilize this option of renting out their home. Whether they rent it out or not, they don't want their home to lose value. A future buyer may not purchase without that option.
If we take away, or reduce, the ability to rent our homes in Lake Tahoe, I believe we will see values drop significantly because we are putting restrictions on the home that could affect future buyers' motivation to purchase. A reduction of home sales will translate to a negative financial trickle down affect that many don't realize. Both local and second home owners could suffer from this situation. Home values drop, incomes drop, and the cycle goes on. You do the math on how this translates into the local job market and economy.
Follow my articles as I continue to update you as this highly sensitive, and potentially detrimental, vacation rental policy plays out.
Purchase Your Dream Home in South Lake Tahoe
Even with Vacation Home Rental ordinances, buying a home in South Lake Tahoe is a good choice, especially if your ultimate goal is to own a home in paradise.
Sign up for email notification so you'll know the minute a home is listed.
Call me directly at 530-541-2465 or stop by my office and we'll sit down and explore all options.
Get my newsletter every other month which gives you an insight into Lake Tahoe real estate.
Search all homes for sale around the lake.  My website makes it easy to search for homes that match your criteria.
Get valuable and current information like what is listed above. Sign up to receive Lake Tahoe real estate articles sent to your inbox.