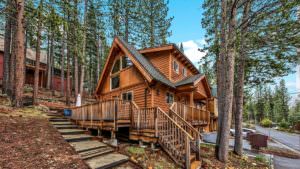 It is hard to believe that we are already into 2015!  This past year has been such a busy year for Lake Tahoe real estate, but I'm not complaining!  I love consulting with people to help them buy or sell a Lake Tahoe home.
Take a look at this review of local real estate figures for the last year.
South Lake Tahoe…. Homes Sold
There was a slight drop in the number of closed sales from 2013, but as I've discussed previously, this is mainly due to the fact that there are fewer homes for sale in South Lake Tahoe.  While the overall figure for the year is up (by 12.7%), the number of homes for sale has been dropping rapidly since August.  In 2014 there were 682 homes sold with most of those priced in between $300,000 and $650,000 (369 sales), 243 below $300,000 and 70 above $650,000.
Median Sales Price
The median sales price of homes in South Lake Tahoe, CA to close escrow over the last 12 months was $355,500, up almost six percent from 2013. Over the last seven years the highest the median sales price was $504,500 in March of 2007 and the lowest was $197,500 in February of 2012.  This figure should continue a steady climb as currently the average listing price for a house is $741,000 and for a condo, it's $505,000.  Granted, those figures are affected by some very high end properties for sale, including a lake front condo in Sierra Shores.
Inventory
In South Lake Tahoe we normally have a slow down in new listings during the months of November through February.  The total number of homes for sale over the past four months has remained fairly constant (381-382) while the number of new listings have dropped  dramatically since May from 141 homes to just 32 in December. The number of new listings for the last 12 months has dropped 3.3%.
Inventory of homes priced under $300,000 is rapidly disappearing, though you can still find good options to purchase, just depends on what you're looking for and if you want to invest in a remodel. The number of homes for sale actually rose in all price categories except for the lower end, those under $300,000.
South Lake Tahoe Real Estate Market Review
So, how does evaluating sales figures help you in your search for a home in South Lake Tahoe, or if trying to decide when to sell you home?  While the pace of sales and number of home buyers has slowed slightly, there is still a lot of interest in owning in Tahoe. By looking at my monthly evaluations you can get a  pulse of the Lake Tahoe real estate market and understand what is happening here.
Another good way to get a feel for the market is to subscribe for email notification of homes that come on the market.  You'll know as soon as Realtors do.
If you're looking into selling your home in Lake Tahoe, looking at these reviews helps as well so you can watch the median price ranges and other market action to determine if the time is right to sell.  Getting a free evaluation of your home works too, so call me.
STAY UP TO DATE AND FIND YOUR PERFECT TAHOE HOME