All agents get the same questions about the Tahoe Real Estate Market…
What's going to happen with real estate prices and available listings in the future? Is now a good time to buy/sell, or should I wait to get a better deal? When will prices start to go down/up?

Everyone who calls our office
We understand. If you are wanting to sell, you want to know you are going to get top dollar for your property. Where if you are looking to purchase, your focus is on paying the least amount of money for the best property. We even have a special dedicated page that goes into detail on the Tahoe Real Estate Market trends with graphs and explanations.
But is there a way to really know what is going to happen in the future with real estate?
KIND OF LIKE A CRYSTAL BALL
While we obviously don't have a real crystal ball that can tell us the future, we do have a pretty good forecasting tool. The Tahoe real estate market has almost always shadowed the Bay Area real estate market by about 6 to 9 months. This is mainly due to the fact that 70% of property owners and buyers in Tahoe are from the Bay Area.
Sometimes our market lines up with theirs a little closer, such as last year when we were only behind by about 1 month most of the time. This year has followed along with that pattern as well, being more between 1 month and 3 months behind the Bay Area market.
WHAT IS HAPPENING IN THE BAY AREA RIGHT NOW?
The Bay Area has seen a slow down and drop in sales price over the past couple months, just like we have. They also peaked in May and have seen their average sales price drop since then. Their pending sales have also started to increase the past 2 months and they have seen fewer price reductions since June.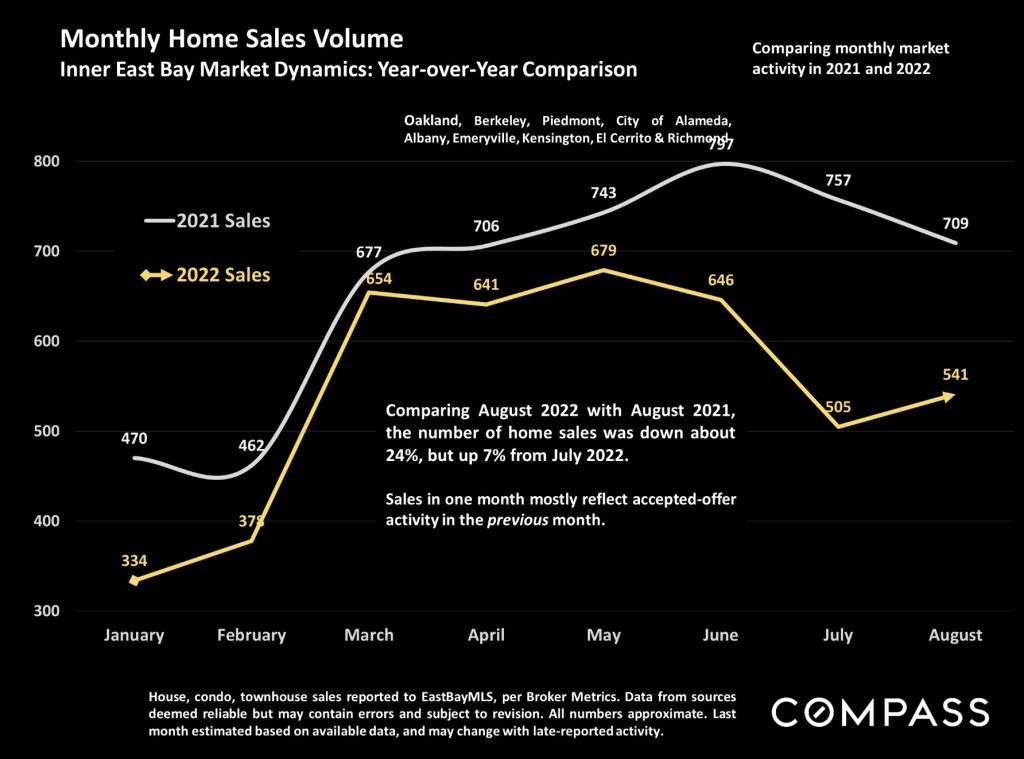 If we drill down into the data, we see the number of sales (above) and pending listings (below) has increased recently. This is very similar to our market right now.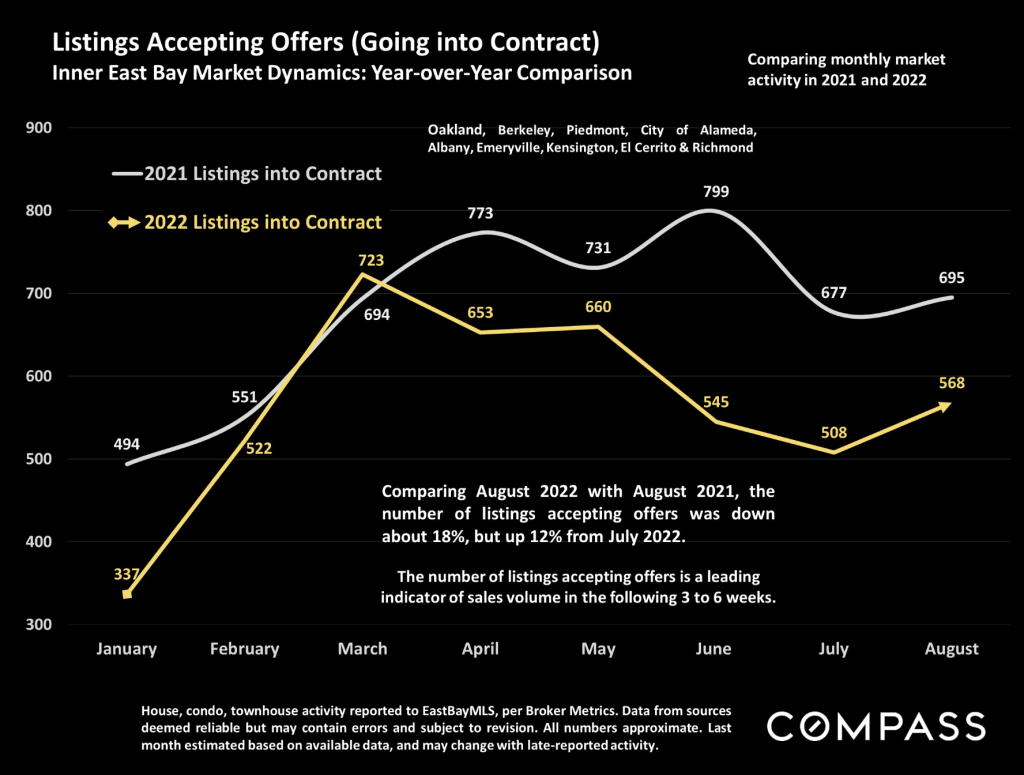 Once again we see a similarity with our Tahoe market when looking at the number of new listings. The Bay Area has seen a decrease in new listings starting in June, while we just started to see a decrease in new listings this past month in August.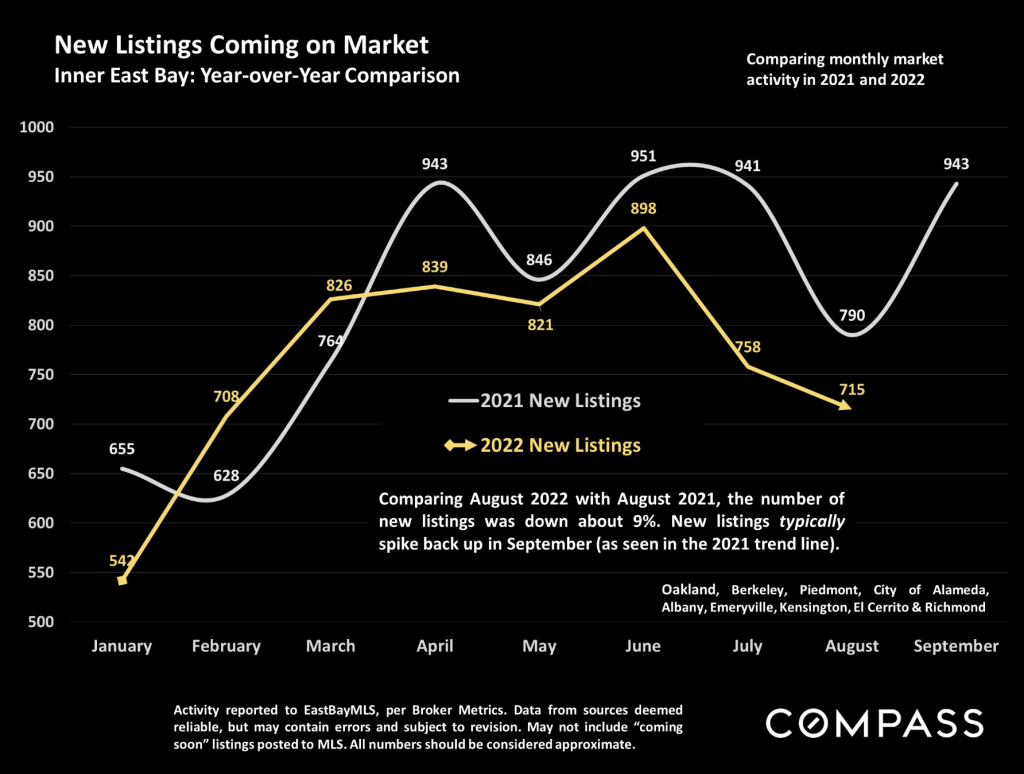 SO WHAT DOES THIS MEAN???
As you can see, the Bay Area has already begun a ramp up in their market. After seeing slowing trends since March 2022, things are picking up and getting busy again in the Bay. Our market saw a similar slow down starting in April 2022 and lasting thru July 2022, with the market picking back up again mid August 2022.
What this tells us is we should see our Tahoe market continue to pick up for the next few months, potentially being strong into and during the winter months.
But as always… time will tell.
TAHOE REAL ESTATE MARKET INFO
For detailed market information and statistics in Lake Tahoe, check out our market page on the following link that is updated monthly.
TAHOE HOMES: REAL ESTATE MARKET
You can also call our office at 530-541-2465 or email our team leader Amanda Adams at amanda@paradise-realestate.com for detailed market information catered to your specific situation.
Keep up to date on Tahoe Real Estate