We are teaming up with our favorite local lender Luna Lending to help out our Tahoe heroes.
Who is eligible:
Veterans & active-duty military
Law enforcement
Educators
First Responders: Firefighters, Paramedics, EMT's
Healthcare workers
Social workers / CPS employees
Non-profit employees
What is included:
Rebate of $1,000 as a credit toward closing costs
Appraisal paid for by Luna Lending Inc. (up to $750)
Discount on homeowners insurance (discount will vary based on carrier)
Discounts on home inspections & home warranty
In addition to the specials offered by Luna Lending listed above, our team will cover the full cost of the home warranty for our clients using this program.
Out of pocket expenses can make a home purchase unattainable to many home buyers, especially first time home buyers. But the loan programs available thru Luna Lending as well as the special deals offered by this program can help fill in the gap to cover many of the expenses due at closing.
Why team up with Luna Lending?
That's an easy question to answer. We have known the owner of Luna Lending for many years and also have had many clients use their services. Our experience has shown Luna Lending is honest, ethical, has great customer service and fast response time. They have assisted a wide range of buyers… from the first time homebuyer looking for assistance getting their credit score up as well as needing a low down payment option, up to the million dollar buyer who has investment income that requires a little extra work to get verified.
While no lender is perfect, and there are some other lenders in Tahoe that do a great job, we have found the best service to our clients was provided by Luna Lending.
Below is the flyer. For additional information please reach out to our team.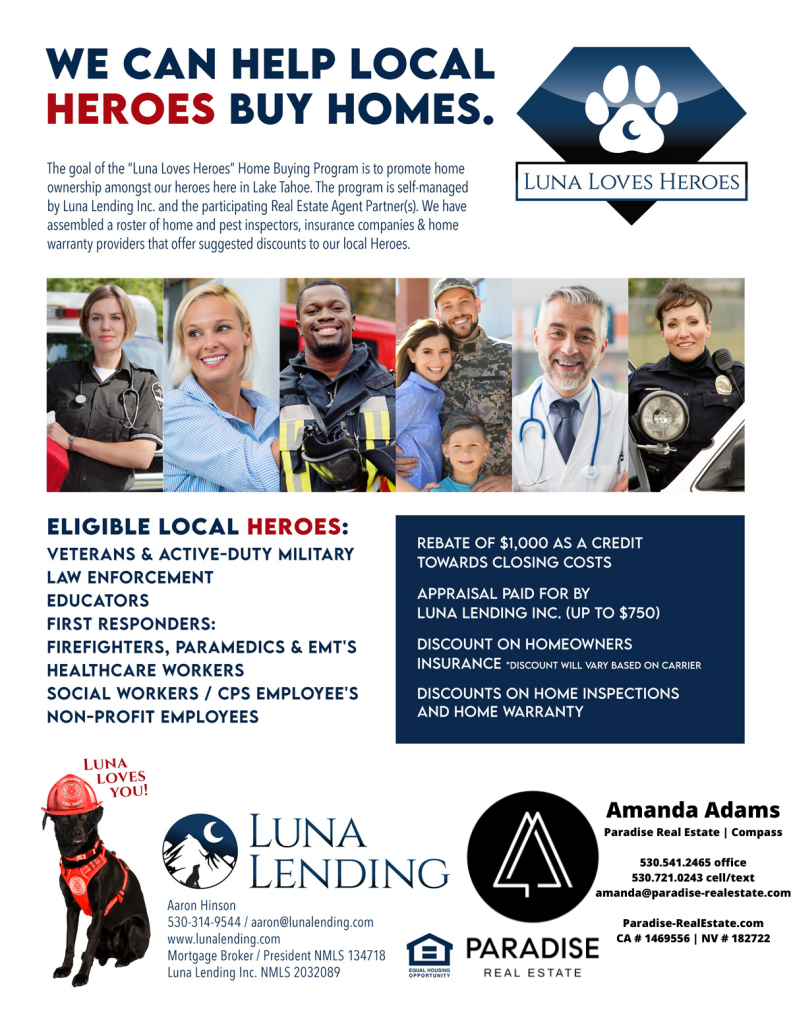 Keep up to date on Tahoe Real Estate