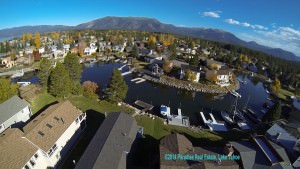 The Tahoe Keys Homeowner's Association (TKPOA) is going to dredge the west channel of the Keys this fall in order to allow access to Lake Tahoe for their members with boats, and for people with boat slips in the area. Right now the channel is 3 1/2 feet at its shallowest point which allows boats to pass, but only if they are careful.   The dredging permit is for three years.
TKPOA will be dredging an area of about 4,000 square feet. Work on half the channel's entrance would be done this fall, with dredging on the other half conducted next spring. Their plan is to move the sand from the waterway to a beach just east of the channel where it will be spread out for future use.  Material from the channel would help replenish the beach, rather than being sent to a sanitary landfill, according to the permit.
This is great news for people who own homes in the Tahoe Keys because they will have easy access to Lake Tahoe even when water levels are low.
The Tahoe Keys
The Tahoe Keys are unique. It is the only development of its kind – a private 750-acre marina resort community of 1,220 homes and 335 town-homes sitting on eleven miles of inland waterways located in South Lake Tahoe, California.  Homes are located on the lake, on waterways that lead to the lake, or adjacent to a scenic lagoon.
Buyers are finding this area to be one of the most desirable places to own a home in Lake Tahoe.
Owning a Tahoe Keys home
If you own a home in the Tahoe Keys you can become a member of the homeowner's association.  The Tahoe Keys Homeowner's Association (TKPOA) provides top notch amenities for their members. There are 7 tennis courts, an indoor and outdoor swimming pool, hot tubs, a park, beach and a private pier on a channel that heads to Lake Tahoe.
They watch out for owners to ensure nothing stands in the way of their enjoyment of their beautiful area and waterways, including the dredging project that they are planning.
Due to the demand, another benefit of owning a home in the Tahoe Keys is the ability to rent their homes out, either for vacation use or as a long term rental.  My clients love to use their Lake Tahoe home but many also benefit from renting it as a vacation rental when they're not using it.  This is a great way to earn income and cover expenses such as the HOA fees, property taxes and more.  Another bonus to home owners is the ability to rent out the boat slips that come with their home.
How to Find Your Home in the Tahoe Keys
Sign up for email notification so you'll know the minute a home is listed.
Call me directly at 530-541-2465 or stop by my office and we'll sit down and explore all options.
Get my newsletter every other month which gives you an insight into Lake Tahoe real estate.
Search all homes for sale in the Tahoe Keys and  all around the Lake.  My website makes it easy to search for homes that match your criteria.
Get valuable and current information when you sign up to receive Lake Tahoe real estate articles sent to your inbox.