Based on Lake Tahoe real estate sales figures and the demand of the home buyer, Glenbrook, Nevada is the hottest neighborhood in Lake Tahoe.
Glenbrook Home Sales
So far, in the first six months of 2014, 10 homes have sold in Glenbrook, Nevada.  This is on last year's pace of 21 homes sold in this exclusive Lake Tahoe neighborhood.  The homes that have sold so far this year range from $998,000  to $5,000,000 though there is a short sale in Glenbrook that lists for $759,350 that is in escrow so I don't know the selling price yet.
The median sales price for 2014 has been $1,350,000 and it was $1,620,000 in 2013.
In 2011 there were 9 home sales in Glenbrook and 13 in 2012.
Lake Tahoe Real Estate in Glenbrook
Why are so many people now interested in buying a home in Glenbrook?  It is a gated neighborhood, has it's own 9 hole golf course,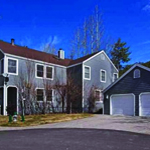 private beach, piers and other homeowners amenities that residents enjoy.  Many people that live there own golf carts to roam around the neighborhood in. The enclave has a great community feel with special parties and holiday celebrations (as well as their own fireworks show).
There are currently 15 homes for sale in Glenbrook.  I hear from buyers several times a week that are looking at homes in Glenbrook.  One of my clients that is looking there had only one major criteria, he wanted to be within 20 minutes of a private golf course.  Glenbrook satisfied that lone request on two counts.  One, there is a private course in Glenbrook, and two, the new and private Clear Creek Golf Course is just a 15 minute drive.  Lots are selling now too.  There are 3 in escrow and also 3 very nice lots for sale in case you're looking to build.
Historical Area
The area comprises of two separate neighborhoods, Uppaway Estates and Glenbrook.  Both are rich in Lake Tahoe history.
Uppaway Estates
Uppaway Estates homes is located on the former Fleishman Estate.  The 44-acre lakefront property was purchased by Major Max C. Fleishman in the early 1930's and served as his home for many years. The community now has 29 homes including the historic former home of Max and his wife Sarah. Uppaway and the adjoining community of Glenbrook played a prominent role in Lake Tahoe's rich and colorful history.
Fleishman's family is famous for their Fleishman Yeast Company which revolutionized baking in the 1800s and it is still in use today.
After Major Max C. Fleishman had purchased this spectacular 44-acre lakefront estate he asked his wife, Sarah, if she wanted to build their new home on the lakeshore.  She replied, "No, I want it up away."  The house they built in 1936 remains. It has been painstakingly remodeled to reflect the original character and design.  Sarah's preference for the location of the home also remains as the name of the current community.
Glenbrook
It's rich with history. Its name derives from a stream that ran through the meadow.  In 1860, Captain Augustus Pray and associates settled in Glenbrook.  They built a cabin, harvested wild hay, planted grain and vegetables. They were known to have harvested 60 bushels of wheat and 4 tons of hay per acre, while oats grew 7-8 feet high.
With the discovery of silver in the hills east of Carson City in the 1800s the need for lumber grew rapidly, both in housing and in securing the mine shafts.  The Lake Tahoe region was clear cut with most of the lumber being milled in Glenbrook before it went over into Carson City for transport to Virginia City. Glenbrook began quite the famous spot in the late 1800s with its saloon, Glenbrook House Hotel and being the spot the steamer ships brought travelers making their way over the Sierra. Glenbrook hosted two U.S. Presidents (Grant and Hayes) in one year.
How To Find Your Home in Lake Tahoe
Sign up for email notification so you'll know the minute a home is listed.
Call me directly at 530-541-2465 or stop by my office and we'll sit down and explore all options.
Get my newsletter every other month which gives you an insight into Lake Tahoe real estate.
Search all homes for sale around the lake.  My website makes it easy to search for homes that match your criteria.
Get valuable and current information when you sign up to receive Lake Tahoe real estate articles sent to your inbox.