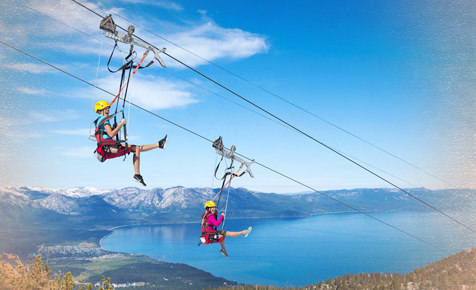 The winter visitor to South Lake Tahoe has long known how they can enjoy skiing and snowboarding at Heavenly Mountain Resort. Now, that snow covered mountain experience is expanding to summer with mountain biking, zip lines, land tubing, ropes courses and even an offroad jeep tour!
Heavenly Mountain Resort
Called "Epic Discovery," this experience will expand the enjoyment of the Lake Tahoe mountains for both the locals and visitors.  Over the next month the project will come before the last two approval hurdles, the Tahoe Regional Planning Agency and Lahontan Water Board. The U.S. Forest Service has already given "Epic" their blessing. Since it will cover two states, two counties and other jurisdictions, it has been a lengthy permiting and planning process.
Last summer, Heavenly opened a zipline and ropes challenge course; a small sign of things to come. The following activities are being proposed:
At Adventure Peak: Mid-Station Zipline Canopy Tour, Sky Cycle Canopy Tour, Forest Flyer Alpine Coaster, smaller infill activities and interpretive activities at Tamarack Lodge.
At East Peak Basin: Mountain Bike Park, East Peak Zipline Canopy Tour, East Peak Reservoir Water Activities, interpretive activities at
East Peak Lodge and the East Peak Lodge Hiking Trail.
At Sky Meadows Basin: Sky Meadows Zipline Canopy Tour, Sky Meadows Challenge Course, Ridge Run Lookout Tower and Observation Deck, and interpretive activities at Sky Deck.
Mountainwide educational opportunities and interpretive information, Mountain Excursion Tour, connecting biking and hiking trails (for example, the Panorama Trail will connect the East Peak Lake area to the Tahoe Rim Trail and Van Sickle Park), and an emergency gondola snow cat evacuation route (winter use only).
More can be seen on the TRPA website.
What This Means to Lake Tahoe Homeowners
The project at Heavenly Mountain Resort is just one of many things going on in Lake Tahoe, all of which bring benefits to the community. Imagine owning a home near this amazing new adventure! Investors are putting money into the region, all of which will improve what is already here and to bring in new and exciting attractions.  All of this just adds value to homes in Lake Tahoe.
If you purchase a home in the Heavenly Valley and Stateline neighborhoods you'll be right next to the new mountain experience.  You can spend the day enjoying all of the activities on the top, and enjoy a bike ride down to your home! The South Lake Tahoe community is spread along the shores of the lake as well as the mountains, so you'll always be close to something being revitalized, no matter which neighborhood you live in.
Buy a Home in Lake Tahoe
Interested in buying a home in Lake Tahoe?  Here are a few easy steps you can make towards home ownership: