Lake Tahoe's outdoor recreation and events attract people from all over the world. Mix together world class ski resorts, golf, hiking, beaches and mountain biking and you have a year-round recreation paradise. It's no wonder people flock to Lake Tahoe year after year for endless adventures.
We have gathered together an in-depth list of activities and events, and update the list regularly to keep it current. If there is an activity you are interested in but don't see it listed, let us know. We will get the information for you.
Summer Activities
Beaches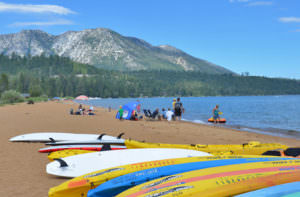 Lake Tahoe offers 72 miles of shoreline, so there are plenty of hidden coves and large public beaches to enjoy.  Soak in the sun as you take in the panoramic views of the surrounding mountain peaks.  Gazing at the sparkling blue water makes your day slow down so you can enjoy "Tahoe Time" like the locals.
The beach options vary from quiet hidden gems that require hiking to access… to a party beach with a lakefront bar and live music.  Most beaches are on State or Federal land, and parking fees are very common.  Some beaches are dog friendly, but not all of them, so always check before you go with your 4 legged family members.
For a list of the beaches around the entire Lake, click HERE.  It includes links for every beach so you can see what the parking fees and access rules are.
Bike Trails
Lake Tahoe biking trails come in all levels from beginners to extreme experts.  The different communities around the Lake have worked hard over the years to add miles of paved bike trails.  Below are maps showing the bike trails for both South and North Shore (click on them to go to full size and zoom in).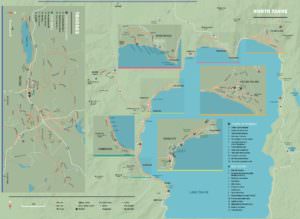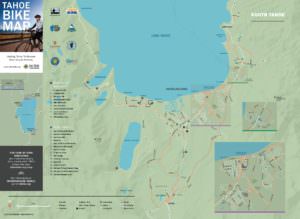 Want to get off the pavement and head into the mountains on some dirt?  There is a robust mountain biking culture in Tahoe with well cared for trails for every skill level.  For an easy mountain bike trail to get you warmed up, Powerline Trail is the perfect match.  Mr. Toad's Wild Ride is perfect for those seeking a challenge, and the Lake Tahoe Flume Trail is great for beginners and intermediate riders.
The Tahoe Area Mountain Biking Association website has information on all of the mountain bike trails around the Lake.  Their trail info includes driving directions, parking info, and GPS trail maps with elevation and distance.
Boating
There is nothing like the freedom of having Lake Tahoe at your disposal.  Take in the amazing views as you cruise to your secret cove or hidden beach.  Or experience the thrill of Lake Tahoe para-sailing.  There are many boating and watersports companies standing by to help you on your way to a perfect summer day.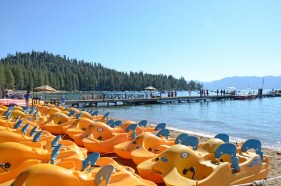 Tributary Whitewater Tours offer 1/2 day to 3+ day trips on the rivers surrounding Lake Tahoe.  Offers a variety of options, from calmer Class 1-2 rapids on a river that has hot springs, up to 17 miles of Class 4 whitewater on the American River.
Action Watersports of Lake Tahoe has 3 locations on the lake: Camp Richardson Marina (South Shore), Lakeside Marina (South Shore), and Meeks Bay Marina (North Shore).  They offer a variety of water sports rentals – kayaks, paddle-boats, jet skis, wave-runners, water skis, and power boats.  Or take a ride on the Tahoe Thunder, California's fastest Coast Guard certified speedboat ride.
Ski Run Boat Company is part of Tahoe Sports with locations around South Lake Tahoe.  It is the largest water sports rental company on the South Shore, and offers ski boat rentals up to deluxe pantoon boats for hours of fun on the Lake.
Camping
For families who want to experience mother nature up close and personal, there are several camping sites in Tahoe to choose from.  Lakefront campgrounds are very popular, or you can enjoy a peaceful setting in the forest.  Combine the amazing views, the star filled night sky, and the fresh pine air and you've arrived at "camping paradise" in Tahoe.
Campgrounds on the Lake
Camp Richardson Campground is just a short walk from the Lake with over 200 tent sites in 2 separate locations surrounded by pine trees.  It has completely remodeled bathroom and shower buildings, and offers an RV section.  Close by is a restaurant and bar, as well as the Tallac Historical Site and Valhalla Boathouse Theater.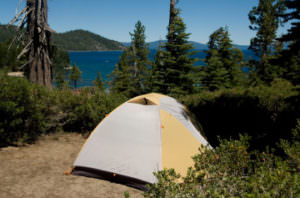 D.L. Bliss State Park has some of the most awe inspiring beaches and views.  Just above Emerald Bay, D.L. Bliss covers 1,830 acres and includes 6 miles of shoreline.  The beach areas are integrated with the camping sites, so you can claim your spot in the sand early.  There are no hook-ups, but some sites will accommodate 15 ft trailers or 18 ft motor-homes.  For a little adventure, try one of the 20 primitive campsites that are only accessible by boat.
Nevada Beach Campground is peaceful, quiet, and huge!  In some places the sand is over 300 yards wide.  One of the few beaches that are dog friendly at the Lake.  The campground has both tent and RV sites, most are situated in a sparsely forested area on a hill, while others are in a sandy area.  Every site has a table, grill, campfire ring, and food storage locker.  Close to the casinos and shopping.
Campgrounds in the Forest
Fallen Leaf Campground is located on the north shore of Fallen Leaf Lake.  Less than 1 mile from Lake Tahoe and Camp Richardson Resort, the campground features 206 camp sites with 6 yurts and RV sites.  Enjoy nearby hiking and biking trails, as well as boating on Fallen Leaf Lake.
Zephyr Cove Resort Campground and RV Park offers award winning RV and tent camping.  The campground is surrounded by forest and a small aspen grove on the north end.  Hwy 50 is close, so we recommend choosing one of the quieter campsites toward the back that are tucked in between boulder outcroppings.
Campground by the Lake offers campsites for both tent and RV.  It is located across the highway from Lake Tahoe and El Dorado Beach.  This centrally located campground is minutes from the casinos, and next door to the Community Recreation Building and Ice Rink.
For a full list of the Forest Service campgrounds in the Lake Tahoe Basin, click HERE to go to the Lake Tahoe Basin Management site for the USFS.
Fishing
Your Tahoe vacation won't be complete until you've embarked on a journey to catch the tastiest fish from the depths of crystal clear Lake Tahoe.  The lake is teeming with mackinaw, rainbow trout, brown trout, and kokanee salmon.  All you need to catch them is the help of an expert fishing guide.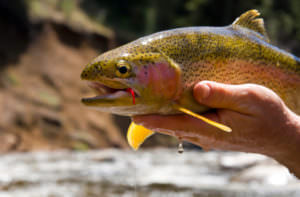 Mile High Fishing Charters will lead you on an adventure. Family run business that will take you to the best fishing spots.
Tahoe Fly Fishing Outfitters is the Sierra Nevada Mountains most diverse fishing shop and guide service.  They offer guided fly fishing, spin fishing and charters on Lake Tahoe as well as surrounding lakes and rivers.
Tahoe Sport Fishing has Lake Tahoe's largest fishing fleet.  Their captains are experienced and take you to the lakes hottest spots.  They provide everything so your day is worry free – poles, tackle, bait, rain suites if needed, coffee, continental breakfast and soda.
Golf
Lake Tahoe's Golf Courses are some of the most scenic in the world.  Whether you are looking for a challenge or just a relaxing day with friends, these courses will offer a memorable experience.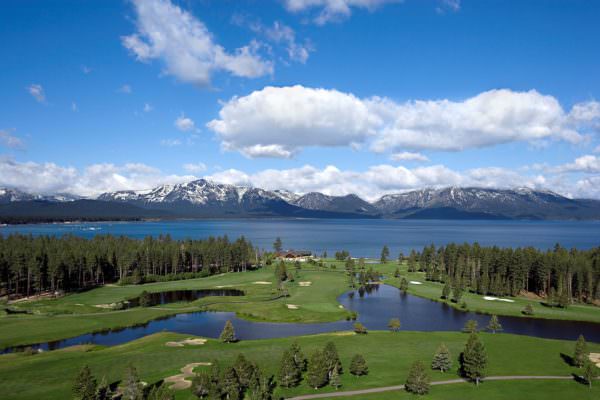 Edgewood Golf Course   More than an Alpine Lodge, more than an acclaimed golf course, more than a serene spa. It is a setting for inspiration, a catalyst for adventure, a world-class destination to discover and enjoy.
Lake Tahoe Golf Course  Located in a natural mountain meadow just minutes from the southern shoreline of Lake Tahoe in the Sierra Nevada Mountain's Lake Valley State Recreation Area, Lake Tahoe Golf Course's spectacular William Bell-designed championship layout will inspire and delight every golfer with its breathtaking scenic views and natural habitat.
Incline Village Golf Course  The Golf Courses at Incline Village offer two distinct golf courses to fit any budget. Play our par-58 Mountain Course and the par-72 Championship Course. Save more and play more with our deals and special events like Thrill & Grill and Nine & Wine.
Northstar Golf Course  Designed by Robert Muir Graves, Northstar California's 18-hole, par-72 golf course incorporates Tahoe's mountainous landscapes with Martis Valley's open meadow into two distinct 9-hole settings that will both challenge a golfer's skills and appeal to his and her senses. The result is a vibrant and exciting golf course, whose features create a challenging flow that seamlessly moves in and over the natural terrain.
Hiking
Embark on an adventure into unspoiled wilderness!  Hikes are an excellent way to experience the natural beauty of the region and fill your lungs with pure mountain air.  From leisurely strolls along a river, to challenging climbs to the top of the summit, there is a trail for every skill level.  Here are some of our top picks.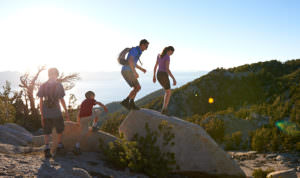 If you have little kids with you, there are easy hikes like Eagle Falls and Eagle Lake.  For the more moderate level there is Marlette Lake Trail that offers 10 miles round trip and connect to the Tahoe Rim Trail and The Flume Trail if you want to make it an even longer adventure.  The Tahoe Rim Trail is part of the much longer Pacific Crest Trail (PCT) that runs the length of the Sierra Nevada Mountains and is an extreme hikers paradise.  One of the most challenging hikes in Tahoe is Mt. Tallac Trail which takes you to the summit of the tallest mountain in the Tahoe basin at 9,735 ft.  It takes a lot of effort to reach the summit, but the views from the top are well worth it.
For a complete list of all the hiking trails around the entire Lake with details like elevation and total distance, click HERE to go to AllTrails.com.
Horseback Riding
Let a trusty steed take you on a scenic guided horseback ride through the forest.  There are several options for those looking to ride off on an adventure.  You can book an outfitter guide who can pack your gear and take you into Desolation Wilderness on horseback.  Or just enjoy a simple 1/2 day ride and take in amazing views with your family.
Camp Richardson Corral has been owned and operated by the Ross Family since 1934.  They offer scenic guided horseback rides, steak dinner rides, summer hay wagon rides, back country pack trips, pony rides, and authentic winter sleigh rides. Located next to Camp Richardson Resort.
Zephyr Cove Stables lets you choose from their selection of daily guided horseback rides – 1 hr, 1 1/2 hr, 2 hr, breakfast ride, lunch ride, and dinner ride.  The stables are open mid April through mid November, and are located 4 miles from the casinos on Hwy 50, across the street from Zephyr Cove Beach and Marina and next to the campground.
Kirkwood Sierra Outfitters offers several horseback riding packages near Kirkwood Ski Resort.  It is about 30 minutes from South lake Tahoe, and the beautiful scenery along the way makes the drive worth it.  You can book a family friendly 1/2 day ride, or one for several days that goes to a handful of alpine lakes in the area.
Concerts
Lake Tahoe really heats up in the summer with its awesome concerts and live music scene.  Each year the Lake Tahoe Outdoor Arena at Harveys hosts some of the hottest acts in music!  Previous artists include Elton John, The Who, Imagine Dragons, and Lady Gaga… just to name a few.  And every year the high quality performers just keep coming.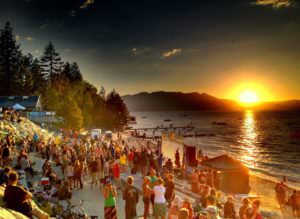 For those who don't want to fork out hundreds of dollars for a concert ticket, there is Live at Lakeview.  This locals favorite lets you enjoy FREE music on the beach Thursday evenings during the summer.  This is a family friendly event that is more like a locals party, with a variety of local merchants and delicious food options plus amphitheater-style seating right on El Dorado Beach in the middle of South Lake Tahoe.
Winter Activities
Ski Resorts
Lake Tahoe Ski Resorts draw people from all over the world to experience the beauty of Lake Tahoe and the epic snow conditions.  Offering over 400″ of snow on average, and over 300 days of sun each year, Lake Tahoe has the ingredients for a perfect winter vacation.  There are many mountains to choose from and hundreds of ski lifts to get you to the peaks.
South Shore Ski Resorts
Heavenly is one of the largest and most visited resorts and has the highest elevation and longest vertical drop in the Lake Tahoe area.  The gondola is conveniently located next to the casinos and Heavenly Village, so you can stop by our office after a long day on the slopes.  Kirkwood is one of the locals favorites, is known for their well groomed runs and high base elevation.  This means they see more snow than most Lake Tahoe resorts.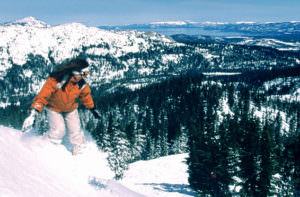 Sierra at Tahoe is another locals favorite and has the benefit of being wind protected.  So when most resorts have to close due to high winds, Sierra at Tahoe is usually still operating.  The resort caters to families and offers one of the best local vibes you can find.
North Shore Ski Resorts
Squaw Valley's six mountain peaks are a thing of legends.  It's aerial cable car can transport 110 people at a time up to the high camp.  At the top there is dining, shops, snow-tubing, and the highest open-air ice rink in the world.
Northstar has over 90 trails, including 2 gondolas.  But the biggest draw for Northstar at Tahoe is it's 7 award-winning terrain parks, which make it a popular mountain for snowboarders.  Mt. Rose ski resort has the highest base elevation at 8,260 feet, and then the elevation soars to 9,700 feet at the top.
This is just a sample of the resorts at the Lake.  For a more in-depth list of the different resorts as well as links to their trail maps, click HERE.  For a map of all the ski resorts in the Lake Tahoe area, click HERE.
Sledding
What better way to spend your day with the family then everyone screaming down a sledding hill.  There are a lot of great choices from professionally run snow-parks like Hansens Resort Snow Tubing, and Adventure Mountain Lake Tahoe.  Or let the little ones sled while the older kids and adults hit the ski slopes at Sierra at Tahoe Tubing Hill and Heavenly's Adventure Park.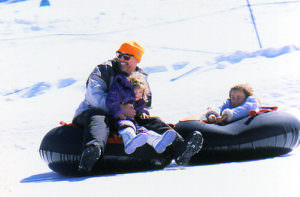 Take a drive to Spooner Summit where Hwy 50 and Hwy 28 meet and you will see plenty of families enjoying the "free" hill right off the road.  If you don't want to drive far but still don't want to pay to sled, there is Van Sickle Park right behind the casinos and Heavenly Shopping Center where you can walk in and find plenty of hills to enjoy.  Just remember with the "free" options you have to bring your own sled as there aren't any onsite amenities.
Snowmobiling
There are a variety of choices if you are looking for a snowmobiling mountain adventure.  Zephyr Cove Snowmobile Center will guide you through mountain meadows and snow-covered pines to an elevation of 9,000 feet.  Lake Tahoe Adventures has been voted "locals favorite" and has great tours into hidden places.  For personal use as well as supervised riding, Sierra Mountain Sports offers two locations on the South Shore.
Ice Skating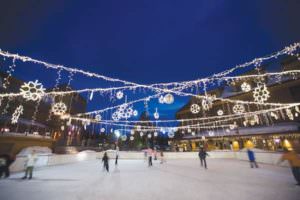 Bring your family and enjoy an afternoon or evening of ice skating fun.  The South Tahoe Ice Arena is a full service ice skating facility.  With a regulation NHL size sheet of ice, locker rooms, snack bar, retail store, arcade, and party rooms.  This public facility offers year-round ice skating and hockey lessons.  At Heavenly Village Ice Rink kids can enjoy skating while parents enjoy boutique shopping, the movie theater, and plenty of great restaurants.  During the spring and summer it becomes a fun miniature golf course.
On the North Shore there are two amazing choices.  The Ice Rink at the Village at Northstar is a 9,000 square foot rink where you can relax and watch the kids while warming up by a fire pit.  During the spring and summer it gets turned into a roller skating rink.  The Olympic Ice Pavilion is located at the top of the mountain at Squaw Valley and is the highest outdoor ice rink in the world.  Ride the cable car up to the top and enjoy the panoramic views while you skate.
Cross Country Skiing
For those who want a more relaxing day on the snow, cross country skiing in Lake Tahoe won't let you down.  Most of the ski resorts have cross country skiing options available.  For those who want to get away from the crowds there are some hidden gems that only locals know about.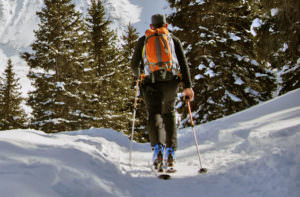 One of the best areas to make tracks is Spooner Lake Cross Country Ski Area with over 9,000 acres of well groomed ski trails.  Those looking to getaway from the crowds will enjoy Hope Valley.  It is a locals favorite, and well worth the trip.  You will have 60 miles of trails, with 10 miles of groomed trails in meadow and forest areas.  Royal Gorge Cross Country Resort is on the North Shore in Soda Springs, and is knows world-wide for their 200+ kilometer trail system in 6,000 acres of forest terrain.  They even offer dog-friendly trails.
__________________________________________________________________________
How To Find Your Perfect Vacation Home in Lake Tahoe