Lake Tahoe offers 72 miles of shoreline, so there are plenty of hidden coves and large public beaches to enjoy.  Soak in the sun as you take in the panoramic views of the surrounding mountain peaks.  Gazing at the sparkling blue water makes your day slow down so you can enjoy "Tahoe Time" like the locals.  Here is a list of the most popular beaches around Lake Tahoe.
South Shore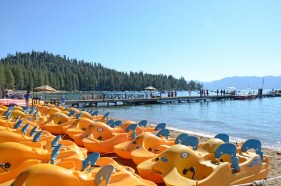 Nevada Beach is .7 miles long and is the widest sandy beach on the lake. It is a dog friendly beach, has picnic tables, camping area, and good for large groups and kiteboarding.
Zephyr Cove is more than a mile long, and has a huge grassy area for group events, beachfront cabins, campground, watersport rentals, and is the launch point of M.S. Dixie II.  This beach has been popular with the younger crowd, and has been the site of a MTV beach party.
Regan Beach is a city beach with a grassy area overlooking the lake.  It is very popular with weddings.  Families enjoy its lakeside playground and sandy volleyball court.
Baldwin Beach & Ski Beach are a local favorite and has amazing views of Mt. Tallac.  Watersport rentals are available most weekends.  Visitors can walk from Baldwin Beach over to Ski Beach where boaters like to anchor their boats and relax on the shore.  Tallac Creek runs between the two beaches, and is popular with little kids who like to search the water for tad-poles.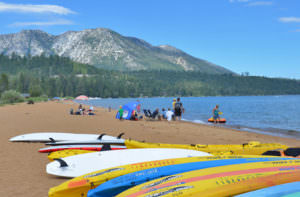 Camp Richardson Resort and Beach offers year-round activities.  They have a full-service marina, and a lakeside restaurant and bar that has the famous "Rum Runner" cocktail.  Live music most weekends in the afternoon.
El Dorado Beach is in the middle of the city of South Lake Tahoe (also known as Lakeview Commons Beach).  The beach draws large crowds for the "Live at Lakeview" concerts and events on Thursdays during the summer.  Watersport rentals available, and a small ramp for canoes, kayaks, and paddle boards.
Kiva Beach is a dog friendly beach close to Camp Richardson and next to Baldwin Beach.  Taylor Creek is close by, and has a Visitors Center and walking trails that offer educational trail signs pointing out vegetation and local history that is great for kids.
Lakeside Beach and Marina has some of the best sand in Tahoe. Kids enjoy the lakeside playground and volleyball courts.  Beachgoers have the option of having a picnic on the beach or sitting down to a meal at Lakeside Beach Grill.  You must purchase a daily or seasonal pass to use the beach during the summer, unless you are a guest staying at one of the hotels close by.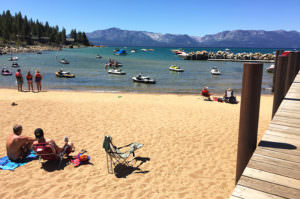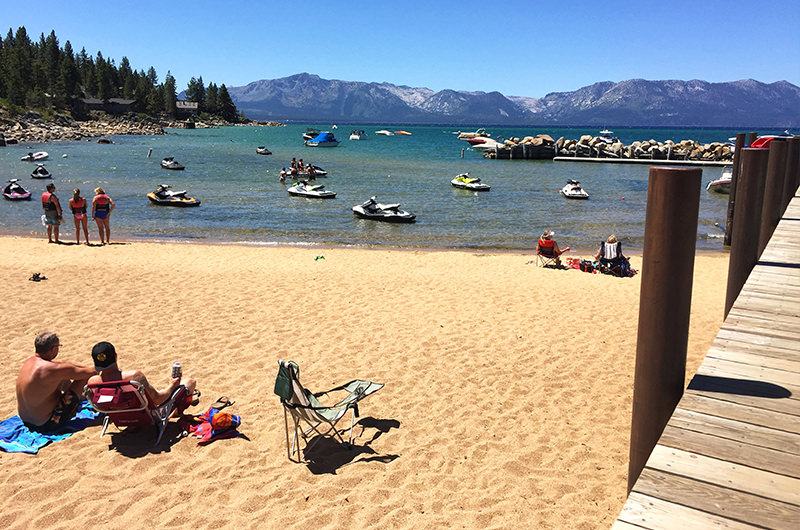 Pope Beach is a family favorite with its shallow water and shelter from the wind.  The parking lot runs the length of the beach, providing easy beach access.  Watercraft rentals are available most weekends, and a mobile snack shack offers goodies for the kids.
Round Hill Pines Beach and Marina is a half-mile long and has a lot of day use amenities. It is a popular site for weddings and private parties.  The marina offers watersport rentals, and the Bar and Grill offer yummy treats.
North Shore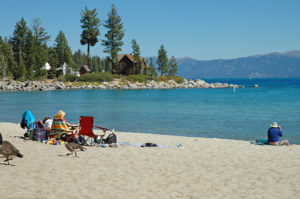 Commons Beach is the jewel of Tahoe City. It is the site of many community events, such as summertime concerts, movies, and a farmers market.  Families love the playground.
D.L. Bliss State Park and Lester Beach have to be some of the most awe inspiring beaches with its amazing views.  The park covers 1.830 acres and includes 6 miles of shoreline.  Beach areas are integrated with the camping sites, so visitors tend to claim their spot on the sand early in the day.
Ski Beach, Incline Beach, and Burnt Cedar are restricted to Incline Village pass holders, their guests, and punch card holders.  You can pick up a beach pass or punch card at the Incline Village Recreation Center at 980 Incline Way.
Kings Beach is the largest public beach on the North Shore with 700 feet of shoreline.  Watersport rentals on site, and swimmers enjoy the south-facing sand that is known to be the "warmest" water at the lake.  It is also the only public dog friendly beach on the North Shore.
Meeks Bay Resort has a spacious white sandy beach and lakeside picnic areas.  The large designated swimming area is easily accessed from the parking lot.  Onsite food, bathrooms, and full-service retail store with Native American crafts, books, and apparel.  Watersport rentals are available, as well as fishing excursions.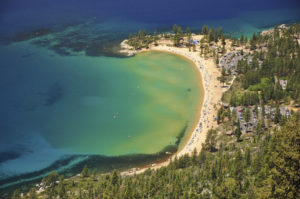 Sand Harbor is 3 miles south of Incline Village.  It offers 55 acres of paradise with expansive sandy beaches, rocky coves, and panoramic views.  Swimmers and scuba divers enjoy the interesting rock formations above and below the waterline.  During the summer a visitors center, gift shop, snack bar and grill are open for your convenience.
Sugar Pine Point is over 2,000 acres filled with beachfront trails, hikes, campground, swimming holes, and boating options with a 7,000 foot beachfront.  Enjoy swimming and fishing at the pier.  Step back into the past by touring the Hellman-Ehrman Mansion, an early 1900s summer retreat.
Tahoe Vista Recreation Area and Boat Launch has 800 sqft of lake frontage.  The recreation area includes lake access, boat launch, picnic area, restrooms, and a large plaza area.
_________________________________________________________________________________________
How To Find Your Perfect Vacation Home in Lake Tahoe