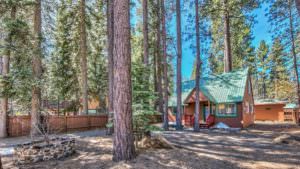 It's not too late to purchase a Lake Tahoe home priced under $400,000, but there aren't many homes left. Currently, there are 12 homes in this price range for sale on the California side of Lake Tahoe that aren't already in escrow (as of 7/17/2020).
Condos can make a great alternative for those looking to purchase a property in Tahoe but don't have a lot of money to spend. There are 11 condos listed under $400,000 currently on the California side of South Shore (as of 7/17/2020).
Below are examples of current homes and condos for sale under $400,000.
South Lake Tahoe, CA Homes
1140 3rd Street – Lowest priced home currently – $279,500
1863 Normuk Street – Cabin with 2 car garage on large lot – $350,000
3421 Janet Drive – Well cared for cabin – $375,000
3304 Cape Horn Road – Close to the Lake – $385,000
South Lake Tahoe, CA Condos
516 Emerald Bay Road #233 – Close to Camp Richardson & Beaches – $229,000
3535 Lake Tahoe Blvd #103 – Able to be a Vacation Rental – $269,000
1200 Wildwood Avenue #44 – Close to Heavenly Ski Resort – $299,000
3025 Christmas Valley Rd #2 – Located out in the County – $385,000
Why the interest in these lower priced homes?
Many buyers are interested in the homes and condos priced below $400,000 because they are looking to purchase their first home or want a property with income potential. Many buyers are coming to the realization that this might be last time they can afford to purchase a home in Lake Tahoe anytime soon and they don't mind investing in properties need work or are smaller in size.
Why Purchase a Lake Tahoe home Now?
In our recent blog, we explained that interest in Lake Tahoe real estate is high right now, sales are up and inventory is down. Since there are so few homes on the market, those that are for sale are seeing lots of interest and activity. If you're interested in buying a home in Lake Tahoe, there is no time like the present to get started on your search.