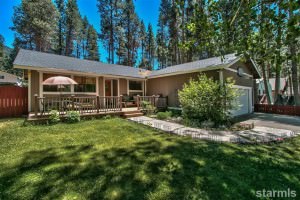 In South Lake Tahoe, closed sales of homes were down 11.6% in July and the median sales price went up 19.7% to $337,500.  The reasons for this were explained in an earlier article.  There are a few areas that experienced an increase in both closed sales and median sales price and the Bijou Neighborhood was one of them.
The Bijou neighborhood in South Lake Tahoe is centrally located and residents have easy access to everything there is to do on the South shore.
Bijou Neighborhood
For South Lake Tahoe real estate purposes, the Bijou neighborhood of South Lake Tahoe is actually two separate areas, Bijou 1 and Bijou 2.  The only people that really use these numbers are real estate agents as most residents won't know if they are in one or the other as it's all Bijou to them.
Bijou is bordered by Pioneer Trail as it joins with Highway 50 on the Southeast end, Ralph Drive on the South,  Lake Tahoe on the north and Rufus Allen Blvd on the West and stretches almost to where Al Tahoe Blvd and Johnson Blvd meet. When a client asks for a well priced home with a good location I recommend Bijou neighborhood to them. Bijou is within 5 minutes to the lake, Heavenly Valley Ski Resort, the Y area, Stateline area and the casino core.
Home sales in this South Lake Tahoe neighborhood went up almost 5% during the past year and the median sales price went up 12% to just under $261,000.  My clients find many different housing types in Bijou, from the  historic homes in Bijou Pines to larger, newer homes. There are also condos and multi-family units. I have a great Lake Front home for sale in the Bijou neighborhood.   With median prices consistently rising, I feel homes in Bijou will also continue to rise.
The Bijou Community Elementary School is located here which has become very popular with parents wanting their children to attend their Two-Way immersion language program.
Other South Lake Tahoe Neighborhoods
We had other areas that experienced the same, increased sales as well as increased median price. None of them have the volume that Bijou had (90) but they are still very popular for the home buyer.  The Pioneer Trail neighborhood had 10% more in sales this past year and a median sales rise in 18.5% to $375,000. Stateline neighborhood sales were up 28.6% and the median sales price was up 12.4% to $245,000.  Tahoe Paradise sales were up 5.9% and the price went up 3% to $337,500.  The smaller Fallen Leaf Lake area has 4 sales which was up 33% , and the median sales price had a 111%  jump to $1,979,500.  Since there are so few homes here it takes only one  sale of a two million dollar home to change the median.
How to find your home in Bijou or any other South Lake Tahoe neighborhood
Sign up for email notification so you'll know the minute a home is listed.
Call me directly at 530-541-2465 or stop by my office and we'll sit down and explore all options.
Get my newsletter every other month which gives you an insight into Lake Tahoe real estate.
Search all homes for sale around the lake.  My website makes it easy to search for homes that match your criteria.
Get valuable and current information when you sign up to receive Lake Tahoe real estate articles  sent to your inbox.