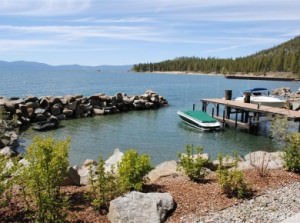 The summer has wrapped up and now South Lake Tahoe can get back to a nice, casual pace.  I've been so busy this summer with people calling or walking in the door every day to look for a home to purchase in our mountain paradise.  That's whats been great about having my office in the Heavenly Village…right in the middle of all the action! August 2014
Fewer homes for sale equals fewer sales volume: 
August 2014
The number of new listings of homes for sale in South Lake Tahoe rose 14% from a year ago.  August 2013 saw the first upturn of inventory of homes after 5 1/2 year drop!  In 2012 and 2013, Lake Tahoe visitors rushed to town to purchase a home since many believed that it would be the only time they could afford a home in a resort community like Tahoe. Prices were still reasonable, interest rates still good and with more desire to own in Tahoe, closed sales continued to rise. Now I'm still seeing an increase in interest with more select buyers and more homes to choose from.
At the height of the recession, South Lake Tahoe had a huge inventory of homes: 676 in March of 2008.  We currently have 375. While that certainly is a large drop, June of 2013 saw only 328 homes on the market.
Over the last few months, I've been writing about how we didn't have many homes for sale at the lower end of the price scale.  This month there was actually a rise in this number. In August we had a 3% gain in homes for sale under $300,000, but a 23% drop in the number of new listings in the same price range.   Why do you ask?  I feel it's due to the fact that more people have entered the higher price range for homes and skipping over the fixer-uppers.
The median price of homes sold increases over last year:
The median sales price of homes sold in August was exactly the same as July at $335,000. But, when compared to the real estate market a year ago, this price is up 15%.  The figure has been consistently rising for the last two years.  In August of 2012, the median was $231,000.
The Lake Tahoe region is always different than the rest of the county because we are a resort area with second homes.  We lag behind a bit in what others are experiencing since most buyers tend to purchase their primary residence first, then look at investing in a second home.
But a decrease in home sales volume didn't affect the median price.
Month's supply of homes for sale in Lake Tahoe:
Another change in the South Lake Tahoe real estate sales statistics is the "month's supply".   The US has seen a steady decrease from 8.3  in 2011 to 5.5 in July.  South Lake Tahoe months supply had dropped drastically between 2009 and 2013, but we're now up 22% this year with a 6.2 month's supply. This figure is based on how many homes are on the market, and if no new ones were added, how long it would take for all to sell. Economists say that a robust economy has to have at least a 5 month's supply.
Days on Market before a home is Sold average:
The average number of days a home is on the market before it has sold in South Lake Tahoe is 121, a drop of 9% from August of last year.  The four prices ranges we have our homes categorized all saw a drop in the number of days on the market. The highest range, those over $650,000, had a 13% drop in an average of 170 days. The next range, those homes sold between $435,000 and $650,000 saw 18% fewer days on the market at 126 days. Homes sold for under $300,000 were on the market for an average of 115 days.
How to find your Lake Tahoe home:
Sign up for an email notification so you'll know the minute a home is listed.
Call me directly at 530-541-2465 or stop by my office and we'll sit down and explore all options.
Get my newsletter every other month which gives you an insight into Lake Tahoe real estate.
Search all homes for sale around the lake.  My website makes it easy to search for homes that match your criteria.
Get valuable and current information when you sign up to receive Lake Tahoe real estate articles sent to your inbox.