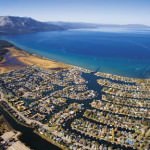 During the late 1950s and early 1960s, the marsh at the mouth of the Truckee River was developed into what we now know as the "Tahoe Keys." When people now hear of the Tahoe Keys, they automatically think high-end homes on the water, boats and the marina and direct access to beautiful Lake Tahoe.  The Keys is a 750-acre marina resort community that has 1,220 homes and 335 townhomes which sit on 11 miles of inland waterways. This development is unlike any others on the South Shore and is definitely placed at the top of the list for potential homeowners.
Tahoe Keys Neighborhood Highlight
Watch our team's video review of the Tahoe Keys neighborhood and get a good insight as to what the area has to offer along with all of the amazing amenities that are included in calling this neighborhood "Home Sweet Home."
Tahoe Keys Homeowners Association
There is a homeowner's association for residents of the Tahoe Keys.  They offer an indoor and outdoor swimming pool with special lap swimming and water exercise times, a lakefront park, picnic areas, private pier and tennis courts.  The association fees and assessments differ depending on which area the home resides.
The Marina
The marina is under new ownership and now offers more than just boat services and The Fresh Ketch waterfront restaurant.  There is now some retail with plans to expand what is offered.  The marina is host to annual events such as the popular Wooden Boat Show and sailing events.
Want to Know More?
We would be more than happy to help you along in your search for your Tahoe Keys dream home.  This neighborhood is a one-of-a-kind gem in Lake Tahoe and a great place to invest. There are some amazing properties on the market right now, so don't miss out on finding your one true Tahoe beauty!  Contact Amanda Adams.
Keep up to date on Tahoe Real Estate