It's the question everyone asks when they call our team. "What will happen with the real estate market in 2023?" Of course we can't know the answer to that. Really wish we did, but instead we are just like everyone one else and rely on educated guesses and forecasts.
What will happen with the real estate market in 2023?

– Everyone
One way we can get pretty close (usually) to knowing what will happen with the market is to listen to the experts. While we consider ourselves experts regarding the Tahoe Real Estate and market, we have to lean on economic experts to get more in depth details and analysis. By combining this expert knowledge for both the local market as well as the state & national markets and the economy as a whole, we can extrapolate with a moderate confidence of accuracy what will happen.
The information provided here includes historical and current data, with educated estimations on the future. In other words, the forecasts are guesses. No one can really know exactly what will happen. Please use your own judgement when making financial decisions.
BIGGEST FEAR
The big fear everyone has is if we are heading into a recession. That is what prompts our clients to ask our team about the future of the market. After COVID started we saw a huge boom in sales throughout the country, with Tahoe being the focus for many buyers. People wanted to get out of the City and enjoy the mountains and outside after being cooped up during the shut downs.
But as the saying goes… what goes up must come down. So we all waited to see when the COVID peak would be reached and then see how fast and how far down the decline would be afterward.
So did we reach the peak? Yup, looks like we did. But how do we know? And what are the predictions for the coming year?
REACHING THE TOP
Our detailed monthly market analysis goes over the month by month changes in the South Tahoe real estate market and how it will affect you as a buyer or seller. This information shows us we most likely reached the COVID peak last summer between May and September.
Since the peak we have seen a slow down and price drops. But prices haven't dropped as much as some people thought they would. Why? Mainly prices have remained at a slow decline due to a continuing lack of inventory as well as sellers not needing to drop prices to make a "motivated" sale since they probably have really low interest rates on their properties. Others are taking advantage of the still high rental prices and simply putting tenants into their homes to cover the cost of the mortgage.
In general the State of California sees a slower market in the winter. This is so in Tahoe and in Los Angeles. If we look at the state as a whole we can see that pending sales have dropped more and more year over year since the huge increase in sales in summer of 2020.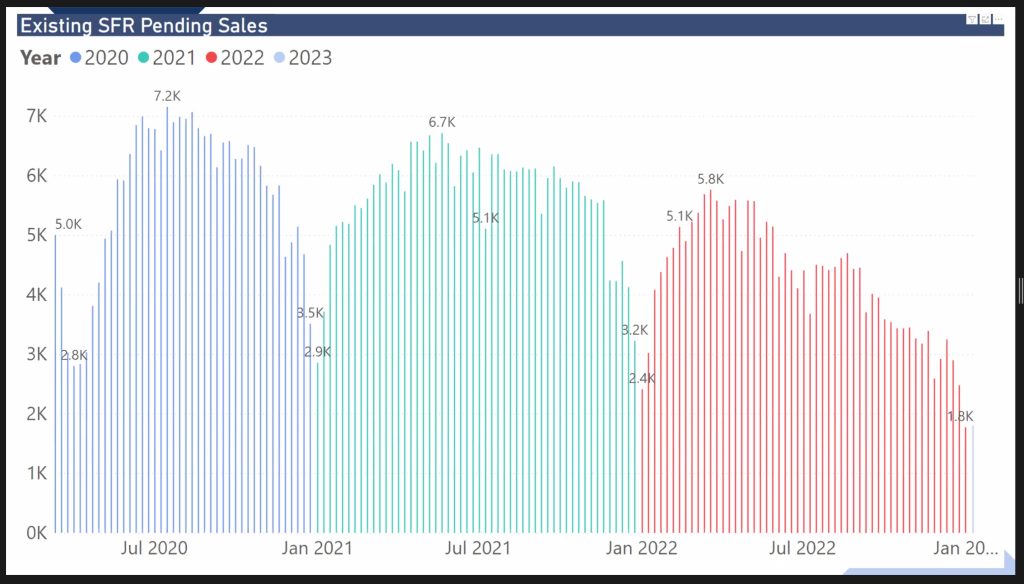 Interesting to note that the faint grey line at the far right are the January 2023 numbers, and it shows a slight uptick in pending sales. One other thing to notice about the chart is that it shows a pretty regular decline over the past 3 years. But this tells us what we pretty much already knew… sales are down, way down.
DROP THE PRICE
Buyers all want one thing more than anything else… they want to see prices drop! But with interest rates going up recently, that has wiped away any benefit from price drops for buyers who need to get a mortgage for the purchase. Based on todays rates, you will pay approximately $4,000 per month for a $650,000 home, when you could have purchased a $950,000 house last year and still paid only $4,000 per month!
Even though prices have gone down, they haven't dropped 30%. So for the buyers who waited they are paying more for less.
While we now understand prices haven't dropped dramatically, sometimes it's hard to see the big picture when you just see "price reduction" signs everywhere. So let's look at the big picture.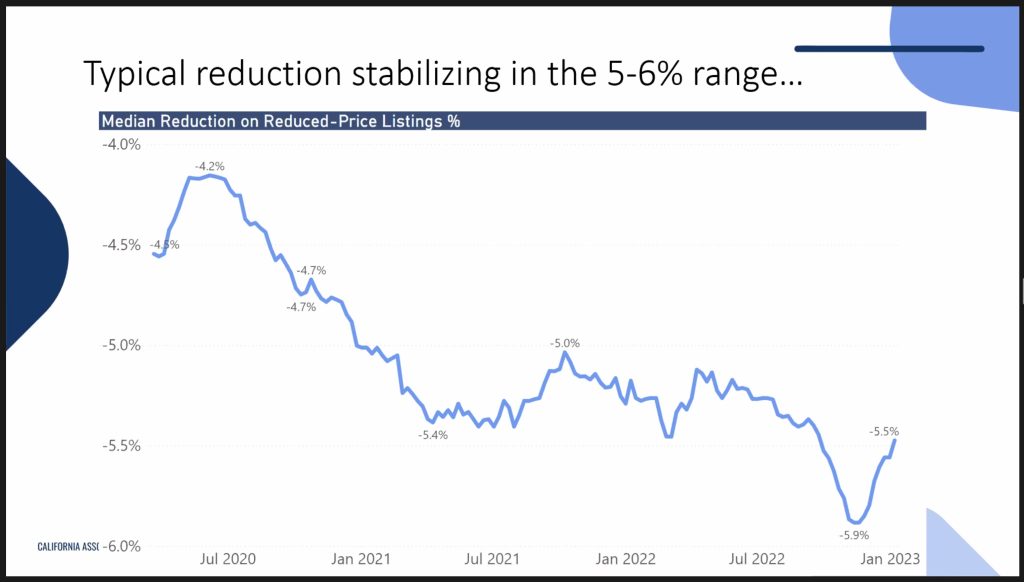 In Tahoe, while initially right before the peak we did see prices start to soften, they have flattened since September 2022. Oddly the median sales price is actually up a little the past few months of 2022. That is mainly due to prices staying strong at the higher end market. The majority of price reductions are happening on the lower end below $1 million.
Looking at the state data above you can see that the amount of listings with price reductions have slowed over the past 2 months. Is this a blip in the data or a trend? We will have to wait to see. But the professionals think this is a sign of a flat and steady market for 2023.
We also need to realize that year over year prices are still up.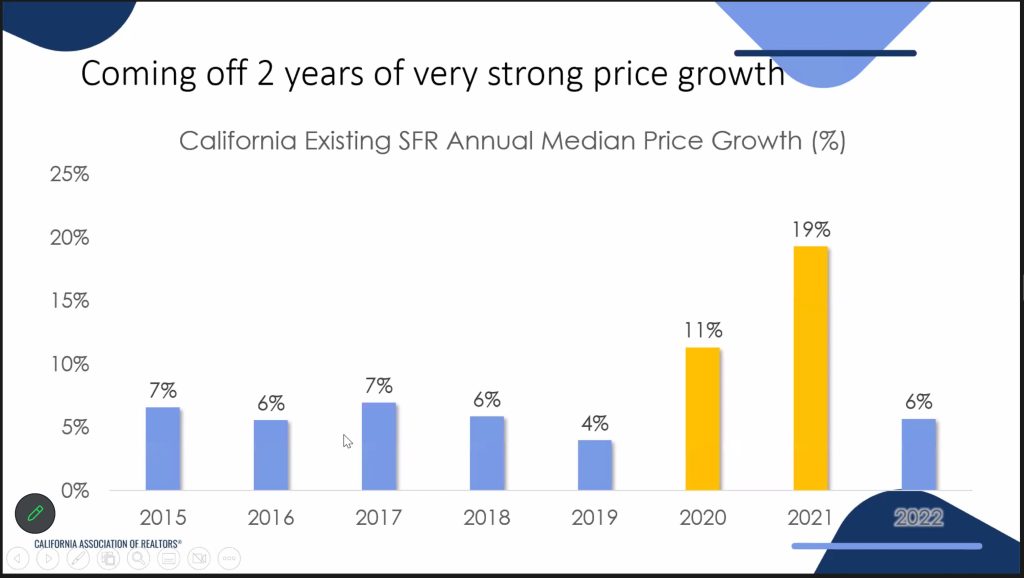 While we saw softening last year, prices were still up 6% over the previous year which is a healthy amount. It is anticipated that will drop a little in 2023 and 2024, but still be up year over year.
CRYSTAL BALL TIME
Now it's time to put all this data into context and try to answer the age old question… what will happen in the future?
A lot of what happens will depend on the national and global economy as well as interest rates. If things stay how they are right now, we should see a steady real estate market through 2023. What if the economy starts to dip significantly or the fed raises rates dramatically (again)? That will most likely cause a softened or down market trend. If the fed keeps rates at current levels or lowers them every so slightly and the economy is good, that should encourage the market to pick up a little.
The reason for this estimation is due to the fact most sellers and buyers right now are waiting to see what the fed does. They are also waiting to see how the economy reacts to new inflation and jobs data. We don't really focus on the stock market as much as other things. Investors tend to turn to real estate when the stock market is unstable. So having a somewhat bad stock market is actually good for real estate (usually but not always).
WHAT WE WILL BE LOOKING FOR
It is totally normal in Tahoe for the real estate market to be flat or down in the Winter months. We always look to see trends in inventory and price reductions to see where we stand and get a glimpse into the future when sales usually start to pick up in April and May.
Currently sales and inventory are at near record lows. With low inventory that means there is very little for buyers to choose from. This keeps prices level for the most part. If inventory remains low into April, and we start to see the normal increase in buyers in May, we should be all good and settled into a normal healthy market.
If inventory jumps up and/or buyers don't increase in May, that will tell us a reset is coming. We aren't sure if that will cause prices to drop. As mentioned before the prices are staying put pretty much due to sellers having super low interest rates. Most sellers don't want to give those up if they aren't able to get top dollar for their homes. Some sellers will be "motivated" and need to sell, thus they will probably drop prices until they get an offer. But the rest will stay put, kind of how they are now.
WHAT ABOUT NOW?
So should you buy or sell a home now? Or should you wait?
BUYERS
As mentioned above, prices really aren't dropping much. So the benefit of waiting to buy isn't going to mean significantly lower prices. With the unknown on what the fed will do with interest rates it's also a risk to wait. While it is possible rates will drop a little in the future, we don't really think that will happen until the 4th quarter of 2023.
One good reason to wait would be to let the inventory build up a bit to give you more homes to choose from. However this also is a double edges sword. If inventory does go up, it will most likely happen around April or May. So if you wait you will likely have more competition for the good properties.
Right now buyers are in the drivers seat. We do have some sellers who refuse to realize the market has shifted and they are staying firm on negotiations. But most are reasonable and open to negotiating deals with buyers. One really cool tip our team gives our clients is to ask the seller to pay for a loan "buy down". We have an entire article on "buy downs" and how they work. But the short of it is they can help buyers get a better interest rate without more out of pocket at closing.
SELLERS
For sellers its a tough one. Right now you have to price your place very aggressively. Also your home needs to be highly desirable in order to get offers. So no weird floor plans, funky neighborhoods, or massive repairs needed. As always price is the final decider. So even if you do have a unique home with an odd floorplan if you put the listing price low enough you will get it sold. But most sellers think their homes are perfect. Which makes getting the list price low an uphill battle for us real estate agents.
It's also true that prices may drop more, so waiting to sell might not be beneficial if you want top dollar. We especially want sellers to know they shouldn't be waiting for prices to go up dramatically again. Every economist and expert has told us that isn't likely in the next few years. More likely is a slight price decrease. But most think things will stay flat. So the only benefit in waiting is to get more buyers looking at your home. If sellers want to wait until the number of buyers picks up then they should plan now to have their homes ready to list by mid-April.
Fill out this contact form and we will send you a FREE detailed customized market analysis for your specific property. Our team will also let you know what we recommend as far as timing and preparing it to be listed. Or if you would rather cut out the middle woman, you can go to our page with MyHomeIQ and get your own estimated market value all on your own by entering in a few details.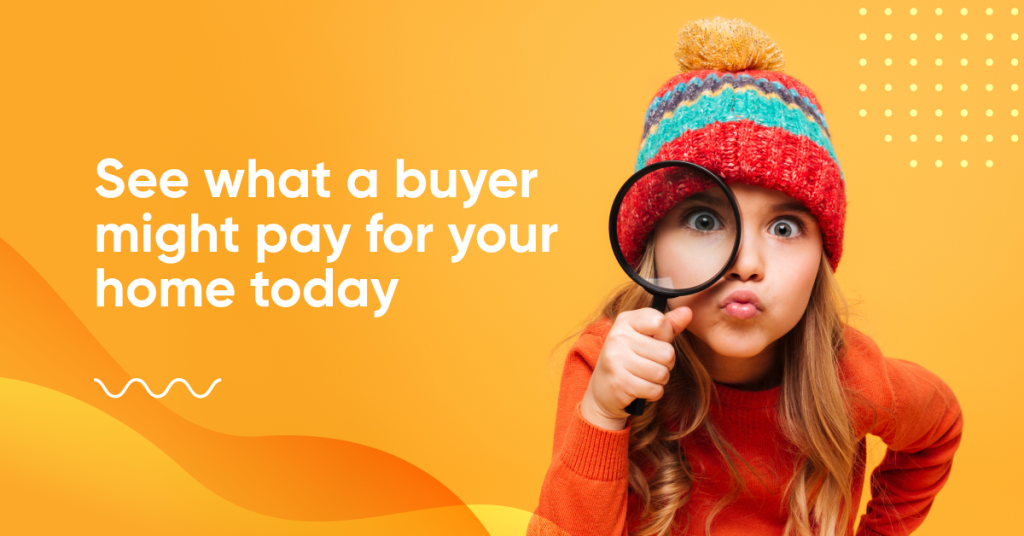 Keep up to date on Tahoe Real Estate