Why Choose Lake Tahoe for the Winter?
When most people think of Tahoe in the winter time, they picture crystal blue waters, majestic mountain ranges and snow. Lots of snow. If you're like a lot of people out there that are thinking about buying a winter vacation home in Lake Tahoe and want to know all the perks that come along with doing so, then you've come to the right place. As locals, we've come to learn and love all that Tahoe has to offer throughout it's seasons but Winter has always been a fan favorite for not only us, but tourists all over the world….and here's why:
1. World Renown Ski Resorts: Lake Tahoe is home to not only 1, but 6 ski and snowboard resorts that are scattered throughout the Tahoe Basin. Northstar, Mount Rose and Squaw Valley (which was home to the 1960 Winter Olympic Games) are all located on the North Shore. Sierra-at-Tahoe and Kirkwood are on the South Shore, along with Heavenly Valley which is not only the largest ski resort in Tahoe, but only steps away from our new office location! No matter what side of the lake you decide to buy your winter vacation home on, there's a resort just minutes away.
2. Sledding/Snow Parks: If skiing and snowboarding aren't your thing, don't worry. Pack up the family and head up to Adventure Mountain Lake Tahoe which is at the top of Echo Summit just passed the Meyers neighborhood in South Lake. Enjoy Tahoe's highest sledding snow park with over 15 machine-groomed sledding runs that sit on over 40 acres of snow covered terrain. Rent sleds, inner tubes and even snowshoes all right there at the park and when your finished, head over to the newly remodeled lodge and enjoy a nice warm cup of hot chocolate. What sounds better than that?
3. Ice Skating: South Lake Tahoe is lucky because there's actually TWO ice skating rinks that locals and visitors can enjoy and not only during the winter. The Tahoe Ice Sports Center is located next to the Recreation Center off of Hwy 50 near the middle of town. This NHL size indoor ice rink offers public skating, ice hockey, figure skating, curling and even lessons EVERY DAY of the year! Yes, you heard me right. The Tahoe Ice Sports Center is open all year long. The other ice rink is located in The Shops at Heavenly Village, about 10 steps from Paradise Real Estate's front door. This one however, is seasonal so you'll have to enjoy this one during the winter months only.
4. Relaxation: This is probably one of the main reasons 2nd homeowners buy in Tahoe and people come to visit. There is no where else that can rival the majestic scenery and tranquility Tahoe has to offer. Grab a book, a glass of wine, your slippers and a fuzzy blanket and watch the delicate snowflakes fall to the ground in a peaceful silence unlike anywhere else. You'll want to spark up a conversation next to the fire pit instead of turning on the TV. Being able to escape to your very own vacation home in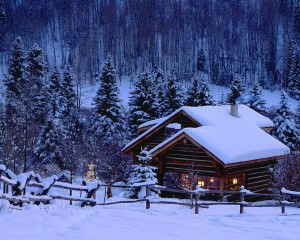 Tahoe, especially during the winter, will give you a sense of serenity and freedom that you will rarely find in a big city.
Sales Prices vs. Winter
On top of all the amazing activities Tahoe offers in the winter, the real estate market has it's own incentives as well. During the winter months, the average sales price of single family homes is usually lower than the prices you'll see during the Summer, mainly because the supply and demand isn't as high. For example, from June to August of last year, the average sales price for a single-family residence in the City of South Lake Tahoe was $473,000. During the winter months of October through the end of December, the average sales price dropped to $386,000. Potential buyers could greatly benefit from the season change here in Tahoe, as long as they don't mind looking for their perfect getaway in a little bit of snow.
As you can see, there really isn't a reason NOT to purchase a winter vacation home in Lake Tahoe. Ask yourself this: would you rather spend your time in Paradise lodging in a motel, hotel or casino, or snuggled up next to the fireplace on your very own couch, in your very own mountain cabin, while looking out at the snow-covered national forests of the Tahoe Basin? Hmmmm……
Interested in buying your very own winter vacation home in Lake Tahoe? Here are a few easy steps to get you started: