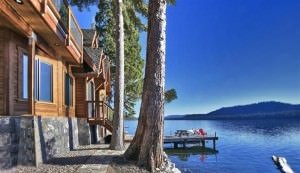 Now is a great time to invest in Lake Tahoe, whether it's a vacation rental, long-term rental, multi-units/apartments or retail buildings. With the continued low-interest rates and property prices still considered affordable, now is the time to pull the trigger before it's too late. I advise my clients that waiting will not help their situation. The biggest challenge is the lack of homes for sale. The key is to watch for new listings as they get posted to the MLS system.
What type of Lake Tahoe real estate should you invest in?
Since not all investment properties are the same it is important to determine what type of property fits your needs and your strategy. Recently the investors we ran into are either looking for a home that has a cap rate (capitalization rate) that brings a satisfactory rate of return or simply a second home to use personally and rent on a Vacation Rental program. Several types of buyers will want to buy a home and rent to a full-time tenant or short-term vacation rental, while others just want to buy a fixer-upper, fix it and then resell (Flip) at a higher price. We still recommend to our client's not to expect to make money on every property for a Flip, at least not in today's Lake Tahoe real estate market.
Lake Tahoe has a variety of investment properties. Do you want to buy an apartment building or a duplex? Do you want to buy land that can be developed? First-time real-estate investors may want to start with residential housing since commercial real estate and land development can involve higher amounts of money and risk.
1031 Exchange
We covered Lake Tahoe 1031 exchanges in an earlier post. We continue to get a lot of clients that are interested in investing
(and sometimes investing quickly) in order to use a 1031 exchange. Those looking for an exchange have opportunities in Lake Tahoe and the Lake Tahoe region to meet their needs.
Location, location, location
Where you find your investment property will determine your success. Buying a vacation home in Lake Tahoe is the perfect place as rentals are in high demand. Buying a vacation home in the middle of the desert thousands of miles away from food and water is not the perfect place for a vacation rental! With such desirable vacation rental property neighborhoods like the Tahoe Keys, Heavenly Valley and Montgomery Estates you would be wise to purchase now as the inventory of homes are dropping quickly.
The Lake Tahoe business district is along Highway 50 through the whole town. Within a block of the highway are some good business property opportunities.
Lake Tahoe Investment Opportunities
If a buyer is looking only for investment and not personal use then consider purchasing a duplex or other multi-unit properties for lower investment amount and high return on investment but be ready to hire a management company to manage the property for you.
Supporting Cast
You can't do everything yourself so it is one more important step to find the people who will clean, repair, rent, maintain, etc. We keep a list on my website and a local business referral network has an extensive list of service providers which are handy tools to keep your property working for you. It's good to enlist local help as they know the area, needs, and regulations for your project(s).
How to get an edge on your competition
Keep up to date on Tahoe Real Estate