When you live in the mountains in homes surrounded by the forest, you are always aware of fire danger. In Tahoe we have had our share of fires in the past. Some have been devastating, like the Angora fire that destroyed 242 residences in 2007. Others stayed small and basically just cleaned up dead trees in the forest.
But we have always known there was potential for a massive wildland fire to reach Tahoe. Local jurisdictions and organizations have worked hard to prepare for the next large fire and to protect the community as much as possible. This includes the addition of many alert fire cameras that surround the lake and have eyes on every area, as well as the Living with Fire in Tahoe site with tons of information and resources for locals and visitors.
The conditions we have seen over the last couple years have put many of us on the edge of our seats. We hoped it wouldn't happen, but prepared just in case.
CALDOR FIRE
Then on 8/14/2021 the Caldor Fire started down by Grizzly Flats south of Pollock Pines in the mountains west of Tahoe. Winds began to drive it north a few days later, pushing it through many small mountain communities. It reached the Hwy 50 area and caused mass evacuations in Pollock Pines a day later. The next day it began its big push east toward Tahoe.
Over the last week we have watched the fire creep along the mountains between Hwy 50 to the north and Hwy 88 to the south. It had reached the 100,000 acres mark. Things were relatively calm for a few days with minimal growth. That was until the night of 8/28 when the fire reached the small town of Strawberry and skipped over the dozer lines the fire fighters had spent over a week putting in place to stop the fire spread. The morning of 8/29 the fire took off on another run up the mountain past Strawberry and up to Sierra At Tahoe ski resort.
This fast movement toward Tahoe caused mandatory evacuations in the Meyers, Tahoe Paradise, Christmas Valley and other South Lake Tahoe areas on 8/30. The entire town of over 30,000 people was evacuated within a few hours. Later that night the fire rolled over the summit and began shooting embers into Christmas Valley and Meyers late 8/30 and into 8/31. By 9/1 the fire was established east of Hwy 89 and heading toward Heavenly Ski Resort to the north-east.
But then something unexpected happened… the fire started to slow down. As fire fighters fought hard to protect the thousands of houses in Christmas Valley and Meyers, they noticed they weren't having to deal with the super hot crowning that they had expected and what had driven the fire to grow so rapidly for the past few weeks. But when it reached the Tahoe basin, it stopped crowning.
Why would it stop crowning? Well, mainly because for a decade the Tahoe basin has spent a lot of effort on forest maintenance in preparation of a massive fire that we all knew was inevitable. This forest management included cleaning up ladder fuels such as lower dead tree limbs, shrubs close to the forest floor and dead trees. By cleaning up these ladder fuels the fire wasn't able to climb up into the crowns and thus crowning was prevented. When a fire can't crown, it doesn't travel as fast and there aren't as many hot embers pushed out in front of the fire which cause it to skip over fire lines. So our hard work over the last 10 years in the forests around Tahoe gave the fire fighters the upper-hand and let them have the extra time to protect the homes and prevent the fire from growing as quickly as it had been.
As of 9/10 the evacuation orders were lifted in South Lake Tahoe and on 9/17 we saw 100% fire containment within the Tahoe basin. The fire does still burn in a few other areas off Hwy 50 and Hwy 88. Hwy 88 re-opened on 9/18 and Hwy 50 remains closed as they do extensive utility and safety work on the road.
For up to date information on the status of the fire check out Inciweb for Caldor Fire (includes perimeter map)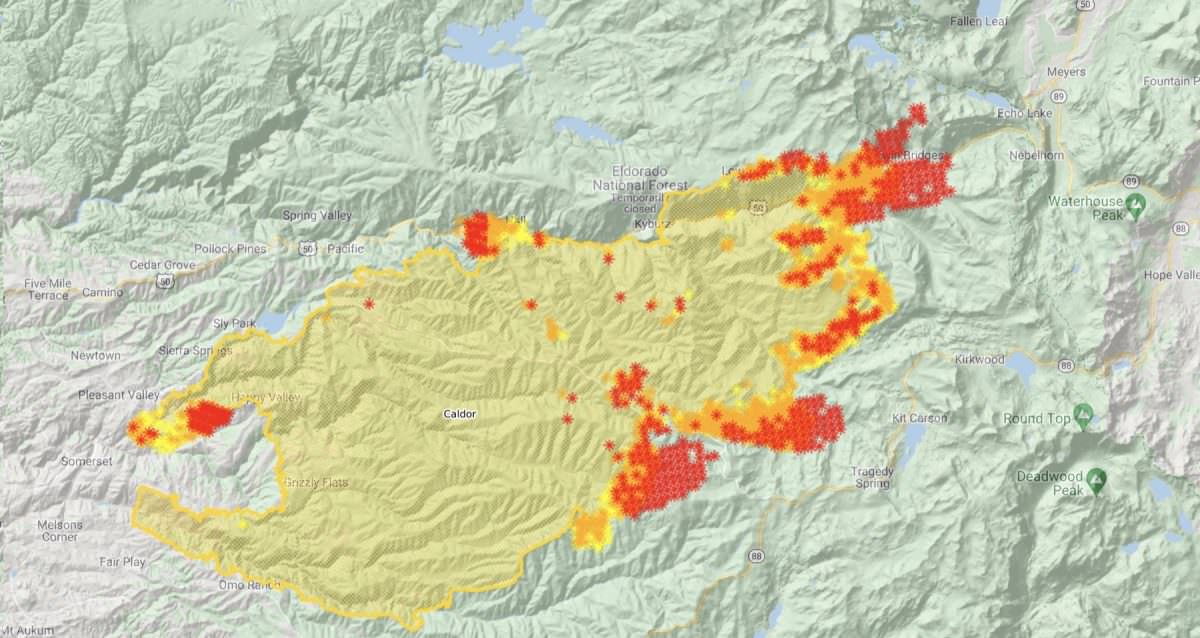 PUTTING THINGS IN PERSPECTIVE
Amazingly only a small handful of homes in the Christmas Valley area off South Upper Truckee and Hwy 88 had damage from the fire. One home was a complete loss, and about 6 others had some damage. But on Hwy 50 up by Sierra At Tahoe there were a lot of old cabins that were completely destroyed.
Our team will be dealing with owners who want to sell after going through the stress of the Caldor fire, and buyers who have concerns about what the real estate market will look like in the near future. This happens after every large fire in the area that pushes heavy smoke into the basin and when we have a heavy winter in Tahoe. We understand the concern many home owners have after going through something traumatic, and are here to help in any way we can.
For current homeowners and buyers, while the fire still burns it will be very difficult to get home owners insurance in the area within 10 to 20 miles of the fire front. It has affected almost all current escrows for purchase, with delays due to lack of insurance. Most insurers will wait until the fire is at least 80% contained. As of 9/18 we were at 71% containment. There are still ways to get a purchase done, you just need a good agent on your side to make sure you are protected in case you can't get insurance or have delays in getting the policy to go active.
One thing to remember is after a fire comes through the areas that burned will look horrible. This is just a sad fact with every wildfire. There will be charred trees, no bushes or grasses, and a strong wet charcoal smell for a few weeks. But the good news is after a few months things start to look much better. The native flowers should grow and bloom next spring, and new bushes and trees will start to grow in the months and years after. Just look at how beautiful the Angora Fire burn scar is now, with lovely aspens and beautiful flowers every spring.

So while things are bad at the moment, and we fear things may get worse over the next day or so, we look to the future with hope and optimism. Please stay safe, and let us know if there is anything we can do to help you with your real estate needs in Tahoe and the surrounding areas.
PROTECT YOUR HOME – DEFENSIBLE SPACE
This is also a perfect opportunity to remind everyone of how important defensible space is around your home. We know a lot of home owners in Tahoe love the thick trees around their property, and want to keep that natural forest look and feel. But just doing a few simple things can help so much if a fire does come close. Clean up any shrubs along the ground to keep them away from your house, trim up tree limbs on the bottom 1/3 of the tree, and rake up pine needles every spring.

If you would like to have a professional defensible space expert come out to check your south shore property you can reach out to the Lake Valley Fire Department HERE to get a free defensible space inspection.
Keep up to date on Tahoe Real Estate