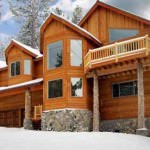 The Country Club Estates neighborhood of South Lake Tahoe, CA is named after it's proximity to two area golf courses, Tahoe Paradise Golf Course and Lake Tahoe Golf Course. It is a pocket of newer homes between Pioneer Trail and Highway 50 outside of the city limits near Elks Club Lane. Many homes have great views of the mountains and those along the ridge can even catch a glimpse of Lake Tahoe. Country Club Estates places homeowners away from the hustle bustle but yet close enough for a quick run to the grocery store.
Lake Tahoe Real Estate Sales in Country Club Estates
In June of 2013 there was 1 home sold in Country Club Estates, which is about normal–since there were 2 closed sales in each June of 2011 and 2012. The median sales price over the last year was $315,000, down a bit from the previous year's $337,500. This is above the entire South Lake Tahoe area's $275,000 figure.
Just like the rest of the area there is a reducing inventory of homes for sale in Country Club Estates. In June 2013 there were 4 new listings to bring the total for sale to 10. This number of homes for sale is down 37.5% from June of last year. The current inventory includes a palatial 6 bedroom home with fabulous views, a golfer's dream 4 bedroom home on the 2nd green and an open beam cabin ready for family memories.
Country Club Estates Neighborhood
Watch our video review of the Montgomery Estates area
The Area
Because of being located in the County, not only are residents close to golfing, they area also close to hiking and biking trails as well as skiing, cross country skiing and snowmobiling. The Country Club Estates area is in a great location because it is only a few minutes from the Y and yet offers a secluded country feeling. Being in Country Club Estates makes you truly feel like you are in the mountains.
Due to the newer construction in Country Club Estates/ Elks Club neighborhood, the overall home values tend to maintain a higher than South Lake Tahoe average. The nearby Lake Tahoe Environmental Magnet School consistently scores higher than other area schools.
Want to know more?
I would be happy to help you in your search of a Lake Tahoe home in the Country Club Estates neighborhood. This is a very nice place to own a home with good resale value and vacation rental home potential.
Keep up to date on Tahoe Real Estate