Even with all the newest technology and real estate websites available today, many home buyers are not experienced in the process of buying a Lake Tahoe home. There are unique aspects to purchasing a Lake Tahoe home. This is where your local real estate agent or broker comes to the rescue!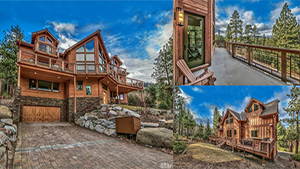 8 EASY STEPS TO PURCHASING A LAKE TAHOE HOME
1. SET A DATE
Establish the ideal or estimated target date to purchase in Lake Tahoe. Most buyers purchase in the summer months, between the end of May and the end of September. You will have more competition during those months. But in the winter we usually have fewer homes available for sale. Basically, there are positives and negatives to purchasing in either summer or winter. We recommend deciding what time-frame works best for your individual circumstances.
Once you decide on a time-frame, it's time to start planning ahead and setting things in place so you can move quickly when you find the right home.
2. GET PRE-QUALIFIED
Getting pre-qualified for your home loan is easy and usually takes about 15-20 minutes on the phone with a mortgage broker. We can refer you to several knowledgeable Lake Tahoe brokers if you don't already have one you work with. Whomever you use, they will gather some basic information from you regarding your income and ability to get a loan. Then they will draft up the pre-qualification letter for you. The pre-qualification letter will state what loan amount you can get and the maximum purchase price.
Having this information ahead of time helps you focus on the homes for sale within your actual price range. You don't want to find the perfect home only to later realize you can't get approved for a loan high enough to purchase it.
Of course, if you are paying cash instead of getting a loan, you can skip this step. Just be prepared to supply "proof of funds" which is usually a bank statement or something similar.
3. START LOOKING
Within 30 days of your target purchase date, start looking for properties that match your desires and qualifications. Our website is very easy to use for this process. Sign up for email notification of the price range, location and size of home you want and you'll be notified immediately as soon as a property comes on the market that matches your criteria. We will review the homes together and narrow down your options.
To make things easier, you can contact us and we will set up the email notification of new listings that fit your criteria for you. We can also narrow down the neighborhoods based on your specific needs and wants. Here is a handy worksheet that you can simply fill out and send to us: Your Home Search Checklist
4. VIEW HOMES IN PERSON
Once you narrow down your search of homes to the ones you are interested in, we can go view them in person. Most homes require at least 24 hour notice for showing appointments. So we recommend contacting us a few days ahead of time so we can schedule the showings.
Since you are already pre-qualified with a lender, you will be able to move quickly and put in an offer to purchase the home you choose. We have seen people miss out on the home in Lake Tahoe they wanted to purchase because someone else beat them to the punch. Our team will make recommendations to the best offer price according to the competition and current market activity. Once you make the offer we take the ball from there.
We will negotiate on your behalf with the seller until we come to an accepted offer.
Our transaction coordination team takes over to make sure all the paperwork is correct during the escrow period.
Once escrow closes we hold keys for you until you come back to Lake Tahoe to use your new home.
You are now the proud owner of a Lake Tahoe home!