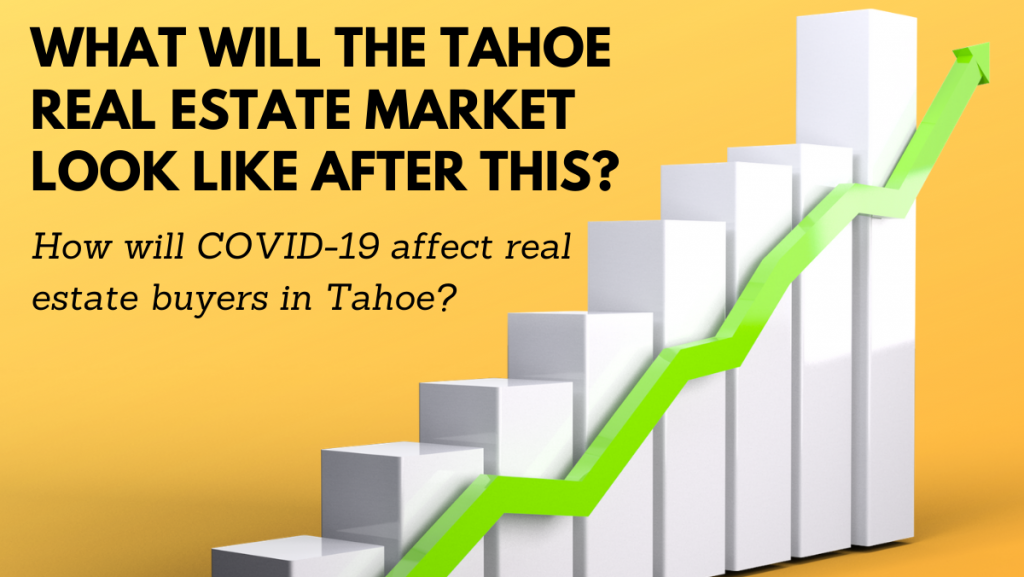 BUYERS HAVE A LOT OF QUESTIONS RIGHT NOW
Our previous post discussed how COVID-19 is affecting Tahoe for visitors as well as buyers and sellers. Click HERE to go to that post and read up on the current situation and how it may affect you. But what will the Tahoe real estate market look like for buyers once this is all over?
Many of our contacts and clients have asked us what we think will happen once this pandemic is all over and things get back to normal. For many buyers things are especially difficult with the unknowns in the economy and jobs. But the most common question from buyers right now is "will prices be lower when this is over?".
Below we will try our best to give insights on what the market will look like for buyers specifically, using our years of experience. While being honest and factual, we cannot guarantee what will happen. All we can do is use past data and forecasts to generate a picture of what the future may hold.
As always, every buyers situation is different. We recommend you contact us so we can discuss your needs and create a custom plan for you.
THE MARKET PRE COVID-19
CLOSED & PENDING SALES
Prior to the COVID-19 outbreak and the subsequent stay-at-home declarations in both California and Nevada, the market was in it's normal seasonal cycle of a lull in the winter after having the usual peak last summer. Below is a chart that shows the closed sales of single family homes and condos in South Lake Tahoe on a monthly basis for the past 3 years. You can see the numbers of closed sales go up in the summer, and down in the winter every year (condos stay around the same all year). This is our normal market cycle.
Normally, we would have seen an increase in closed sales starting in March or April. When March is over we will see what the numbers show. But we anticipate the number of closed sale will be flat and maybe drop. This is due to some escrows being canceled due to the buyers losing their jobs or having to close up their businesses. But we have also heard accounts of escrows still closing on time over the past few weeks.
We do anticipate the number of closed sales will be much lower in April. We also anticipate the number of pending sales to be lower for March and April once the numbers are out for those months. Normally we see pending sales start to increase in March and April every year.
MEDIAN PRICE
Finally, when you take a look at the median price for single family homes over the past 3 years you can see we have stayed pretty level around $480,000 since October 2018. Prices went up a bit to $485,000 in September 2019, but for the most part we have hovered around or just under $480,000 for over a year. That's way up from our low point in August 2012 when we had a median of $235,000 (the bottom of the recession) and just under our highest peak in April 2006 of $490,000 (before the recession).
WHAT DOES ALL THIS DATA MEAN
You might be thinking… "So what? I don't really care about how the market was before, just tell me what will happen in the future." But it is important to look back and see where we were when everything was put on hold, and use that to forecast what will happen when things open back up.
First of all, when you look at the graphs and data above you can see our market was acting normal with a lull in the winter and ready to ramp up for a busy summer once more. Prices were holding firm around a median of $480,000 and we had seen closed sales and pending sales follow normal trend lines.
One thing that had a lot of us thinking the market would be busier this coming summer is the continuing trend of lowering mortgage rates. There were models going around for the state of California as well as the entire Nation that showed the real estate market would continue to be strong through the summer. This was mainly due to the lower mortgage rates and low supply vs high demand we have seen over the past couple years.
So the experts were anticipating a busy summer for real estate, and locally we were anticipating the same thing based on the data we were seeing.
BUT WHAT ABOUT THE FUTURE
Now we look into our crystal ball.
We have to remember, at the time of me writing this post we are only about 3 weeks into the pandemic and 2 weeks into dealing with stay-at-home orders. But the strange thing is our clients continue to contact us asking questions about properties and even wanting to come to Tahoe to look at homes in person (which we cannot do as mentioned in our previous post).
WHAT ARE BUYERS DOING NOW?
There have been a few buyers who have told us they want to put their property search on hold and will re-evaluate their options when this is over. But others are still actively looking and are ready to buy as soon they can come to Tahoe and we can show them property again. So there are still willing and able buyers who are interested in Tahoe real estate.
There will be an opportunity for buyers who are ready-to-go with all cash, 1031 exchange, or a pre-approved loan to rush in to take advantage of some good deals as soon as things open back up. Some buyers will have to wait until the income from their personal business picks back up before they are ready to buy, which may be 3 to 6 months after things open up.
We have also seen a technological shift, with buyers purchasing homes sight-unseen just using virtual tour videos in lieu of physically seeing the property. While we always recommend our buyers view the property in person prior to submitting an offer, we do offer our customized Preview-Review walkthrough videos to our clients. CLICK HERE to get more information on Preview-Reviews and find out how to request one today.
SOME GOOD DEALS IN THE FUTURE
How do we know there will be good deals? Because we already have sellers who are asking us to reduce the price on their listings to try and entice a buyer to submit a "sight-unseen" offer to try and get their properties sold quickly. We aren't saying all listings will have massive price reductions. But for those sellers who are in a time crunch or need to sell for financial reasons, they will be more willing to take a lower price than they would have last month before this all began.
WHERE DID THE LISTINGS GO?
On a side note… if you look at property on our website or somewhere else online, you will probably start to see a lot of listings disappearing over the next week or so. This is because agents are moving the majority of their listings (with approval from the sellers) to the "Temporarily Off Market" status. Any listings put into this status will not accumulate days-on-market, and will not be transmitted to online listing sites. Then when the pandemic passes and things are opening back up the agent can put the listing back to "Active" status and it will go back online.
TO SUM IT ALL UP
The market was doing well and within normal range prior to the coronavirus outbreak.
We are still seeing demand from buyers, but for the most part they are going to wait it out and see what happens.
Sellers are getting anxious and some are already talking about lowering prices, but not all.
There will be a smaller pool of buyers for a few months when this is over.
Ready and able buyers will have the chance to pick up properties at good deals if they can act quickly when things open up.
So get yourself ready to buy as soon as things open up… contact us now and we will go over your options and create a customized plan that works for you.
DISCLAIMER
Remember, no one can tell you for certain what will happen with the market once the pandemic is over and we all get back to normal. But we do know a lot of what happens will depend on the following things:
How long this pandemic continues, both locally as well as world-wide
When stay-at-home orders are lifted for CA & NV as well as the rest of the country
When non-essential businesses are allowed to open back up
What economic stimulus gets delivered to consumers as well as businesses
What affect this has on mortgage companies and lending requirements
---
HOW TO STAY UP TO DATE AND FIND YOUR PERFECT TAHOE HOME