First of all, we at Team Paradise hope you are staying safe and healthy. We know this is a scary time for many around the world, especially those in the hardest hit areas with the highest concentration of positive Covid-19 cases. But if you came to this page then you are probably wondering how the coronavirus outbreak is affecting Tahoe.
This post will discuss how the current Covid-19 situation in Tahoe may affect the following:
For the most recent info regarding traveling to Tahoe click HERE.
VISITING LAKE TAHOE
Tahoe is always a prime location for visitors from around the world. It is peaceful, beautiful, and offers plenty of outdoor activities. States and Cities around the Country have issued "stay at home" orders and people are trying to figure out what to do for over a month being stuck in their homes. So it's no surprise that some have decided to get out of their home in the city and go to the mountains to get a little break.
Local, State, and Federal leadership have been reminding people that the "stay at home" orders are NOT a vacation. The purpose is to keep everyone separated to prevent the increasing spread of the new coronavirus and to limit the spread to more areas. Some Counties around the Lake have already made official "Do Not Travel" orders telling visitors to stay away from Tahoe at this time.
Trust us, we get it. When faced with spending over 30 days locked in a home in the city that has little to no yard and only other buildings to look out at, we would be wanting to head to a more peaceful place as well. However, the fact is if people break the "stay at home" orders and travel to other locations, the virus will have a chance to gain a foothold in even more locations.
TAHOE IS A RURAL AREA
Rural areas around the country are in a unique situation. In larger cities there are multiple hospitals and larger government services already in place to help the community. They may still get pushed past their capacity, but have ways to manage the overflow.
But our small mountain hospitals are not equipped to handle very many patients. On the south shore, Barton Hospital only has 63 patient beds and only 8 ICU beds. With a local full-time population of over 30,000 in South Lake Tahoe, the hospital will be pushed past it's limit if an outbreak of cases starts to hit the area.
NOWHERE TO STAY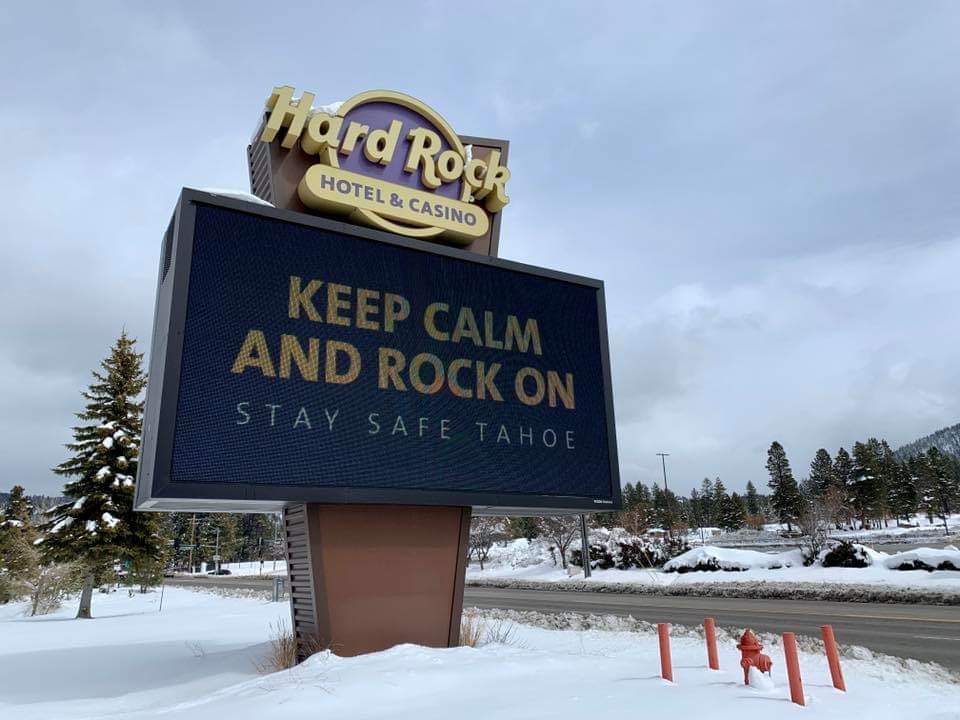 All around the lake the hotels and motels have shut down per the emergency declarations in California and Nevada. Short term rentals (vacation homes) have also been asked to follow the same rules as hotels, and are blocking their calendars for the entire "stay at home" period for both states. The only exceptions allowed to stay in short term rentals are people who fall under the exempt categories (medical, emergency, utility services) and for those who have been at the house since mid-March when the stay-at-home orders were put in place.
Local jurisdictions have been issuing $1,000 fines for vacation rentals and visitors who do not follow the stay-at-home orders and do not have an "essential" reason for traveling.
THINGS ARE CHANGING
There have been some recent changes to the stay-at-home orders in California and Nevada. Although these allow a little more freedom to local residents, including allowing some businesses to reopen soon (with occupancy and other safety restrictions), non-essential travel from out of the area is still discouraged and can be subject to a fine.
El Dorado County has been pretty firm on the travel restriction and $1,000 fine. This includes all travel into the county on the south end of the lake, from Tahoma on the west shore then down along the south shore to the Nevada stateline to the east, including the City of South Lake Tahoe.
As soon as we hear the travel restriction has been lifted, we will update this page with the info. But for now, a family vacation to Tahoe will probably have to wait a little while longer.
BUYING PROPERTY IN TAHOE
Real estate has been added to the "essential business" list at the federal level. But that doesn't mean it's business as usual. Lets get into the new policies and what they mean for buyers around Lake Tahoe.
THE SHOWING PROCESS
With the "stay at home" orders, real estate agents have been asked to work remotely when possible and have smart practices regarding showing properties to buyers.
What new processes are agents implementing for safety during COVID-19?
Drive in separate vehicles to all showing appointments (instead of riding together in one vehicle)
Have buyers wait outside while Agent turns on all lights and open all doors in the home (prevent multiple people from touching door handles and light switches)
Agent wipe down any touched surfaces before closing the house up and leaving (once Buyers are back outside)
OUR PLAN
Our team had decided to do all first-time meetings with buyers over the phone. This allows us to go over the buyers wants and needs, discuss options that will work best for their goals and set up a plan moving forward to reach those goals. We will also ask them to fill out a buyers worksheet.
If the buyer is ready to set up showings after the initial phone meeting, our team will be asking if the buyer(s) are or have been sick recently and what travel they have done over the past 14 days. If the buyer(s) have not been sick and have not traveled to one of the virus hot-spots recently we will then schedule the showing date.
We will be applying this same process for EVERY buyer and asking EVERYONE the same thing. It is to make sure we are safe, as well as protecting the owners or tenants living in the homes we are showing.
OPEN HOUSES & VIRTUAL TOURS
As long as the "stay at home" orders are in place, you probably won't see any open houses happening. We have been told by the National Association of REALTORS that open houses are a firm "NO" since they encourage people to mingle and could be a high risk for spreading the virus.
Some agents are doing virtual open houses. Others are uploading video walk throughs of their properties, also known as virtual tours. We are working on updating our website to show which properties have virtual tours attached to them. Virtual tours allow you to feel like you are walking through the property, without ever stepping foot in the door.
PREVIEW, REVIEW
Our team is going a step further and offering a "Preview, Review" of listings to our clients. Basically, if you see a house you really like online, just let us know. Once we finish our initial phone interview with you, we will then go out in person to the listing and do a custom video walk through for you. This won't be a standard virtual tour that listing agents do. Instead it will be from a buyers point of view.
For additional information on our "Preview, Review" CLICK HERE.
SELLING PROPERTY IN TAHOE
So now we know how the "stay at home" orders around Lake Tahoe affect the buying process. But what about sellers?
The main changes that sellers will notice are that the agent will NOT be doing an open house and the agent may ask the seller if anyone in the home has been sick recently.
If the occupant of the house is currently sick or has been recently, we will recommend taking the house off of the market for 1 month. Even if the sickness ends up not being related to the coronavirus, it is better to be safe than sorry. Plus it will be a big turn-off for buyers if they are walking through a home and see a bunch of cold/flu medicine or used tissues laying around.
TENANT OCCUPIED PROPERTIES
One thing is very important right now, tenants rights during this crisis. For listings that are tenant occupied, the seller will need to get the permission from the buyers to verify they are willing to have people coming into the home. Normally tenants are just given 24hr notice and their lease agreements usually state they must allow an agent to show the property if it is listed by the owner. But since this is a public health issue, we want to protect the tenants and they have the right to protect themselves and their families. When contacting the tenant to schedule the showing, if the tenant says no then we will abide by their decision and not show the property.
LISTING STATUS
With the "stay at home" orders in both Nevada and California, plus the "no travel" order issued by some Counties around the Lake, we aren't seeing many buyers at the moment. So what do sellers do when there won't be any buyers walking through their house till at the earliest May 1st?
The local MLS's have a special "hold" status that we can use. The status is called "Temporarily Off Market". Sellers have the option to move their listing to that status until the restrictions open up and we can show property again. This would stop the days on market from adding up during a time when buyers really aren't coming to view homes in Tahoe.
Our team is reaching out to our sellers to go over the current situation and figure out the correct path forward that works for that specific client. For some sellers that may mean they put their property into the "Temporarily Off Market" status for the time being. Other sellers may decide to just keep their listing on the market and see what happens.
HOW DOES ALL OF THIS AFFECT THE MARKET AS A WHOLE?
When things open back up, what's gonna happen? Are there going to be fewer listings on the market soon? Is it a buyers or sellers market right now? Good questions! Things are changing every day it seems. But our team is working on putting together some detailed information on how this will affect the market and how it relates to buyers and sellers.
We also wrote two buyer and seller specific articles that go over how this is affecting the market now and what we see for the near future.
---