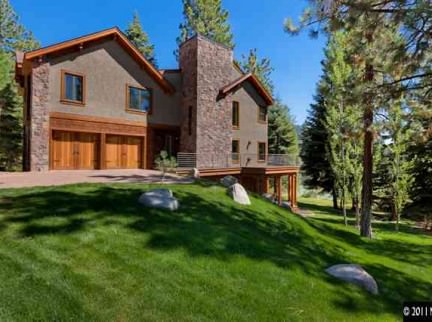 I receive a lot of phone calls and emails from my clients  who want more information about investing in Lake Tahoe real estate.  The top four benefits that motivate buyers to pull the trigger are the following; ability for personal use on vacations, income potential, strong appreciation growth and tax advantages.
1. Use Your Lake Tahoe Vacation Home
If you invest in stocks, bonds or in a business, you don't get to physically enjoy them like you can when you invest in real estate in Lake Tahoe. Imagine being able to stay in a home in Lake Tahoe during the time its not rented out as a vacation rental.  You get the best of both worlds: quality vacation time and rental income.
When my clients ask me for Lake Tahoe Homes for sale that can create a positive cash flow and they do not plan on using the property at all, then I advise against buying in Tahoe and suggest Carson Valley homes for sale instead because the return on investment will be better.  Although purchasing a home in Tahoe with the current strong appreciation rate you could improve your equity position within a short amount of time even if it does not cash flow. We are still experiencing over a 25% appreciation rate within the last 12 months. However, if you do not plan on using the property personally in the future then be prepared not to cash flow.
2. Income Potential of Buying a Home in Lake Tahoe
Depending on the size and location of the home you purchase in Lake Tahoe, you can earn money on your investment each month. Homes in the Tahoe Keys and near the ski resorts will bring in more income than those in neighborhoods not in ideal proximity to the lake and skiing. Also, homes with four or more bedrooms and three or more bathrooms in a good location with a hot tub have the ideal vacation rental profile.
The Tahoe Keys is the number one income generating neighborhood in South Lake Tahoe. Even though the HOA fees for condos are $450 to $650 average per month they do rent quite easily….especially the 3 and 4 bedrooms condos. Keep in mind the HOA does cover roof, siding, dock maintenance, exterior insurance, lawn care and all the amenities that vacation renters want. The houses in the Keys do have a lower HOA fee of  little over $1900 per year. But you are responsible for all exterior maintenance for home and dock.  You can check with a local vacation rental companies like Tahoe Keys Resort and Tahoe Destination Vacation Rentals. for the current income expectations.
3. Strong Appreciation Growth
The Lake Tahoe real estate market has been gaining strength for almost 2 straight years. Over the last year there has been a 25% growth in the median sales price, which means home values are increasing as well.  The Tahoe Keys neighborhood homes were at their lowest value in January of 2012. Values rose quickly and have leveled off over the last few months, but I predict they will continue appreciating at a solid rate.
Bottom line, currently the Lake Tahoe Real Estate market continues to climb and the number of homes for sale continues to drop. The logical conclusion is the longer you wait the higher the prices will be.
4.  Tax Advantages
In the state of Nevada, for those that qualify, there is no state income tax.  Nevada owners enjoy considerably lower property taxes than the neighboring state of California.  This makes buying a Lake Tahoe home on the Nevada side, either on the north shore or the south shore, a wise investment when taking advantage of the tax advantages.
How To Find Your Home in Lake Tahoe
Sign up for email notification so you'll know the minute a home is listed.
Call me directly at 530-541-2465 or stop by my office and we'll sit down and explore all options.
Get my newsletter every other month which gives you an insight into Lake Tahoe real estate.
Search all homes for sale around the lake.  My website makes it easy to search for homes that match your criteria.
Get valuable and current information when you sign up to receive Lake Tahoe real estate articles sent to your inbox.