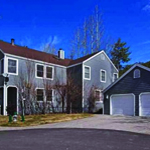 [Glenbrook] The Glenbrook neighborhood rests on the eastern shore of Lake Tahoe. From its lumber mill beginnings to its current status as one of the most prestigious and desirable community to live in.  Glenbrook has a picturesque shoreline area at the base of Spooner Summit.
The History of Glenbrook
Glenbrook, as the oldest settlement on Lake Tahoe, played a significant part of Nevada's statehood as the main supplier of timber to the Comstock and Virginia City. The two-story New England style homes honor the architectural heritage of Glenbrook's pioneer settlers. Captain Augustus Gray and his associated settled in Glenbrook in 1860.  They built a log cabin, harvested the wild hay and planted grain and vegetables. They ended up harvesting 60 bushels of wheat and 4 tons of hay per acre!  It then became a toll road stop for travelers crossing the Sierra between Placerville and Virginia City.
Lumbering demands skyrocketed in 1862 with the discovery of the Comstock (silver).  Pray ran the lumber mills in Glenbrook until 1872 when D. L. Bliss arrived and formed the Carson Tahoe Lumber Company and Fleming Company. Glenbrook remained a prolific lumber community until 1895.  At that time they had cut and moved out 750,000,000 board feet of lumber and 500,000 cords of wood.
Glenbrook became a traveler's destination once the sawmills were cleared out with a popular hotel and cottages. Rodeos were held here that drew crowds from far away.  After a heyday of gambling, hotels, shipping and train hub it is now a quiet, low-density residential community.
Lake Tahoe Real Estate sales in the Glenbrook Neighborhood
Today, Glenbrook is one of the most desirable areas of Lake Tahoe. Of the 750 acres comprising Glenbrook, approximately 150 have been developed. Nearly 600 acres remain undisturbed, offering homeowners a number of unique recreational opportunities. This
quiet gated area includes more than 1/2 mile of private sandy beach, acres of meadowland,  tennis courts,  pier, and a membership nine-hole golf course, built in 1926.
There are approximately 2,500 homes in Glenbrook.  You'll find townhome residences ranging in value from just under one million to several million dollars.  Currently there are 30 homes for sale from $850,000 to $15,000,000.
In the last 12 months, there have been 12 closed sales of homes in Glenbrook. The highest selling price was $4,795,000 for a 6 bedroom home with indoor pool and the lowest for $400,900 for a teardown property.  The 12 sales this year are up 300% from the 4 home that sold in Glenbrook the previous year.
Want to know more?
I would be happy to help you in your search for a Lake Tahoe home in Glenbrook or any of the other Lake Tahoe neighborhoods.
Keep up to date on Tahoe Real Estate