Did you know that Lake Tahoe is actually broken down into multiple real estate market areas?
Our beautiful blue lake is so large, the communities that surround it's shores are each very unique. Over the decades we have seen differences grow, with each corner becoming it's own special bubble when it comes to both the real estate market as well as the general "feel" of the communities.
Click on the map below to go to a page with constantly updating data showing all the areas around Lake Tahoe and the real estate market stats for each of those areas.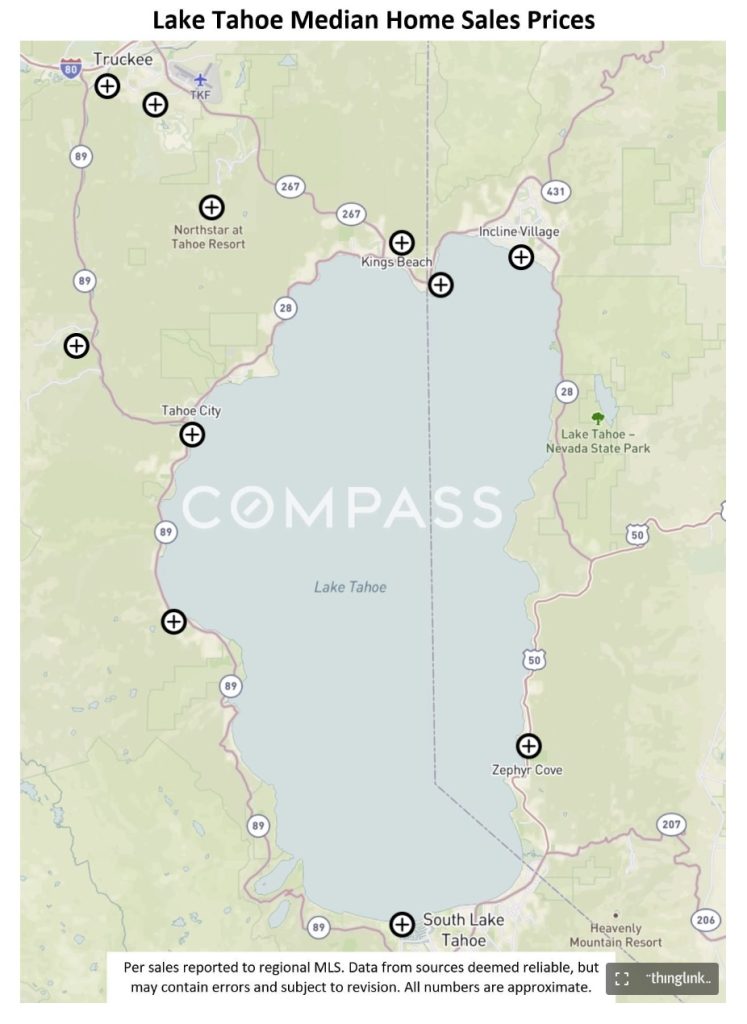 THE AREAS AROUND LAKE TAHOE
So what are the unique areas around Lake Tahoe and what should you know about them before purchasing a property?
The lake is divided into 4 quadrants:
Let's go into detail on each quadrant, what living there is like and what locals love about the area.
South Shore, CA
The south shore area includes the only incorporated City in the Tahoe Basin, South Lake Tahoe. You will find the highest density population at the Lake on the South Shore, and also the most houses. This higher supply of homes means prices are lower than any other area of Lake Tahoe.
There is a mix of smaller old cabins on 5,000 sqft lots and larger newer homes along the lake front and in Tahoe Keys. Many people enjoy living near the Heavenly Ski Resort lodge and the Stateline shopping area and casinos. Near Heavenly there are homes located up on the mountain side which offer fabulous views of the lake and mountains. Condos are scattered in the area and include less expensive smaller complexes right in town, mountain side ones near Heavenly Ski Resort, Tahoe Keys condos with boat docks, or lakefront units like the popular Lakeland Village where vacation rentals are still allowed.
Basically, there is something for everyone on the South Shore. Only thing you won't find much of is privacy or large parcels. This area has been built out quite a bit. Your best shot at some privacy would be finding a home that backs one of the 5 open meadow areas or the forest.
Locals love South Shore due to it's tight knit community, tons of local restaurants and shops, some of the best beaches at the Lake, and plenty of outdoor recreation. If you don't want to have to travel far to get groceries or head to a local bar for a drink with friends, then the South Shore is right for you. Everything is within reach and easily accessible both in summer and winter.
Pricing
Low – $400,000 (condos $300,000)
Average – $700,000 (condos $500,000)
East Shore, NV
The East Shore area is located within Douglas County, NV. Just over the stateline from South Lake Tahoe and past the casinos you will find Kingsbury Grade, one of the major mountain pass roads in Tahoe. There are many small neighborhoods scattered up and down Kingsbury, and even more stretching up Hwy 50 on the way to Carson City.
You can find a wide variety of homes on the East Shore, from a 60s ranch style house to a 10,000 sqft lakefront mansion! Most of the houses were built in the 70's and 80's, and average around 2000 sqft in size. Single level homes are rare due to the fact the entire East Shore area is right on the mountain sides. One neighborhood that does offer single level living is Skyland, which is located right on the shoreline and offers a private beach for home owners.
One thing the East Shore, NV area has that the other areas lack is condos. There are a multitude of condo complexes on the East Shore, ranging from mountain top units near Stagecoach and Boulder Lodges at Heavenly Ski Resort at the top of Kingsbury Grade, to lakefront well maintained and gated units at Pinewild in the Zephyr Cove area.
If you want a house with a view, then East Shore is the perfect place. With many homes located right on the mountain side, such as at the Cave Rock area, you can find the house with a view of your dreams. Locals in East Shore enjoy more privacy than South Shore, but do have to drive a few miles for groceries or restaurants. People who want a quiet life with a lot of relaxation usually love East Shore, NV.
Pricing
Low – $800,000 (condos $350,000)
Average – $1,500,000 (condos $650,000)
West Shore, CA
One of the most spread out areas around the Lake is the West Shore on the California side. This area stretches from the south at Emerald Bay up to just past Tahoe City. Going up Hwy 89 there are many tiny communities sprinkled along the shoreline of the Lake, including Homewood, Meeks Bay, and Rubicon. You will find large high end mansions along the lakefront, with smaller woody mountain homes on the mountain side of the Hwy. Most homes were built in the 80's and 90's.
If you want extreme privacy and don't care about being close to restaurants or any kind of night life or entertainment, then you may love West Shore. This is where the creator of Facebook purchased his lakefront mansion, and there are plenty of other members of the top 1% who enjoy summers and winters in their own vacation properties here.
It is important to note that Hwy 89 usually closes at Emerald Bay during the winter due to avalanche control. This means you will not be able to drive to South Shore during most of the winter. But you can get to Tahoe City and Truckee still.
Pricing
Low – $700,000
Average – $1,100,000
North Shore, CA & NV
With Kings Beach and other small communities dotting the lakefront on the California side and Incline Village dominating the Nevada side, the North Shore areas are unique and completely different.
Kings Beach and the other CA communities offer quant small mountain towns with lots of small old cabins, a few townhome/condo complexes, and larger newer homes scattered around. Cross over the stateline into Nevada and you find Crystal Bay which is really just a handful of homes, mostly lakefront and over $20,000,000. Then you get to Incline Village after a mile or two.
Incline Village has an area wide GID (general improvement district) that acts like an umbrella HOA with many rules and restrictions to homeowners. There are also smaller HOA's for many of the smaller neighborhoods and condo complexes in Incline Village. One of the most popular features and biggest draw to buyers is that the beaches are restricted to property owners (and their guests) only. This means you don't usually have to fight for a spot on the beach, unlike other areas around the lake where you have to arrive early in the morning in order to get a parking and beach spot.
Most of Incline Village was built in the 80's and you will have a hard time finding a quant small old cabin in this area. Whereas in Kings Beach small older cabins dominate the area. There are some popular restaurants and a few small shopping areas in both Incline Village and Kings Beach. Locals love the ski resorts that are close by, both Mount Rose and Northstar are very popular. You also have direct access to Reno over Mount Rose Hwy, one of the highest year round Hwys in the country at almost 9,000 ft in elevation!
Pricing
Low (Incline) – $900,000
Average (Incline) – $1,650,000
Low (Kings Beach) – $750,000
Average (Kings Beach) – $1,000,000
HOW TO PICK THE RIGHT AREA FOR YOU
Ok, so now you know a little about each area around Lake Tahoe. But how do you pick which area is right for you?
Well, usually people choose based on what area fits their price range. Others focus on availability of services like hospitals and shopping. Some want more privacy and want to feel like they are tucked away in the forest. And a few just want a view and don't care where the house is located.
You need to really think about what is important to you. Pricing is important, but that is just the beginning.
Once you have time to think about what your needs and wants are, you should reach out to our team so we can go over the options with you based on your priorities. One of the first things we will ask is if you have financing or will be purchasing using cash. It is very important to have your financing lined up ahead of time and before you start looking at homes. We will then send you properties that fit your needs, and once you find a few that interest you we will schedule a day to view the available properties.
Contact us now to get started! You can email our lead agent Amanda Adams at amanda@paradise-realestate.com or call/text our office line at 530-541-2465.
Keep up to date on Tahoe Real Estate