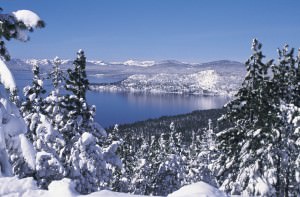 There are important tasks that homeowners in Lake Tahoe should complete before winter each year. It'd be nice if we could look into a crystal ball and see if a mild winter or a heavy snow winter is going to hit the region, but we can't so we just need to be prepared. I have compiled a checklist of what needs to be done around your Lake Tahoe home this season. You can complete most, if not all, of these tasks yourself, but there are also many reliable handyman services in the area that can complete them for you as well.
Steps to Prepare Your Lake Tahoe Home for Winter
You purchased a house in Lake Tahoe and now you're getting ready for winter. Here are steps you should follow and complete prior to the first snowfall:
1. Prevent Your Pipes From Freezing
There are two sets of rules for how to take care of your pipes in the winter, one is for the absentee homeowner, and the other is for the local or owner that will be using their water daily. First of all, know where your water shut off valve is. If you don't know, call a plumber.
If you're gone for the winter, consider turning off the water to your home. When you shut it off at the valve, open all faucets throughout the house and flush the toilets to empty the tanks. Set your thermostat for 50. (tip: remember to turn the faucets off in spring before you turn the water back on!)
If you live in Lake Tahoe or the house is used frequently, make sure the heat is kept at a minimum of 60 as you don't want pipes to freeze. You can also leave the cupboard doors open that lead to pipes (under the bathroom sink) to allow heat to flow.
Close your foundation vents to prevent cold air from getting under your home. Most homes are already built to protect pipes during the winter. Ensure there are no holes to the roof and under the house that would allow cold air around your pipes. Some people like to leave faucets on to allow for a continuous small drip. This wastes water and if homes are newer, completely unnecessary.
2. Disconnect Hoses and Drain Irrigation Systems
Disconnect the hoses from all outdoor spigots. Drain the hose and store it. If you have an irrigation system, it's time to drain it unless you have drains installed. If you don't, its a good idea to drain them. Water that is left in the system during the winter may cause valves or other system components to malfunction when the system needs to be operating at peak efficiency, during the spring and summer seasons.
Check the manufacturer's instructions but the basic steps include turning off the timer, closing the valves, draining the pipes, and covering above ground pipes with insulation.
3. Chimney and Fireplace
Call a chimney sweep unless you are familiar with the process of cleaning the creosote from the inside of your chimney. If you have a wood burning stove you still need to clean either the pipe or the chimney, depending on if you have a free standing unit or an insert. If you have bricks, make sure they look good and aren't missing any mortar.
Its also time to start stocking up with what goes in the chimney and fireplace: the wood including kindling.
4. Heating System and Vents
Call your local furnace guy and have him inspect your furnace. Many of the newer units need to be opened by a professional to change the filters annually. While they are there to do that, have them check the ducts, clean the vents, and check for any leaks such as carbon monoxide. It is a great idea to get a carbon-monoxide detector installed…they are cheap, found at any hardware store and easy to install.
5. Snow Removal
Even in a mild winter we'll still have snow in Lake Tahoe. Check out last year's shovels and snow blower to make sure they are working and in good condition. Nothing worse than taking that first shovel full of snow off your walkway to find out that it's broken and the store is out of their supply. If you don't want to do any of the snow removal there are several local companies that will do it for you. You can either sign up for a season or call them out when needed. It's also good to have a bag of "ice melt" ready to go too. It never fails, when the first icy day comes along everyone runs to the store to buy a bag only to find the supply gone.
6. Doors and Windows
This is a pretty easy step, even for the non-handyman. Cold air coming in through air leaks can be costly. If you don't have energy efficient windows we have a local company that does a great job and normally has some upgrade deals. You can also apply weatherstripping fairly easily and cheaply so check your doors for cracks or missing pieces. Caulking also breaks down over time around windows, so re-apply when/where needed.
7. Inspect Outside and Check Roof, Gutters and Windows
On a nice day, walk around your house and look for any issues such as missing roof shingles, cracks in windows and siding issues that may need addressing. Its better to fix in nice weather than in the middle of a rain or snow storm. There are check lists you can make and carry with you around the house.
Remove the pine needles and pine cones out of your gutters and make sure the heat tape is attached and ready to go. If you don't have heat tape this is a good time to invest in it. It's like an electrical cord that is attached to the end of your roof in a zig-zag pattern. You plug it in and it prevents ice build up on your roof and can save you a lot of money down the road.
8. Cars and Boats
Many Lake Tahoe home owners also have boats, and those are a whole other list of winterization tips. No matter what type of car you have you'll need to make sure your anti-freeze is set for -20 degrees. Even though our lows are normally much higher than -20, every once in awhile a cold front will bring with it a low chill factor.
Get chains or 4-wheel drive looked at to ensure they're functional. If you use studded snow tires on the California side of Lake Tahoe, they can be on your car from November 1 until April 30 only. On the Nevada side they are allowed from October 1 to April 30.
All of this may sound like a lot to pay attention to, so I'll take care of all this stuff for you if you're my client. I make it easy for my clients and all of these things can be simply taken care of. My crew is ready to go!
Buy a Lake Tahoe Winter Home
Does all this talk about homes in Lake Tahoe get you excited to live here? Snow and all, it's a beautiful place to own a home! Here are my easy steps in finding your winter paradise.