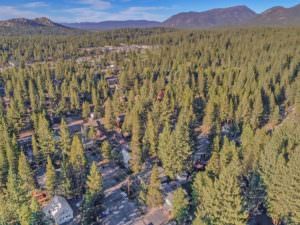 When people think of Lake Tahoe, they picture the crystal clear deep blue water of the lake, the surrounding snow capped mountains, and of course the smell of the pine trees. This natural beauty draws new vacationers and residents each year. Many who look to purchase a home in Tahoe, be it a vacation home or primary residence, want to have the "cabin in the woods" feeling. This usually means they prefer the home be surrounded by trees and close to the open forest or right on the shores of the lake.
The peaceful surroundings and closeness to nature can make people forget that there are still environmental hazards that should be considered. Historically, Lake Tahoe has been affected by earthquakes, strong winds, heavy snow, and fires. All of these hazards should be taken into consideration when choosing a homeowner's insurance company and policy.
A high risk policy could be necessary in certain certain neighborhoods, specifically in designated high-fire hazard areas or flood plains. These policies are potentially more costly than standard policies but knowing your home is protected is worth the expense.
Insurance Companies Pulling Back
While wildfires have always occurred in California, wildfire-prone areas have become more populous in recent years. After facing severe wildfire losses in recent years, traditional insurers like Allstate and State Farm filed with California state regulators for permission to raise home-insurance rates. But state regulations limit how quickly insurers can increase rates and what factors they can take into account.
Insurers are also getting stricter about requiring homeowners to reduce their wildfire risk by creating defensible space around their homes. This can be hard for people to grasp when the main reason they purchased their home in Tahoe was because of the trees. But the loss of a few trees around a home is preferable to having communities devastated by fire.
Traditional home insurers are backing away from insuring homes in high-risk wildfire areas in California. Recently, homeowners in fire-prone regions have been dealing with their home insurance policies being dropped. They are being forced to buy coverage from surplus carriers like Lloyd's of London, or from the state insurer of last resort, the California FAIR Plan.
The FAIR plan is a last resort for people who can't find insurance anywhere else. Even if you don't like your rates, if you can find coverage through an insurance company, you won't qualify for coverage under the FAIR plan.
How to protect your home
Don't make the mistake of buying a home in Tahoe without even thinking of how much homeowners' insurance is going to be. This can cause delays in the purchase of the home, and possibility of being under-insured.
The process of shopping for homeowners' insurance in a high-fire risk area should begin as soon as you start looking for homes. One option that we recommend is to send your insurance broker the address of home listings that you are interested in to get an average homeowners' price quote up front.
If you already own a home in Tahoe, it is important to protect the assets you have. The key to protecting your home is to make sure you have enough coverage. The rule of thumb is to insure the cost per square foot to rebuild, and focus on the current value of the home and not just the value you purchased it at. If you make improvements to the home, you need to factor that into insurance.
Another good tip for home owners is to take an inventory of what needs to be covered in your home. You can do this by making a video walk-thru of your home and uploading it to the cloud so it is ready when you need it.
What local agencies are doing regarding fire hazards
Lake Tahoe is made up of multiple jurisdictions, including 2 states, 5 different counties, multiple towns and one incorporated city. There has been a huge push in recent years toward making the south shore communities more fire safe. Over 78% of the land in the Tahoe Basin, or 154,851 acres, is public land managed by the USDA Forest Service. Thankfully, all jurisdictions around the Lake have been working together to reduce fire fuels on the public lands.
Click HERE for information on fuels reduction, prescribed fire map, evacuation checklist, defensible space, and how to sign up for an emergency alert.
In the aftermath of the recent destructive wildfires in California, South Lake Tahoe's public safety officials were constantly urged to update the city's emergency preparedness plan to help protect the community against a catastrophic blaze. In response, officials began beefing up the city's emergency response capabilities with the creation of an interactive evacuation map and updated alert system.
Click HERE to view the Emergency Preparedness plan for South Lake Tahoe.
More Information
Here are a few links to local insurance companies and other valuable information related to home owners insurance in Tahoe.
Where to Buy a Vacation Rental Property in Tahoe
---
How To Find Your Perfect Home in Lake Tahoe