With Lake Tahoe being the largest alpine lake in North America, you might think you'd be able to find a lot of homes along it's 72 miles of shore line, but with state and national parks and other public lands taking up much of the lake shore, this isn't the case.
Lakefront and Waterfront
There are two types of homes that rest on the shores of Lake Tahoe, lakefront and waterfront.  The homes that are directly on the lake are considered lakefront, while homes that rest on the 11 miles of waterways that make up the Tahoe Keys are considered waterfront. This is the only place that has waterfront homes in Lake Tahoe.  Waterfront and lakefront homes are considered valuable and are exactly what home buyers in the area are looking for.
Lakefront Homes in South Lake Tahoe
For simplicity's sake, I've divided Lake Tahoe into four quadrants:  North Lake Tahoe, CA, North Lake Tahoe, NV, South Lake Tahoe, CA and South Lake Tahoe, NV. Each of these areas have beautiful lakefront homes but very few of those are for sale. In this article I'll highlight the two southern areas of the lake.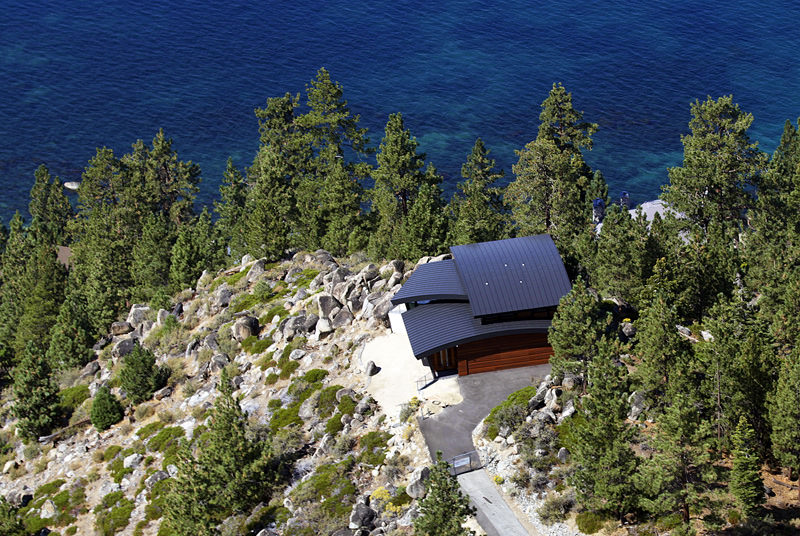 Lakefront homes on the California side of South Lake Tahoe can be found in the Stateline, Bijou, Al Tahoe, Cascade Properties, Tahoe Keys, Tahoe Meadows, Rubicon and Camp Richardson neighborhoods, though there aren't many homes for sale sitting on the shore in these areas.
The Nevada side of South Lake Tahoe has lakefront homes in the neighborhoods of Glenbrook. Pinewild/Marla Bay, Lincoln Park, Zephyr Cove, Elk Point, Skyland, Cave Rock,
Lakefront homes in Lake Tahoe are highly desirable and some of the most sought after luxury homes in the area.  For the most part, homes on the lake are newer , custom built luxury homes with fabulous views.  Outside decks, and in some cases, piers and boat docks are just part of the lakefront home's ambiance. Most lakefront homes are well over $1,000,000 though you can find some condos here that are under this price.
Waterfront Homes in South Lake Tahoe
As mentioned, the only waterfront homes in all of Lake Tahoe are located in the Tahoe Keys on the California side of the south shore.  The Keys were developed in the 1960s when marshes were turned into a luxury neighborhood with 11 miles of waterways and a marina and high end amenities. Not all of the homes in the Tahoe Keys have lake access as some have lagoons in their backyard instead.
Advantages of Buying a Home in Nevada
There are many advantages to buying a home in Nevada. The two biggest reasons that home buyers are attracted to Nevada are, 1) Property taxes are about 40% less than their California neighbors, and 2) There is no state income tax on income earned in the state of Nevada.  It's because of these two reasons you'll generally find the homes on the Nevada side priced higher than those of its neighboring state.
Is This the Right Time to Buy a Tahoe Lakefront Home?
In 2013 there have been 15 Tahoe lakefront homes sold on the Nevada side.  They sold from $740,000 up to $20,900,000.  There are currently 21 lakefront properties for sale, from a Pinewild condo listed at $629,000 to a 9 bedroom estate in Snug Harbor for $28,500,000. The California side has had a few lakefront sales this past year including this Stateline home which sold for $4,500,000.  There are currently 13 lakefront properties for sale on the California side, priced from$399,999 for a Lakeland Village condo to $4,700,000 for a Tahoe Keys estate.
With relatively few Lake Tahoe lakefront homes on the market, with sales on the rise, with interest rates starting to climb, and increased interest from buyers in the luxury and lakefront housing market, this is a perfect time to start looking. Contact me and we'll start your search in the area that best fits your needs.